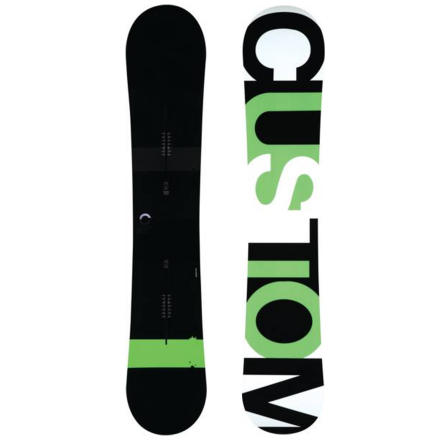 Community Images
I'm 5-10 & 145lbs. Deciding between a 154...
I'm 5-10 & 145lbs. Deciding between a 154 & 156 Custom V-Rocker. I mainly freeride so the 151 is out. If I could, I would ride pow all day, but when the fluffy stuff runs out, I head to the park, hit jumps, 180s, 360s, & the occasional box/rail.
I have a 09 Burton Supermodel X (160) and 09 Burton X8 (151). The SM X is perfect for pow days but not fun in the park. The X8 is great for jibbing, jumps, 180s, 360s, but requires a lot of effort to tail/nose press & butter since I find it relatively stiff. Also, I tried riding the x8 in powder–failed-must be a sizing issue.
Now, I am looking for a board that I can easily frontside 360 (like my x8) but will definitely keep me floating in knee deep powder (like my Supermodel x8). Would be nice to have a softer flex (NOT like my x8) to butter/press, but this maybe asking too much. I am gravitating towards the 154 for park appeal while hoping it will float me in knee-deep pow. If not, I would surrender to a 156. Suggestions welcomed.
Ya if i were u id go with the 154 because its easier to take a park board to powder then a powder board to park trust me im 6 foot 1 and i ride a 153 and i will occasionaly take it in some pow and although it is harder to carve then some of my longer board but i think its worth it
The board is V-rocker, run the 154. Its all good. This will work with all areas of the mountain. Have fun.
Hi, im 6ft and 82kg. Im looking to buy a...
Hi, im 6ft and 82kg. Im looking to buy a Custom V 159 but a bit unsure what size of bindings to buy.

Im a US 11 which i thought would work ok with medium Burton bindings (to avoid any toe/heel drag) but the size guide seems to say that the 159 only accomidates large.

Is this true or will medium work alright aswell?
You can put what ever size binding you want to on the board. Those are the recommend sizes that are listed. However, you do need a Large binding to fit your boots properly. Size Mediums are from about US 8 to 10. Anything that is bigger than a US 10 needs to be in a Large.
, ☃bcs_badge_alumni_label☃
Not specifically, we have that category but this is just a flashy pink board that rides awesome! Anyone can sport it.
My son is 5'9, 130, boots 8, today. Mostly...
My son is 5'9, 130, boots 8, today. Mostly pists and jib, sometimes park and powd, custom v rock 154 or 156? He is 17 so will gain some weight...I'm 5"9, 150, boots 8, same riding, I want to be able to ride same board and in year or two when I get something else for him still be able to use that custom v rock. so, I would like board i can easily move arround, but also have control on a bit faster speed. thanks, GORDON
I'd get the 154. With his and your weight and foot size the 154 will work out great.
you could even go with the 50, if you do ride pow, then the 54 is great. If just straight jibs, then the 50 is where it is at.
Hi there. I'm 170, 5'10" and ride a 9.5/10...
Hi there. I'm 170, 5'10" and ride a 9.5/10 boot. I learned to ride on a Nitro Target 159, which was way to big for me. I found myself swinging the board around to carve effectively. Overall, the board was way to heavy for anything but downhill cruising.

I mostly ride all mountain, and only dabble in the park. I demoed the 154cm Ltd Custom Vrocker and fell in love. I was cruising and the size felt ok. I also demoed the 156 custom just to test the size, but was no longer impressed with traditional camber and was therefore biased against the board.

My question is: I love the maneuverability of a shorter board, but still want to all-out bomb a trail at max speed. Should I go with the 154 vrocker or step it up to a 156? Would the 154 still give me the stability? I heard that sizing down on a vrocker is recommended. Is this true?
The longer camber board is going to better if your true love is "bombing" hills. The v-rocker is going to be really loose. It is not made to "bomb" hills. It is supposed to be a really playful deck that will be a good all mountain board. You will feel a difference when going crazy fast. Run the 54 if you liked it. That is the name of the game. It is what you like. If you are not going to be stoked on the 56 then don't get it.
Hi, I'm interested in this board because...
Hi, I'm interested in this board because it's on sale but I want to make sure it's the right one for me. I'm 5'6, 150 lbs, 9.5 boot size. Would a mid-wide be too much for my boot size? I have no interest in riding park and I'm just getting the hang of linking my turns. Will the 151 be the right size for me or the 154? Would the 154 be too wide for my bootsize then?
The custom is a amazing all around board. It works really well where every you are riding. The board is not a beginner board at all but the V rocker makes it easier to ride for sure. If you are set on this then I would run the 151. If you see your self continuing to ride and would like to get into powder, then you could get the 154. You may also want to take a look at the deuce. It is a great beginner board.
I am 5'6 and 150 lbs. i ride with a size...
I am 5'6 and 150 lbs. i ride with a size 10.5 boot. will the 151 be suitable to my stats or do i need to get a bigger board for a bigger waist width?
Hi Christopher

You are right on the cusp on this one. Ideally if you are rockin a Burton Boot you are fine because the Custom is a mid-wide. However, if your boot is larger in size or a bulky style boot you may run into some trouble.
i have an 11.5 and a half burton moto boot....
i have an 11.5 and a half burton moto boot. just wondering if the 154 would be alright for me
Well the waist is a lil bigger than most. But a good rule of thumb is that if your boot is over an 11, you get into wide boards. Reg width boards usually run from 248-252cm of waist. Wide boards are obv wider and run around 253-263cm. So if the waist is not wider than atleast 252 it might be a squeeze and most likely you will drag a bit. My feet are 12's and I ride a Rome Machine 154W with a waist width of 260 and I have minimal overhang, but prob wouldnt want to go for anything skinnier. Also depends on if you have M/L or L/XL bindings as the base will obv be bigger. You're cuttin it close, but I think you can make it work. If your feet are still growing then def get a wide deck. Hope this helps brotha
I'm 5'5 155-160lbs...should I be rockin...
I'm 5'5 155-160lbs...should I be rockin the 151 or 154??
Depends on if you ride park or all mountain. For park go smaller, all mountain go bigger.
I mostly ride all mountain... I'm guessing the 154 would be the way to go then... I should still be able to slap this around the park tho right? I mean is there much difference btwn the 151 and the 154 in terms of stiffness? I'm not that big of a dude to begin with...Lemme know...

Love Dogfunk son
Exactly as they say... if your a park rat go 151... If you just dabble in the park and ride all over the mountain do the 154
This is my second year riding and im looking...
This is my second year riding and im looking to get my first board..ive done all the research and everything is pointing to the v-rocker...Now I am 6'0 195 lbs, size 13 boots..Im still not comfortable doing tricks but want to learn soon..what size should I get? and what bindings will go best? please help...
I would say the best board would be the 159 because I have the 156 and I think that it is too narrow for a size 13 boot. The best bindings would probably be the cartels because they are made for a variety of terrain.
hey i have a size 11.5 and a half boot. would i be good with the 154?
So i went with the 159 and exile bindings..i f*ing love it...It was like night and day when i strapped up the first time...Great all around board and had no problem with toe or heel drag..Thanks for the advice...
I'm 5' 8 and about 155lb. Currently riding...
I'm 5' 8 and about 155lb. Currently riding a 152 ride prophet. Should I go with a 151 or 154 v rocker? Looking for a good all mtn board. Once in awhile I'll hit the park. But mostly ride all around. Thanks!
Go with the 154 for sure!!!! You'll be able to ride it in the park no problem but it will SLAY all-mtn terrain!
I'm the same height as you and I have the 156 because I like a super wide stance and usually the wider you go the softer the board feels. My board is stiff when I move the bindings closer but otherwise whenever its wide you can butter and press extremely well and it holds well at high speeds.
Hey I read that a size 11 or 12 wouldn't...
Hey I read that a size 11 or 12 wouldn't be a problem, but I am 6'2" tall and 225 pounds with a size 13 boot, would this be ok with the 163cm or would I be dragging my heels and toes?
You would be fine... Unless you love gnarly Euro carving... haha.

No, but for real, you will be totally fine. Especially if you have a boot that has shrinkage tech!
I just bought a custom v-rock 163. The...
I just bought a custom v-rock 163. The smaller ones didnt fit my big as 13 feet, and couldnt find a wide at any of the local skate shops. Im 6'3" 157 lbs. I plan on riding it tomarrow to check it out. Just a lil concerned it may be too big. Im kinda light and thinkin i prolly should have downsized some. I do enjoy lots of fresh powder, kinda getting rails down, buttering, hitting both powder and park jumps. Which my old board is a burton bullet 158, and can just use that for days i wanna hit the rails. Maybe i should just keep it for the powder days? what yall think
If I were you, I would size down a bit if you plan to ride it on rails, park, etc... If you are just riding powder with it, the board is going to blow your mind. Unparalled float with the rocker tech!!! Also, as a note, you can size down a cm or two or three with rocker!!!

Just so that you know, the reason you cannot find a wide is that all custom V's are a mid-wide waist width's... no wides available.
Well, I did just ride it yesterday, in TONS of fresh powder we got. Its going to be stricktly powder board. It is nice, I think its a lil bouncy on tracked up choppy powder but just lean back and let it ride like a boat over the top of it all. Its quit a fun and very nice board. Got my burton bullet 158 all tuned up and ready for the park. Its a good all mountain board, but doesnt float as nice a buttery on it. Gonna take a few more times to get completely use to the v-rocker. Makes me work harder to get the edge down. Really nice for 360 butters
Hey I've heard that the people may be...
Hey I've heard that the people may be riding the Custom V-Rocker a little longer. Is this true? I am 5'8" and 175 with a 10.5 freestyle boot. I was looking at a 2010 Custom V-rocker 159.
i am an all mountain rider with maybe 30% of my time in the park..
Usually people size down a cm or two with rocker boards. I normally ride a 157 and rock a 155 Easy living flying v.

I would say stay true to size or go down a tiny bit. Only go up if you spend a lot of time in Powder. Sounds like 30% in the park is enough to be on a shorter stick!!!
I'm 5'8" and I ride the 156. I spend 50% of my day in the park and the board works perfect for me. I just ride a really wide stance which makes the board really soft but not too soft for jumps or powder and its great for the park too.
My stats: 215lbs, 5'11, size 11-11.5 boot...
My stats: 215lbs, 5'11, size 11-11.5 boot (burton hail size 11), all mountain rider, not into park (but not against it). I have ridden for about 3 years, this year the hardest and the most. I have been riding a Nitro Magnum Gunslinger 159W because it was free and I wanted to try the wide feel. I think the board is bottom line. Now I am looking to buy. My current options are:
Burton Custom X, Burton Custom V-rocker, Burton Joystick, and GNU Rider's Choice.
I could use the advice of the guys that are in the know!! Help a brother out!!
hmmm, you've narrowed it down to a really solid list.

My thoughts:

Custom X (go with the wide) -- Insane board, ultra light weight, wicked fast base, deep side cut, rails turns! Really aggressive with a medium to stiffer flex. POWERFUL!!!

Custom V (It is a mid-wide waist so your foot size is built for it) -- This board is good for any and everything. From park to pipe to Backcountry, to jibs to steeps to trees. "a quiver of one" is its saying as its the only board you need! Seriously insane! Fast base, light weight, medium side cut with a medium flex. This board is amazing and you can't go wrong with it. ...And its reverse camber so a lil' more forgiving ride and great float in Powder.

Joystick (It is a mid-wide waist so your foot size is built for it) -- One of my fav's. Its a twin shape (Custom is a directional) Its a deep sidecut with a medium flex. Meant as an all mountain freestyle board. (I ride my in park) -- really fun!

From everything you said I would probably go with teh Custom V-rocker. I have never put someone on that board and they not liked it. The only thing that would steer my in on eof the other directions is this: If you like a really aggresive board go with the Custom X... if you like a twin shape go with the Joystick.

All and all, you will not be upset with your choice on any of the above. for sure!

Good choices!
i am 5'6" 155lbs. wondering what size...
i am 5'6" 155lbs.
wondering what size custom v-rocker to get. 154 or 151. mostly freeride and terrain.
suggestions?
Since your mostly Freeride I would say the 154... If you were a park dude I would gear you towards the 151.

Either one you will love. This board is so flippin' fun!
Does anyone have any firsthand comparisons...
Does anyone have any firsthand comparisons of the custom v rocker and the K2 turbo dream?

I'm guessin the v rocker camber is a little more aggressive and defined than the 'all terrain rocker' camber on the turbo dream?

I've demo'd the '10 custom ICS and loved it. it was leaps and bounds better than my bullet wide. and since my bullet's base is completely seperating from the core i need a new stick asap.

TIA!
I recently bought a 156cm custom v-rocker....
I recently bought a 156cm custom v-rocker. I weigh 195-200 with a size 11-12 shoe... I pick up the board from the shop tomorrow, should I be concerned about the size?
Best Answer
Nope... no concern at all! RUN IT!

I am 195lbs, 6' tall and rock a 156 in this stick. With rockered boards you can ride a CM or two smaller. The only time you should be concerned is if you plan to ride a lot of powder. (if that is the case step up to the 159) If you like park, pipe, groomers, etc. you are money on the 156... a super fun board to jib too!

The waist width will easily accommodate your 11-12 shoe as its a mid wide (slighlty wider than the camber version)

By the way, good choice as this thing is unbelievable!!!!!!!!!!!!!!!!!!!!!!!!!
this is stupid but the 151 is a guys board...
this is stupid but the 151 is a guys board right?
Yes, it is! Not a stupid question... the girls version is the Feelgood V-rocker
I loved this board in the pow and busting tricks out, however I felt it had a significant lack of holding power on the groomers and a lack of "pop" in my ollies. All around a very good board. It was an easy transition from traditional rocker to this style of rocker.