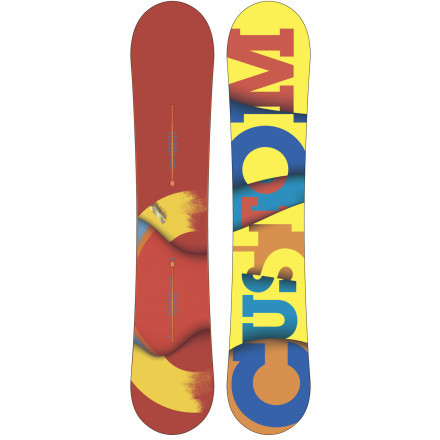 Description
Sure, you could taste something different; buy why?
If you don't know the details behind the Burton Custom Snowboard by now, you must be new to the sport or too stubborn to accept perfection. Either way, here's the lowdown: the Custom is the go-anywhere, do-anything board that's been helping push the evolution of snowboarding for more than a decade now. Every year that's gone by, Burton has consistently improved this all-mountain freestyle beast with a smorgasbord of tech updates, all of which serve to award year's model a spot on the top shelf of our board-bar.
Super Fly II core strategically places stronger, lighter wood in specific areas of the core to provide strength and pop
Twin Flex has pop packed into the nose and tail just for equal pop-ideal for 'bi-riders'
Squeezebox technology features varied thickness waves at upper core top to transfer energy from underfoot to the board ends; The result? More pop for your ollies and turns
The Channel allows you to micro-adjust your stance over a greater length and over an seemingly infinite range
Triax fiberglass crates moderate torsional and lateral rigidity for forgiving yet responsive flex
Lightning Bolts tech employs carbon strands that run form just outside the channel to the edges for quick energy transfer
Frostbite edges extend slightly underfoot for better hold in icy conditions
Pro Tip design reduces weight at the tip and tail for less swing weight
Share your thoughts
What do you think of the
Burton
Custom Snowboard
? Share a...
2011 165W Burton Custom Camber
Just took a 165w Burton custom camber 2011 out for the day ...
Conditions were hard pack east coast at sugarloaf in Maine . I bought
This board as a all mountain board on harpack and icy condition and
As a powder board . It handled the ice and frozen granular conditions
With only the hardest of ice spots noticeable .... Was able to carve and hold an
Edge on some pretty hard snowpack .. Feels heavy and solid , great w the Burton
Custom bindings. Doesn't chatter and feels solid over 40mph ... Great all mountain
Board , can't wait to try in powder ....let it snow !!!
Had this board for about 2 months now and I couldnt be happier with it, very responsive, quick, stable, holds a edge very well in all conditions, only thing I haven't tested it out in is really thick pow because of this damn winter we having but I have no doubt it will exceed my expectation. Highly recommend the price is up there but in my opinion to worth it.
How does the Restricted Custom ride in...
How does the Restricted Custom ride in comparision to the regular camber Custom? Is the Restricted just as responsive?
Restricted Custom is a completely different bend. It has Camber Humps, a combination of Camber and reverse camber.
what do you think of Custom and Rossignol...
what do you think of Custom and Rossignol Decoy Amptek? They are both all mountain snowboards. I prefer burton due to brand, but it seems Rossignol has better performance
Best Answer
well, first of all, rossignol hasn't been in the snowboard game as long as burton. I would say the custom rides better all around out of the two. the amptek comes out a little more stiff than the custom. I would take the custom out of the two based on performance and brand preference and experience.
Ditto...I went from rossignol Amptek signature to the Burton Custom 2010. Both are brilliant boards, but the Burton is the more versatile and has the factoring of more adjustment/comfort/stance settings. The burton may take ten or so runs to fully break in, but it simlpy feels perfect there after.
I have ridden this board since I have started snowboarding once with freestyles and motos, now with cartels and rulers. The board will take you from first turns to landing your first kicker. Don't go with anyhing but the camber and love this board, it will love you right back.