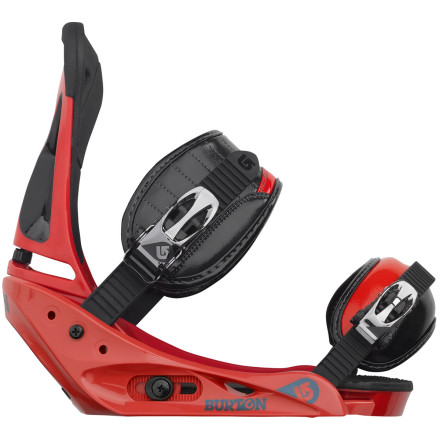 Detail Images

Community Images
Description
Takes you from your first turns to your first switch tailslide.
Thanks to bomb-proof, buttery-flexing polycarbonate construction, comfy straps, and anatomically-correct canted highbacks, the Burton Custom Snowboard Binding is hands-down one of the best values around. Newbies and seasoned riders alike enjoy the forgiving flex that delivers all-day comfort and plenty of mobility.
Canted, tool-free adjustable Living Hinge highbacks mirror your natural leg position for better control and reduced calf fatigue
FullBED EVA cushioning absorbs shock dished out by choppy snow and big landings
Primo Capstrap fits over the front of your boot for improved boot-binding connection without over-tightening your straps
Share your thoughts
What do you think of the
Burton
Custom Snowboard Binding
? Share a...
Awesome Bindings =)
Gender:

Male

Familiarity:

I've put it through the wringer
These bindings are great. I cannot live without a binding that has toe caps. The full tow cap really helps with control and makes my foot feel in the board rather than on it. I also like how they put in the No-Tool-Needed adjustments and the padding is good. Overall a good binding. Has some flex to it also which makes it more forgiving and easier to land jumps. I have to say they are more worth the price than the missions which are more expensive but not really different at all. The main diffence is that they are stiffer but in my opinion after using my friends missions i would go with the customs seven days a week and twice on tuesday. Better deal better binding. Theres a reason why they are out of stock right now.
Unanswered Question
is this binding 'size M' fit for Burton...
is this binding 'size M' fit for Burton Custom Small flying V snowboard (Kids') for size 140cm ?
These bindings are sick they are super light and the straps keep ou feet in and they are easy to slide in and out of. The toe cup is cool too because it keeps your foot in place better than any other binding I have owned
what size boot does this binding hoold?
what size boot does this binding hoold?
Click the sizing icon underneath the order drop down menu. S=6-8, M=8-11, L=10+ (men's)
what size boot does this binding hoold?
what size boot does this binding hoold?
The smalls go from size 6-8, medium 8-11, and the large from 10 and up, check out the size chart under the color/size selector.
what size boot does this binding hoold?
what size boot does this binding hoold?
Please use the size chart located right below the "select options" drop down.
Good bindings but get loose after a while. But still good bindings if you only use them for one season.
My brother purchased the Burton Custom for his board and said it works good on the terrain park. I owned the FLOW M3 bindings for 3 years and jumped on a rail and suddenly the high back broked. Maybe because it was plasic.

These are a must get if you're just starting of Freeriding or Freestylin'.
I wear a size 10 Burton Ruler boot. Got the new Customs in a M and they're way too small. Also, the quality doesn't seem close to my Burton Missions from a couple years ago. Sending back to get the new Cartels in a Large.
They work really well. Easy to get in and out of. Nice black finish that matches anything. can't go wrong for the price.
Is this binding compatibles with a Gnu...
Is this binding compatibles with a Gnu Carbon Credit series snowboard?
what size boots does this binding hold?
Unanswered Question
do these have the 3d binding system. i...
do these have the 3d binding system. i just got the 2012 burton blunt and is only fits burton bindings. i got some flux bindings to fit but just 2 screws that or off set on each side to screw. which I know is horrible just trying to save money so i can get some burton bindings.
Unanswered Question
has this year burton custom binding toe...
has this year burton custom binding toe strap got improved ? Because my burton custom binding toe strap, the teeth would always strip doesn't matter how many time I replace them
I got these as my second pair of bindings ever. so i didn't really any idea about response or performance, but after riding these i notice a complete difference in certain binding and how they ride. i personally love my pair! There toe cap is a step up from there freestyles, which makes there response a lot better! the only problem i have had with these, is the ladders on the toes chip pretty easy. i got a couple free ladders from my shops. i suggest you do the same when buying any bindings.
I see these aren't technically women's...
I see these aren't technically women's bindings, but can women ride these? I'm a boot size 7, what size would I need?
Best Answer
Johnna You can ride these bindings. You will def need a small. However I suggest looking at a pair women's binders. You are going to get better performance from a binding that was designed specifically for you and your ridding needs.

Burton Women's bindings come with True fit. True fit means that every element from baseplate to straps has been designed and engineered for the way women ride. When it fits right, it rides better.
I would have to sadly disagree and by no means do i have any intention of offending you, but my friend Jordan, she rides only guys bindings because of her style of riding, shes better then most of the rest of the crew. and only guys bindings can truly fit her needs. If your really experienced in snowboarding and looking for a good pair, i would recommend these, I know i love them, along with Jordan,
I'm with Tyler Dubya on this one. You'll do GREAT on these bindings. When it comes to something that's just going to strap you down to a plank, there is some amazing marketing out there to sell you gender specific...to no benefit whatsoever. Buy the best deal on what works for you. This isn't a pair of underwear, if you catch my drift. Women do not need special feminine bindings, that's a gimmick.