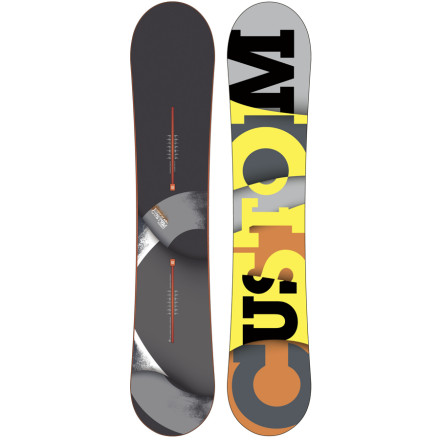 Community Images
Description
Without skipping a beat.
The Burton Custom Flying V Snowboard wasn't content to become the number-one-selling board and then just ride off (every so gloriously) into the sunset. This board's all-mountain innovation means it can tackle every aspect of every type of terrain. You can head up the lift, ride the park, hike into the sidecountry, drop back into the resort, and race your buddy down an icy groomer for a beer. The Custom will lap it up.
Flying V hybrid hybrid camber/rocker puts camber underneath the bindings and rocker at the tip, center, and tail of the board for float in powder, edge control, and plenty of pop
Super Fly II core strategically places stronger, lighter wood in specific areas of the core to provide strength and pop
Squeezebox technology transfers energy from underfoot to the edges for more pop and better edge hold
The Channel allows the rider to micro-adjust his or her stance over a greater length and an infinite range
Frostbite Edges extend slightly underfoot for hold in icy conditions
Pro Tip reduces weight at the tip and tail for less swing weight
Share your thoughts
What do you think of the
Burton
Custom Flying V Snowboard
? Share a...
I bought the 2011 custom flying v, and it was the best board I have ever owned. I have been riding for over 15 years and have owned everything from lib techs, GNU's, K2, to other burton boards. There are better pure backcountry boards and park boards but if you are looking for an everyday any condition board look no further. This will rip in the powder with insane float then bomb past everyone on a groomer holding an edge like nobodies business to carve around all those little groms. It has a lot of pop but the best part is the base. I ride at Big Sky and it's notorious for rocks everywhere and tearing up boards and this base is crazy strong and resilient all while still being fast. The only complaint I have is that it's not very good on ice sheets but who wants to ride that anyways, and the EST bindings are not as stiff as you might like so buy stiffer bindings and boots than you are using now.
Really Good in the powder
I bought the 163 V - handles incredible in the powder - has a ton of pop for jumping rocks, cliffs etc.. Autocorrects mistakes. It is a little strange riding in the flats but doable. Board almost runs itself down the mountain. Would not get this as a all around board for crappy conditions - Custom X is way better. Works incredible for what intended.
I live in a place were its either fresh pow one day and ice or hard pack the next, this board floats like a boss and can hold a edge on ice at high speeds, also it is a great freestyle board, it can lock on a rail or box very well and its easy to maneuver, all in all, five stars, just awesome!!!!
Call me what you want, but when you are charging down a hard pack slope with tons of slop everywhere around 1pm, this board does not hold an edge. I found it to be light under foot yes but i could feel each little dribble of snow cookies under foot. Meaning it did not dampen any vibration.

This was at Demo Day at Boreal 12/8/11.

id rather ride one of my older rental boards that was regular camber.
I am trying to buy a snowboard for my son...
I am trying to buy a snowboard for my son but I'm not sure how long of a board to buy. I don't want to buy it too small because he is only 15 and growing fast. He weighs 140 pounds and is 5'6" tall. Can anyone assist?
Go for a 156ish size. anywhere between 153 and 157 will work for a 15 year old.
Hi Montley,

156 will be way too much board for 5'6" 140lbs. This is my height and weight. I would ride the 151. Reverse camber allows us to ride shorter boards. 153 if you are worried about him outgrowing it within the season.
A buddy of mine got this board and I was privileged enough to get a couple of runs on it. First of all, this thing is dangerously fast. It performed great on the black diamond trail and a couple of other trails I rode. The Flying V camber is great. I felt like I was floating on POW even though I was riding hard packed snow. I was also surprised how great it performed at the park. It was great for jibs and even better off of jumps. The board is very light itself witch makes pulling off tricks much easier. The Est channels are also great. If paired with Burton EST binding, board feel is ridiculous. Definitely a great all around board. Though the price is steep, you're definitely getting what you pay for (and then some).
I'm looking into getting a second snowboard....
I'm looking into getting a second snowboard. I want one that is more of an all mountain that is longer than what i have to give me another option other than my freestyle specific board. I have a burton blender 145, but actually learned on a rental that was a 149. I'm a decent rider and i want to take a step up. I hear a lot of good things about the custom flying v. I'm looking at either the 148 or 151. i'm a female 5'4" 145lbs. Is this a terrible idea or not so much?
Try a lipstick. Its a softer board but has plenty of pop. Id go for a 149 give or take a cm. You can ride a shorter board in the powder if it has any type of rocker. I wouldn't go to 151 but it is still in the range of an all mountain freestyle board for you.
Peep the Infinity from Never Summer or the Ply from DC. id go 151 if u like pow/149 if u want more of an all mountain with ease in park
Howcome the design on these boards is a...
Howcome the design on these boards is a little different then what it shows on the burton website? are these boards legit?
Best Answer
What do u mean "legit"??? Like if the boards are real or fake? I've bought lots of things from backcountry and I can tell you EVERYTHING they sell is LEGIT. As for the info being different, u were prob looking at the "camber version" of the same board.
Contrary to the "doesn't float" review, I think this is one of the best boards you can buy.

This is one of the most versatile shapes of all time.
The Flying V mix of rocker in the tips and camber underfoot gives you float in pow and grip on hardpack.

There is a reason that if you watch snowboard videos from the last 10+ years, you'll see the custom at home on big mountain Alaska lines and on the podium in halfpipe contests alike.
I picked this up late in the season last year. So far it is a generally good board, but it should be noted that it does not hold at all on ice. Thus, I would not consider it for the east coast. It was tough here in Colorado's late season.

After a few more months on this thing, I will revisit the review.