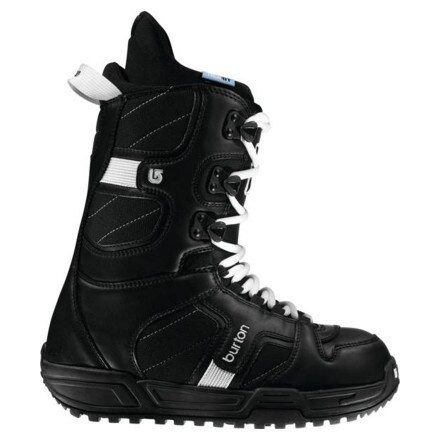 Description
Like a personal instructor for your foot.
The Burton Women's Coco Snowboard Boot was created for riders who want to get really good, really fast. It combines a comfortable, soft, easy-to-ride flex with the precision of a TrueFit design, so you don't get held back when your riding skills pass what you previously thought possible. Rubber ice spikes on the soles keep you boot-down on slippery stairs and make it easier to hike another lap to the top of the terrain park.
Share your thoughts
What do you think of the
Burton Coco Snowboard Boot - Women's
? Share a...
Awesome Boot
Member since
Posted on
These boots are totally awesome! i got them at the start of the season, and they are the best boots iv worn yet. Their a really snug fit with really great ankle support, witch is really great for me b/c i have such messed ankles. The boot is also really light weight, and easy to both walk and ride in. the greatest part was that my feet stay warm all day on the hill, so i didnt have to keep taking them off to get the circulation to return. they were a decent price, and are wprth every penny so far. I definately recomend them to anyone
Worth it!
Member since
Posted on
I got these boots as a replacement for my old LTD's about a few days ago. I have really long narrow feet with thin ankles. As soon as i tried these boots on they felt great! i had a snug fit, without the numbness! I just tried them out on the slopes today and i personally like the flex on them, and how i didnt feel like i was wearing anvils on my feet while riding either. The price is pretty decent considering how at some point during my ride i had no idea they were even there! There surprisingly easy to walk in, and the sole has a good grip so i had no problems walking on slick snow or ice getting to and from the chair. I just love how they feel on my feet and how within the first hour of riding, usually my feet freeze, but my feet stayed warm which suprised me since they are pretty light, and easy. These boots, i think, are great! I am a progressing intermediate rider and i love these boots! Great fit, great response, great buy!
I'm a FL girl. . . please give me some...
Member since
Posted on
I'm a FL girl. . . please give me some advice; I need a good pair of boots for the next few seasons. I am learning and want to spend less than $150 bucks. . . would you recommend these? If not what would you recommend? Should I go Burtons for sure? Looking for advise, Thanks!
Member since
Groups:
Responded on
Hey Flo-Rida Girl...

My two cents... if you want a pair of boots that will last a few seasons, I would step up to something slightly higher than a Coco. The Mint is Burton's best selling Burton boot for a reason.

- It looks awesome!
- Its got a heat moldable liner -- which equates to amazing comfort! (plus it has insane out of the box feel)
- It has a quick lacing system called speedzone... makes it easy to tie and untie in a hurry.

Copy and paste this:

http://www.dogfunk.com/snowboard/Burton-Mint-Snowboard-Boot-Womens/BUR1200M.html

They are slightly over your $150 mark, but the extra $10 is well worth it!!!

Ohh, and to answer you question on whether Burton is the way to go or not. Lets face it, I'm a little biased, but snowboarders believe in Jake Burton and the company for a reason. Burton's concentration is on making the best product for ever level rider and at every price-point.

Promise that you'll be stoked!

Happy shredding!

p.s. You'd be stoked on the Coco's... but slightly more impressed with the mints!
Member since
Responded on
Type words here.