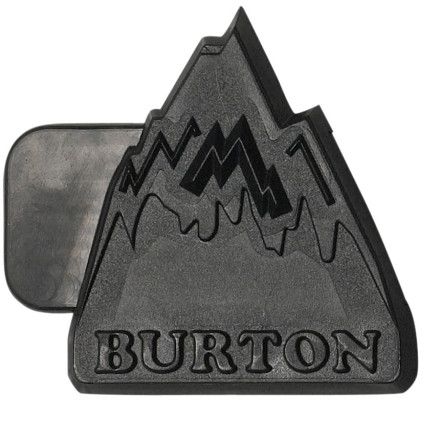 The Channel Mat fits into the Channel plug on your 2011 Burton Snowboard to deliver extra low-profile traction. Two-position adjustability lets you dial in whatever position works best for you.
These are gold if you make sure they stay on the board! They're not big at all, only like a matchbox size, but they give you just enough grip in the right place to get you off the chair if it's icy etc...
Just keen an eye on it though, I've lost two because they'll pop out if they're not in tight...
Wow, this is the most bogus POS I have ever purchased and a complete waste of money. Teeny tiny and useless is about all you can say about it. Flew out on some run, somewhere, BS.
WAY too small. Before riding the second day I went and got some of those spike/stud stomp pads with 8 of those little spikes and made a little circle with them around the channel mat. Now it looks sexy AND I can fit more than my big toe on it. Cool concept to fill in that channel pad but be prepared to buy a second stomp pad or else your boots gonna be slipping on every lift.
This thing is crap. Do not buy it. I thought it would look good over a big ugly stick-on stomp pad, and it did look good. However, it did not work at all. I could not even feel it. I'm not doing one footed tricks. I just wanted a little something to get off the lift so I'm not rolling down the windows in front of everyone like a kook, fail. FAIL.
The worst part is that it popped off at one point. I looked down and it was gone. luckily I was able to spot it and put it in my pocket because little gem is going back to Dogfunk.

OVERPRICED.
DOES NOT WORK.
LOOKS OK, BUT YOU WILL LOOSE IT.
Extremely small & overpriced
1.5in Tall
1.5in Wide
Overpriced compared to like any other stomp pad.

I read that this thing was small, but I was figuring like around 3 inches... In reality it's about 1.5 inches at it's tallest and at it's widest. Looks as if it will hold fine, but didn't get it in time to use on my last run of the season. Over priced compared to any other stomp pad around. Especially for being that small.
Its made well enough and it has not fallen out yet so thats all good. But its far smaller than I would have thought and kinda tough to feel surefooted sometimes. I think this should be given with the board. Its overpriced for what it is.. will likely throw on another pad to go along with it... My 2011 Custom does look nice and clean without another pad but I don't really care too much about that....
I had to return it it did not fit my 09 board.
This thing is tiny about three inches tall and 2 inches wide not sure if it is going to be able to stay in the plug when it gets some use