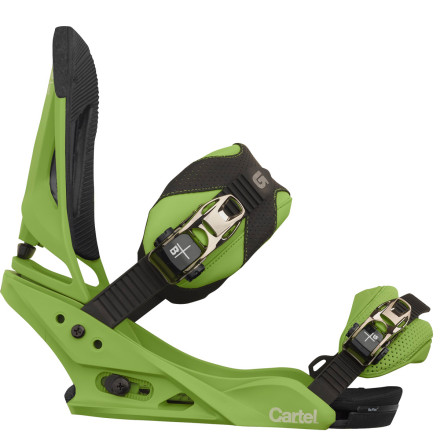 Detail Images
Description
The legacy continues.
One of the best-selling bindings on the planet since the mid-2000s, the Burton Cartel Re:Flex Snowboard Binding never stops evolving. The latest incarnation features Burton's Re:Flex hinged disc and AutoCANT FullBED cushioning system designed to ramp up board feel. The best part? It's compatible with every board from every manufacturer. Pick up a pair and see for yourself why more non-Burton pros choose Cartels than any other binding on the market.
Re:Flex baseplate/hinged disc allow your board to flex more naturally with no flat 'dead spot' underneath your binding tray
AutoCANT FullBED dual-density cushioning system aligns your lower body to mirror your stance width for reduced knee strain and better balance
B3 Gel Heel Cushioning soaks up flat landings
New single-component Zero-Lean highback with tool-free FLAD dials in your preferred forward lean, from 'absolutely none' to 'instant heelside response'
Superstrap ankle strap feels so soft and supple, you'll be tempted to buy it fancy underwear
Share your thoughts
What do you think of the
Burton
Cartel Re:Flex Snowboard Binding
? Share a...
GREAT BINDINGS
Familiarity:

I've put it through the wringer
I've ridden every type of binding there is over 20 years of riding. I'm not a big guy, but, bigger than the average snowboarder (6', 200#, size 11 boot). I also treat my bindings hard (several trips a year by plane, very harsh back country conditions, etc.). These things have stood up with no parts breaking which is previously unheard of to me. Very good buy. Worth every penny.
OK, but be warned
Familiarity:

I've used it once or twice and have initial impressions
The first day I went riding on these my rear toe strap busted. The ratchet still works and I was able to keep them strapped on, but the buckle no longer springs back to where it should be. They are comfortable, have great flex and move with the board, but my fear is that these are cheaply made.
Burton Gettagrip Capstrap do they fix to...
Burton Gettagrip Capstrap do they fix to my Burton Cartel Re:Flex Snowboard Binding
Simple, Light and Durable
These bindings will outlast whatever board you throw on them. Great investment!
Burton Cartel ReFlex
Gender:

Male

Familiarity:

I've used it several times
These are the best bindings by far I have owned. I consider myself an OG. I'm 37 and have been riding since I was 20. I have owned Drakes, Sims, Bent Metal, Flow, and previous Burtons in the past. These Cartels trump them all. I was running the Burton P1 carbons before these on my current board, and when I switched to these, my board feels SO much lighter! Great flex, great response. Easy to set up. I like the way Burton "hinged" the footpad to make adjustments easier. Comfortable, and easy to get on and off. The feature I am most impressed with is the easy adjustability of forward lean. You just turn a dial. Everything on this binding makes it easy to dial it in for your personal style. Next time I buy a new board, I will get another pair of these.
Great Binding, especially for that sale price!
Really great binding, just a little too stiff for me, but there are a lot of adjustments that you can make to them that can tweak that a bit. i would defiantly recommend to anyone thats looking for a cheaper binding but not lacking much in the quality area
I have this years Burton Moto in a size...
I have this years Burton Moto in a size 10. What size binding would be best, M or L?
You can never go wrong with large...The straps will ajust to fit your boots
Best binding 5th year coming. Good flex, good feel, look good. They run a little small so if you have a wider boot i would go with a size up. I wear a 9.5 and a large fits great with my Vans boots
New this year to Burtons binding line is the Re:Flex. I bought thiese bindings for the B3 gel in the heel and the Re:Flex.
I love these bindings so much. I have them paired with a 153 T. Rice Pro deck and they're better than PB&J sandwhich's. I really do think Burton is pretty great at making bindings, because these bindings are light, have good flex and, fantastic padding through out the foot bed. I love them, I will stick to Burton bindings for sure!
I got these for this season. they are great and have enough flex for me. They really work great in any condition and help give my board some great response. I came off a set of customs which were good also but had to much flex for me. plus the straps are oh so comfy.
So these were enjoyable at first but the more I put them thru the paces, the more I disliked them. The highbacks and straps are nice, but I just didn't like the Autocant system in the footbeds. The cushioning was excellent, but the way the Autocant works was just too awkward for me and it completely changed the way I rode. My knees were wayyyyy to bowed in, so i had to widen my stance just to feel normal and that made everything else different. I sold these and pick up some Missions that don't have Autocant.
EST performance on a 4 hole board
I use these on my Never Summer Raptor. Just as they are known for, I find them to be the most comfortable bindings on the planet. Having part of the base be dual-density cushioning makes them be so close to the EST system without needing to buy a Burton board. The Re:Flex binding is highly recommended.
Burton makes a good product, and these bindings are no exception. I bought the green Cartel Re:Flex binding for my new Evo, and hated them. These bindings are insanely stiff with no flex in the highback, and an overstuffed ankle strap. Wearing these bindings I felt like I was in my ski boots and had no ankle flexibly or extension. This is not a Burton hater review; I absolutely love my Customs(more flexible).

Still giving 3 just because they are a solid product. I just think their flexibility has be greatly exaggerated.

Good for a stiff powder board though.
What is the weight of these bindings?
What is the weight of these bindings?
Seriously. All snowboard marketing material (bindings/boards) talk up the "super lightweight" aspects. Then when you check the specs...nothing. Some even go on for paragraphs about how "lightweight" X is, then never publish the actual weight!!! We're just supposed to take their word for it. Totally opposite world vs. mountaineering, where not publishing the weight would be a joke.

I'm going to order these because my Diode's broke, will weigh and publish here.
Definitely recommend them!
I bought these bindings to replace some old Burton Freestyles I've had since I started snowboarding. I knew the Freestyles were by no means great, but after putting these on my board it is a night and day different.

I'm a big fan of the Highback plates that are fairly firm but still offer a little bit of flex. The adjustable gas pedal is a fantastic feature as well. The straps are plush compared to what I was coming from. Lots of adjust-ability in these bindings to really get things dialed in.

I've been up twice with these bindings now. The first time was after 18"+ had dumped the day before on Hood and these bindings preformed flawlessly in all that nice powder. The second time it was in a bit icier conditions are a fresh wax on the board. I found myself exerting half the effort I would normally have had to with my old bindings. Very responsive and forgiving. I riding on some really worn Burton boots so I hoping to upgrade to some nice Thirty-Twos soon. I'm really excited for a nice firm combo setup like that.

The Re:Flex system is also really nice as well. These bindings are literally compatible with any board. This was a nice selling point considering I'm planning to step up to a nicer board nice season.

I find myself giving these bindings 4 stars instead of 5 only because I've only had one other set of bindings and because of the price. I feel slightly cheated that I'm paying for so much plastic and foam.

I would recommend these to any intermediate to advance All-Mountain boarders. I am very pleased so far.
first off i must say that i am completely bias when it comes to burton... i tend to hate on them even tho i know they but out solid gear its just a personal thing... but these bindings for sure lived up to the hype.. i love everything about them! they are responsive and sturdy as hell! if you got the cash i recommend dropping on these if you don't save up and drop on them hahhaha
Rides like a dream in every condition!
What can I say, but repeat what others say about them. They are great bindings. They seem to be something that Burton haters even are okay with owning, which is really kinda funny when you give it some thought. Everything is comfortable on them. I'm running a large with 11.5 boots. Responsive heel-to-toe and just enough flex torsionally. The bottom line is that you will be very happy with these bindings. PERHAPS there are others that you would be happier with, but these esentially take the guesswork out of choosing bindings. People looking for specific application bindings (Powder only, park only) probably have another 1st choice binding however. The reason I am giving it 4 stars instead of 5 is because I have and issue with the foam on the highback starting to shred and tear off after 20 days of riding. To me it is a weakpoint that is showing obvious signs of wear that fast.
Will a large fit a size 10 nike kaujiu...
Will a large fit a size 10 nike kaujiu boot?
Yes, run the large for more adjust-ability.