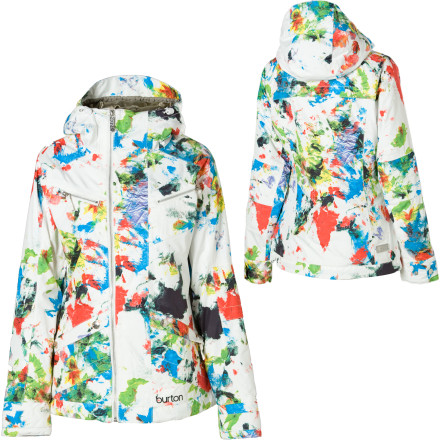 Detail Images
No other jacket like this for sure!!!
I bought this during the 2009 season - amazing. I only wish that the colors were brighter as seen in the pic. It is a great, waterproof, colorful jacket but the image of it online is a little brighter than it actually is. Overall, i've gotten a million and one compliments on this jacket... and have never seen another person wearing it! It's a little tough to match pants to it - if you even care about matching. I went with a greenish, and looking for a purple or coral/reddish color pant. Overall 5 stars!!! I wish Burton made more of this type of crazy print and different colors.
I love LOVE this jacket. Great fit. perfect warmth. Pretty light weight. Just a great jacket all around. I did wish for it to have a removable hood but I'll live.
Does the hood zip off? Have ou got a photo...
Does the hood zip off? Have ou got a photo that shows someone wearing the jacket. I am about a 10 - 12 normally. what size would best suit me? thank you Michelle Hall
No the Hood is not removable. Sorry we do not have a pic of some one wearing it. I would measure yourself just to make sure, but a 10-12 is in between the Large and the XL. Get a tape measure, measure yourself under your arms and around your chest, compare that to the sizing chart above. This will give you a better idea of what size will best fit you.
I really like the cut on this jacket it is very flattering. Also I really like the way the neckline comes up over your lower face to protect you from the elements and the cold.
I got this jacket for Christmas and returned it. It was just ok but i didnt love it...
The burton website said it was a "sig fit" cut but when in person i don't think it fits the description. The way it comes in on the sides was very unflattering with my snow pants on. Also the color is much more of a purple than black cherry and the zipper came up way too high when zipped all the way up.

On the plus side t it does have wrist gaiters and it is very true to size I am 5' 6 and the small fit fine in other than the unflattering cut.
is this a warm jacket, or is layering...
is this a warm jacket, or is layering necessary?
It is decently warm with some layering/insulation! 80g body, 60g in the sleeves.

However, you will want to layer with a bonded fleece and some thermals to stay ultra warm!