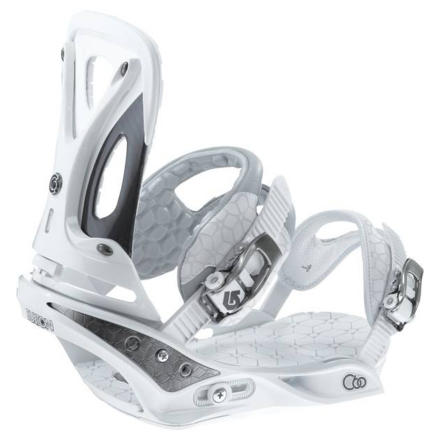 Share your thoughts
What do you think of the
Burton
C60 Snowboard Binding - 09/10
? Share a...
can these be used on the ride highlife??
can these be used on the ride highlife??
Yes, these include 2 sets of discs- 1 for mounting Burton's 3D pattern, and 1 that will work with any 4x4 style mount. Rock'em on your Highlife! Nice setup!!
Best Answer
Yes you can. They will fit any bolt pattern on any board.
can these be used on a channel board
can these be used on a channel board
These can. They should come with a 2-hole disk.
I saw a dude asking about Mediums in April....
I saw a dude asking about Mediums in April. Do you guys plan on ever getting more in? I really want to take advantage of this sale and they're more expensive on Burton's site. My size 9 boots need a home!
No more are expected until next season, and at that time they will most likely be back to full price.
The will not come in in this model.
G-Day Mate
Im after a pair of medium C60 est bindings???
We're out of 'em, you can buy from Burton directly though. http://www.burton.com/mens-snowboard-bindings-all-mountain-freestyle-c60-est-binding/217942,default,pd.html?dwvar_217942_variationColor=001&start=17&cgid=mens-bindings&index=17&masterID=217942&top=1264&key=cgid%3Dmens-bindings
These work, I board all day with no discomfort, take the time to set the angles for your riding the response will be amazing when you need it in a tough situation.
The brown color is cool with the wood grain on the backrests. I've already had compliments on the looks wasn't looking for that.
These bindings kick ass. I like my setup to be stiff and responsive so if your looking for something to lay down butters in these are not your best choice. But if you like the deep stuff and charging steeps, these are what's up. The ratchets are smooth, the padding is cush and they are light light light... best binding I've ever had.
Love these bindings, but are a little delicate. I snapped the highback at Aspen Highlands, and it totally ruined my day. It was my fault for playing around in the trees. Sent them back and Burton had a lag time of about 4 weeks. Anyway, the bindings ride great, but if you're a big dude like me, 6"2' 195lbs roaring down the mountain, you may want to reconsider going with the Triad's or the Cartels. A little extra weight won't be bad for Big Mtn riders. Love the feel! Recommend if you have the cashflow.
I just picked these up about a month ago and just got the opportunity to use them in Japan for a few weeks. I''l compare them to my previous bindings (i believe they were c60s also circa 2004-5, when the highback was full carbon instead of the holy one that it has now, and it had a lamborghini like yellow marquis on the highback as well) that these replaced.

Like the previous c60s, these are super stiff and have great power transfer from feet to bindings to board. I've used these in the park as well as back country and they are really great performers, with the dial up angle on the back, you can adjust for super icy conditions, or just when you need better edge grip for lazy days. The only performance difference i can remember from my old models is that it had a "gas pedal" hinge on the front end of the baseplate which not only added a bit more flexibility for hard turns but also gave a bit more cushioning. I do ride with palmer pls lifters along with all of my boards, so i can really tell when the padding is substantially different. The only complaint I have is the use of the CF, i mean come on Jake Burton and company, you're loyal customers are and remain so because we expect the products to live up to the brand name as it has been established, and i realize it's expensive, but if my old c60s cost the same amount, and seem to have better build quality, something is missing from the equation on your end. Same money, less Carbon Fiber? hmmmm. Well shape up soon, cause the loyalists can only take so much before the brand leaves a sour taste in our mouths.

So overall, an excellent riding and technically innovative set of bindings if you're willing to drop the cash. But maybe you should buy them this year, cause next season, the CF may be limited to the burton logo......HA HA HA. easy riding dudes!
Lets Set The Record Straight
Any body who breaks the high backs on these bindings are complete morons. Humans can not break these binding while "snowboarding" unless in a wreak with a rock or catastrophic manufacture defect (highly rare). A chair lift on the other hand can snap them in two. Carbon Fiber is much stronger than plastic. That is why chairs can break them more easily. Carbon fiber high backs will break before they bend. Plastic highbacks will bend much more if a chair (and 1 or 2 adults) wrenches on it. If you are looking for a stiff responsive binding with no forgivness, look no further. I've brussed my tibia thru my driver Xs once (or twice) because I didnt see a ice chunck while riding at warp speed. I didnt wreck, the iertia traveled right through the binding. Be careful while loading on low chairs and dont step on the straps and these will last for years, even if you ride 70+ days a year. If your not one of the fastest riders on the hill you wont need these!