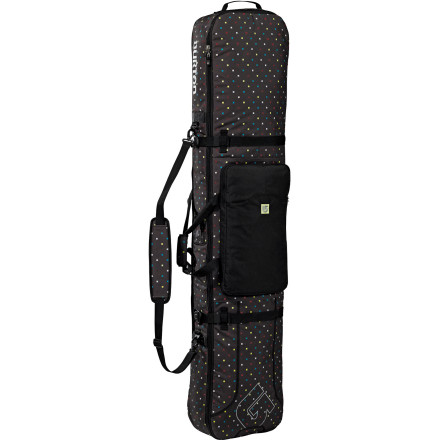 First Board bag, and it will be my last. This bag is great. Awesome padding and tones of room. Used this to travel to SF and Tahoe... Has a skateboard strap to attach one and use it to make the back mobile. All closures are of solid construction.
Has anyone used this bag for skis? It...
Has anyone used this bag for skis? It seems like it would work well laying a pair flat. Curious if anyone has tried it and what they thought.
check out the review right under this
Great bag, all the features you might want/expect in a large travel bag. Room for all your gear and more...
Runs a little small - the 166 was perfect for my 156 Burton board, with a little room to spare for some additional padding on the tips. Get one while it's on sale!
I got the 181cm Burton Board case. This bag has worked out perfectly for what I use it for. I like to travel with both a snowboard (bindings removed but in bag) and a pair of alpine skis. This bag allows me to bring both and only check one bag. Also, I am able to pack a sufficient amount of clothing and other gear (helmet, sb boots, poles, etc.) to pad my equipment and keep everything in place. No matter how I pack it all of my gear fits securely, and the bag typically weighs in around 45-48 lbs. I previously used my friends wheelie version and always ended up being overweight due to the wheel apparatus. The one complaint I have is that a small plastic piece on the shoulder strap broke on my first trip and I now have to use a different strap. No big deal though. Bottom line: get this bag and pack everything you need.
This is one tough bag. The airline beats the crap out of my luggage but this bag holds up. Very roomy and well padded.

This bag is also wide enough to accomodate the highest highbacks folded down. Other bags are narrow so measure twice, buy once.
My Burton travel case rocks!
I love this case! Nicely padded on the inside, lots of pockets, and spacious enough for the board, board, pants and jacket. No wheels but they make another model with them. If you want something a little less expensive and don't mind carrying the bag (v.s. wheeling) this is great for you.
What size do you recommend for a 160 cm...
What size do you recommend for a 160 cm wide board? Will a wide board fit?
166 bag will fit your 160 wide no problem
Does anyone know if I would be able to...
Does anyone know if I would be able to safely fit both a board and a pair of alpine skis in this bag? If not, is there a bag out there that I would be able to do this with? My skis are 177cm. Thanks.
Biggest bag out there for me is the Dakine High roller. You can fit your girlfriend and 2 snowboards in there.
, ☃bcs_badge_alumni_label☃
Great Bag
Awesome bag. Really big and roomy so that you can bring all of your stuff with you along and not have to worry about packing it into something smaller that just takes up more room. I got it for my girlfriend to be able to bring her board with her wherever we ride, and she loves it.