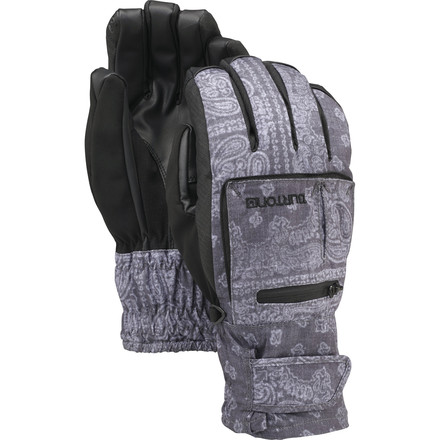 When its time to drop some pillow lines or tweak a method, the Burton Baker Men's Under Glove will keep your fingers dry and enveloped in total warmth. Lay waste to the wettest snow imaginable—such as infamous Sierra Cement—with the extremely waterproof Insane Membrane 2.0.

Enjoy riding when the mercury drops like a sinking ship? Oven-like warmth provided via Thermacore Insulation combats windchill warnings and Arctic blasts with gusto. If that's not sufficient or you happen to be some subzero masochist, take comfort in a zippered hand warmer pocket for warmth reinforcement. Once spring decides to show face, delight in the DryRide Ultrawick liner, which can be removed for less warmth. Poke and tweak to your heart's delight with an ergonomic pre-curved fit, which offers increased dexterity for stylish grabs. Speaking of dexterity, flip through your smartphone or mp3 device like a pro with Screen Grab Toughgrip Palms.

Waterproof Insane Membrane 2.0
Thermacore insulation
Fixed fleece lining
Removable DryRide Ultrawick liner
Heater/Vent pocket
Screen Grab Toughgrip Palms
Ergonomic pre-curved fit
What do you think about this product?
Have questions about this product?


Wear just the liner, just the insulated shell, or combine the two fully loaded versatility with three options in one. The removable dryride ultrawick stretch jersey liner is perfect and the new screen grab is insane such a great added feature !