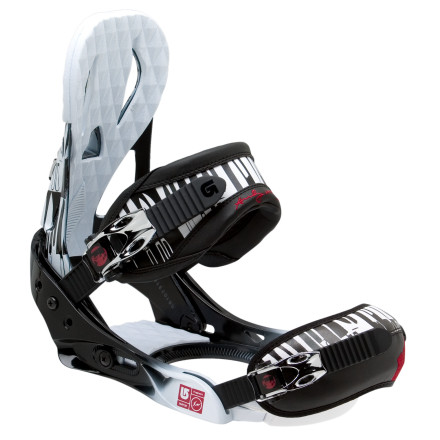 Detail Images
These bindings are awesome.
They are between the Mission and Cartel when it comes to stiffness.
Everyone sees them say they a sick bindings.
Its a must buy.
bought these bindings since my old ones were bad. I have to say i was surprised that these worked very well. they provide great support and are very solid. would recommend the purchase of these bindings to everyone.
These bindings were cheap and very nice for park and pipe. They have nice FLEX, and give a lot of pop to riding the hill. I would recommend these bindings to anyone who likes to hit the hole hill.
these bindings look sick and I really like the toe strap, but the highback is really tall and was very uncomfortable for me to ride. I run very little forward lean and even with the lean adjusted to 0 it still was painful to ride with these bindings--especially accross the flats. These were also very soft compared to my old bindings which is good for freestyle but not good for the riding I do. I ended up returning them and going with a stiffer binding with a shorter highback.