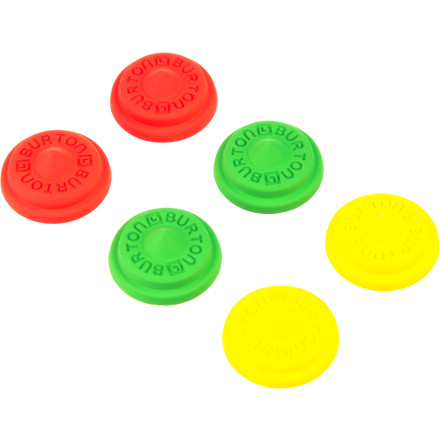 Colors

Community Images
Description
Stay in control without a giant rental-shop stomp pad.
The Burton Aluminum Stud Mats offer customizable traction with six separate aluminum discs. Stick 'em wherever you want for a bit of extra bling and slip resistance while getting off the lift.
These fall off in the car going to the Mountain.
I love them...
Familiarity:

I've put it through the wringer
After reading the reviews on these I had to respond. It seems many people are having trouble with these falling off. I have 5 boards with these on them and have countless days on them over the past 2 seasons. I have never dropped one. Plus I applied these to all different boards with different top sheets and again have never had one fall off. This makes me think that the majority of people are NOT applying them properly. So I will offer my 2 cents on how to apply:

1) Make sure the board has acclimated to indoor temperatures, IE 65-70 degrees. If you try to stick these to a cold board they will fall off.

2) Clean the top sheet well with a cleaner such as isopropyl alcohol. If you don't clean they will fall off.

3) Once the board is clean and dry, stick the stud to the desired location being careful to NOT touch the adhesive tape and get the location right the first time. If you touch the adhesive or try to move it once placed then they will likely fall off.

4) Once all the studs are stuck, place something such as a book over all the studs and place weights onto of the book, at least 15-20lbs, over them.

5) Wait overnight before removing the weights.



If you do that and still have problems then that means your specific top sheet material is not conducive. If your top sheet is significantly textured then you may also find issues with these. If that is the case then look for a larger stomp pad that has greater surface area of adhesion. I have attached picture of one of mine that was the most challenging. Look at the board that has (165) next to the studs. That board has a very deep textured hemp top sheet and I still have not dropped one stud.

Hope this helps you....


Meh
Familiarity:

I've used it several times
when i first got them i loved them, after 1 day of using it they 2 of them fell off, then i went out 3 more times and 2 more came off, and then i just went out the other day and the last 2 came off, if the glue was better then would have earned 5 stars from me
Suckers fell off after a month
Gender:

Male

Familiarity:

I've used it several times
at first i loved this stomp pad. But those sharp nipple things fell off after a month of riding. Im only left with two. Please fix glue
"60% of the time, it works every time"
Grippy enough, wish there were a few more in the pack. Love the colors, would love them more if they stayed on the board. The green guy popped off day 1. All the others are still hanging in there after a half season, but I miss greeny.
Came off first day of riding
Gender:

Male

Familiarity:

I've used it several times
I bought a brand new board and put 4 of the black ones on, one of them fell off probably a few runs into the day. They are pricey and if you can I'd try something else. I did use a hairdryer and made sure they were on there good.
Bought to go on my new Burton Hero because the colors matched. Cleaned the surface, dried it, and stuck on about a week ago and then put weight on for 2 days. Took my board out today and lost 1 before even getting on the lift and 4 more during the rest of the day, now I just have 1 left, wouldn't recommend even thought the colors were perfect
Hold my boots and do the job. This stud looks very nice! I love it.

Mantiene el pie en su lugar haciendo un buen trabajo. Lucen genial!
No slip. Looks awesome. 3 seasons and they haven't fallen off. I'd give it 5 starts though if it came with a few more studs.
I really like how sharp the studs are because I haven't slipped once. Would definitely recommend. Like I said in my pic post, you should probably look at getting two because I ended up using nine studs instead of the 6 they come with. It was worth it though. Used a CD as a trace if anyone was wondering.