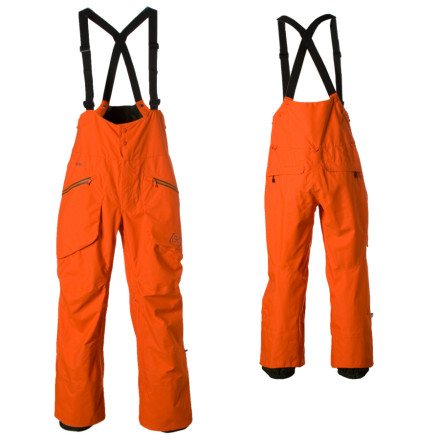 Detail Images
Share your thoughts
What do you think of the
Burton
AK 3L Skid Hi-Top Pant - Men's - 09/10
? Share a...
A Backcountry riders necessity!
Awesome & bomb proof! These bibs rock! The fit is nice and relaxed, not tight and not baggy. The suspenders do their job, have plenty of adjustment and stay on your shoulders unlike so many other bibs i've had. The high top/bib keeps snow from going down your drawers, the pockets are roomy and well placed so you can get to them with your jacket on with ease. The side zip and thigh vents dump heat perfectly! When and if these wear out I will be getting another pair with no hesitation!
This more a question for mark medina, you...
This more a question for mark medina, you say a size S fits you well, what size jeans do you wear?
I have jeans size 32/32, will this pant fit in a S?


thanks.
Best Answer
I wear 32/32 and bought the mediums... I live in SLC and went to the retail store and tried on both the smalls and mediums and the smalls were a tad shorter than I like... I like my fit baggy, but not gangster baggy, and that is how these fit me just a tad baggy.
Get yourself one of these!!!
I will never settle for anything less than the performance of Gore-Tex Pro after wearing these pants. 12-12-2009 was an epic day at Mammoth Mountain, CA and perfect conditions to test out these pants for the first time. A storm dropped over 36" in 24 hours and temps were in the low 20's. It was flurrying ALL day and you were getting pummeled on the lift and mountain with strong winds and torrents of snow. The pants kept me COMPLETELY dry. Not a single drop of water or flake of snow could hang on to these pants. Windproof performance was excellent as well. All I had underneath them was an Icebreaker mid-weight underpant and that combo kept me comfortable.

I'm 5'5" with an athletic build and a small fits me perfect due to the nature of the AK fit. Don't like things to get too baggy and I'm glad the size I got worked out so well. The huge pockets are a great feature and I'm glad they came with the RiRi zippers. You will be thankful for the butt flap too.

These pants perform well above anyone's expectations and definitely deserves five stars.

Get yours here, backcountry.com will treat you well.
One thing I hate on Pow days is the infamous cold drip of melted snow down the ol back of the pants. Seems to happen on about 50% of my tumbles in the deep stuff. NOT with the skids!!!!!

I hate full bibs as they feel restrictive and add an extra layer on your core (the area of your body that stays the warmest) The skids are sweet because it's more of a 3/4 bib with a loose fit, less material and doesn't feel restrictive at all.

Super tough as well. I rode for 2 seasons at Stowe in Vermont with the same pair with out a problem. If you haven't ridden Stowe, think tight sharp trees everywhere.

Skids are my go-to pant for those days when it's going to be deep. AND, if it gets sunny, I just take the bib straps off my shoulders and go for straps exposed look!!!