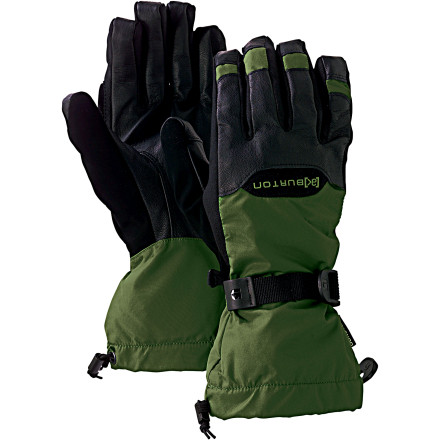 Share your thoughts
What do you think of the
Burton
AK 3L Throttle Glove - Men's
? Share a...
Definitely run a little small
I got these gloves because I was tired of having gloves without a gauntlet on them and I wanted something that would be warm and toasty on cold powder days. They do run small which is a problem for me bc I wear xl. The polartec fleece liners are worthless as part of the glove because they make the gloves even smaller, but they are nice when you are off the mountain. Overall they are pretty well constructed and are extremely waterproof, but I will probably go back to Dakine gloves before I buy another pair of burton ones.
Burton thought of everything with this glove
Pros: 1) The tape seamed shell material does an excellent job of shedding water throughout the day. I wore these in a slush storm and only the palms were noticeably wet. 2) The wrist closure is genius and easy cinch/uncinch with gloves on. 3) The dexterity is excellent, making flipping buckles, grabbing zippers and navigating pole loops is much easier than the Patagonia or Marmot ski gloves I have owned.

Cons: 1) If your hands are a bit sweaty and you pull the gloves off, the liner comes with it. I think this has more to do with the type of fleece material used in the liner than the glove construction. 2) The liner has no grip on the palm and starts shedding fleece when you use it separately. Fortunately they include an additional polartec liner with palm grips that is much better but not quite as warm.

In terms of the fit, I agree with the other reviewers that it's snug, but after 3-4 days on the hill it broke in nicely. I would classify my hands as "chunky" yet I still find most ski gloves to have a sloppy, baggy fit. In short, size up on this glove to be safe.

With any leather-palmed glove there is some degree of breaking in required, after which the glove is going to conform to the shape of your hand. I prefer leather palmed gloves despite their tendency to get soggy when wet because of the increased durability and fit they offer.

Overall, this is a really well-designed, well-made glove that's heavy on features but surprisingly not on weight. I would buy it again.
man these gloves seem hated
i can understand how frustrating it can be when sizing doesn't match up. i was fortunate enough though to just order a large and have it turn out to be perfect. it was tight at first, and if its at all moist your hand will come out with the liner still on. and it took days to break in properly. and the 3rd liner seemed really useless. but all in all i really really like these gloves. never got wet from the outside, but the thermawhatever liner is hot as hell sometimes, your hands will start to sweat. and if anyone knows what i should do about getting a replaceent liner, i lost mine at tahoe a few weeks ago. pls halp. and i d give this 4 1/2 stars, but it wont let me so ill round down
I'm sorry to say that I don't recommend these gloves. The other reviews are right when they say to get extra size bigger. Unfortunately, the biggest size available was a large and with the third layer I could barely fit my hand in them, and I have fairly small hands. I actually used them without the third layer and found that my hands were cold most of the time. Also, I take my gloves on and off a lot, and the second layer was a pain because it kept coming out constantly. I have other Burton products which I really like, but I can't recommend these. My advice is to click to the next pair of gloves.
Shrinking throttle gloves
This purchase was a no go for me. I took the reviews very seriously and measured my palm. I then cautiously went a size bigger than recommended and it STILL DIDN'T FIT. Somebody needs to figure out the grossly maladjusted measurement system you're using. This may be accurate for elves, midgets, or hobbits, but do any of them snowboard? Upon return, there were no larger sizes available. I'm done.
Incredible Gloves-just buy a size up.
Greatest gloves I've ever owned. Absolutely 100% waterproof, Gore-Tex city. I just tested them out in Breckenridge, CO and on Mt. Hood, OR and they are the best gloves for any condition. In Colorado it was sunny and hot so I removed the liner completely and wore just the shell but when I got up to 15 degree Mt. Hood, OR I wore the thinner liner and never got cold at all. I have yet to use the thicker liner just because it's so warm. I'll save it for whenever it gets below zero. You can actually wear both liners together but it's a lil tight. Whatever you do though, make sure you order 1 size up from the sizing chart. The sizing chart said I was a medium, so I got a Large and they fit perfectly or as Ace Ventura would say, "Llllllike a Glove!"
Awesome gloves - fit small
Awesome gloves with great waterproofness -- used them last weekend in the wet Sierra cement and kept the melting snow out. Super comfortable and keep your dexterity pretty well.

I would also recommend one size larger than normal as they fit tight when you have the thicker of the two glove inserts in it.

These are replacing my previous Burton gloves that lasted 6 seasons -- great quality with Burton gear!
A straightjacket for the hands...
Okay. Other reviewers say buy a size larger but I think that is an understatement. These gloves are ridiculously tight and small. I have small hands and ordered a medium and they are hard to even get on. I may return these for a large but the jury is out...
I ordered one size up because of other reviews on this site, and it made all the difference. They're awesome gloves, they can keep you're hands warm and perfectly dry in virtually any contions, but for whatever reason they are definitely made one size too small. Seriously, order one size up and you'll be glad you did. Unless you just really love making returns & exchanges or something. Okay, enough of the sizing. The outer glove is fully taped gore-tex, so your hands literally cannot get wet through these things, and the leather palms and fingers give you some nice dexterity and grip provided the style of the gloves. The interchangeable liners are a nice feature for riding in varied temperatures. They come with a polatec fleece liner with primaloft on the back of the hand, for colder condtions, and a pair of smaller, plain glove liners for not-so-cold days. The smaller ones have nice rubber grip on the palms so they're perfect for when you need to make a call or something on the lift but don't want your fingers to turn to icicles.
Best glove in the world but...
DO NOT FORGET TO BUY A LARGER Size!
The glove is like being in a BMW X5 !
Comfortable to the max, flexible enough to get everything done without taking it off (apart from opening a soda can), and reliable to keep you warm and dry in the future time to come.
Leather palm, so that stuff doesn't slip, and Gore Tex all over.

They also comes with another pair of gloves which i suspect are to wear when you're not boarding or something.

However, I have fairly big hands, but according to the measurements my hands are supposed to be L. I ordered XL thanks to another guy's review, and I can say that they almost Fit (a bit too small)! If your hand is beyond a Large size, you're out of luck because the XL glove won't fit you. I don't think they make these in an XXL but they should.

Come to think about it, If your hand is that big so that the XL is too small for your hands to fit, then aren't you too big to be snowboarding?