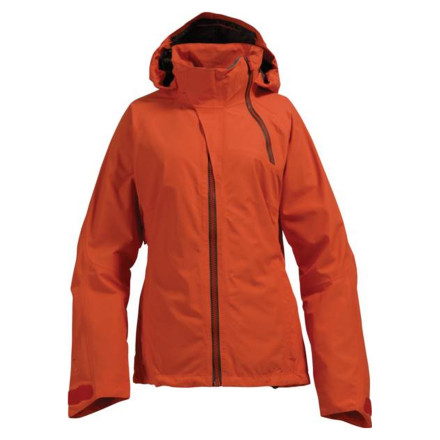 I'm looking for a snowboard jacket, so I...
I'm looking for a snowboard jacket, so I initially wanted the guaranteed warmth of down, etc etc. but with the gore-tex protection and guaranteed waterproofing and breathability, is it necessary to have the added insulation, or could a shell of this caliber do the trick and keep me toasty?
The shell will safe guard you from the elements for sure. If you don't want to layer at all, all you need with this jacket is a good quality base layer. You can get a the Gore-Tex and down with this jacket http://www.dogfunk.com/burton-ak-2l-flare-down-jacket-womens-09-10-bur2777
it's me against the elements.
i got mine in flouro yellow and can't get enough of it. i wear it riding, biking, scootering and anytime i need to defend myself against Vancouver rain. love that it's bright but also that it fits me well, right up under my chin to keep the wet stuff out, plus it's got nice soft material right around my neck. it's me against the elements.
Write your question here...Does this jacket...
Write your question here...Does this jacket have hand gaiters and have any skiers bought it and worn it?
I'm sorry, it does not have wrist gaiters. Any one who is serious about their outerwear should wear AK. It is the top of the line product made for outdoor activitys
I got it in canteen- at first I didn't like the color and even got a return auth # but then i decided the color was good- just not quite how it looked online. It zips in to my ak pants, the storm shield is so practical on the lift (cascade express on a windy day- so much nicer with the shield!) The first day I owned it was a 2 plus foot light fluffy pow day and not a single flake got in my drawers- usually inevitable. Oh and it's a very flattering fit- i was worried i'd look like a dude in black and khaki green- but the cut is feminine enough that i don't
Is the "Red Heat" color more of an...
Is the "Red Heat" color more of an orange?
It is a little redder than the picture
I wanted to really like this jacket, but I never got it on the slopes.
I purchased the Red Heat color for which a more accurate description might be safety cone orange. I could live with this (I like orange.) But the hood didn't fit over my helmet. I do take a size L in Giro and between L and XL in Bern helmets, but both my other jackets fit over any helmet that fits my head. If I squeezed the hood over my helmet it only covered 3/4 of the helmet, I couldn't move my head in any direction, and it was oddly quite uncomfortable. So its getting returned.
I am giving it two stars. Having a jacket that advertises itself as helmet compatible not fitting over a large helmet is weak. This completely defeats the purpose of a bomb proof hardshell to not be able to cover my head safely and dryly.
a bit more info on the fit...
I generally wear a medium in Burton Products and this fit like others in the same size. The fit seems to be better than either the Columbia or Mountain Hardwear jackets I currently own. It has a long back, didn't bulge out, or lift in weird ways when I bent over. (When the hood was down)
I love the woman's AK collection from Burton. Woman's Burton AK is filled with all the great functions they give the guys, plus, they add great cuts and prints. Durable, lightweight, breathable and CUTE!!
Could you please recommend a warm parka...
Could you please recommend a warm parka that goes below the hips for me that will keep me warm in the Glenwood Rockies in 2-20 degree weather? I probably wear an XL for comfort. I wear a regular 16. I am a senior. I thought the Baxter State Parka looked good but it is sold out (LLBean). I like the looks of a lot of your parkas but honestly don;t know which way to go. Items on sale would also be nice. I like that new coffee or mocha color too. Thanks
The North Face Metropolis Parka - Women's
Item #TNF3731
Fits just above tall boots.

Or a jacket that hits mid thigh:
The North Face Transit Down Jacket - Women's
Item #TNF3728

Both these jackets are not waterproof but will shed the snow,keep the wind out, good for walking in sub zero temperatures.