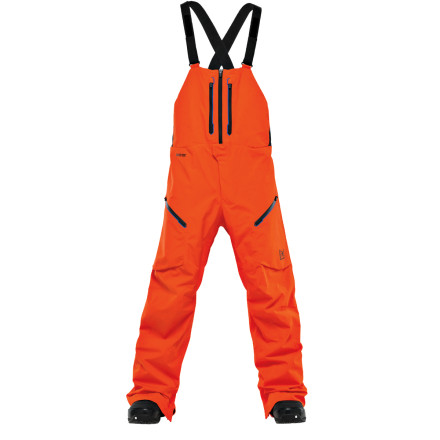 Detail Images
Burton built the Men's [ak] 2L Apex Gore-Tex Bib Pant to handle the bottomless snow of the Alaskan wilds—which means its more than ready for any conditions you might encounter in the lower 48. The full-coverage design on this bib, as well as the waterproof breathable Gore-Tex technology, fully taped seams, and waterproof zips, create a barrier that no stray snow can cross.
Brushed fleece lining at butt and knees wicks moisture and keeps you warmer
Stretch side panels increase mobility
Thigh cargo pockets and bib stash pockets give you easy access to essentials
Test-I-Cool ventilation system keeps you from steaming up
[ak] articulated fit emphasizes functionality and mobility
Pant gaiters keep the snow out of your boots
These bibs are very-very thin and glued rather than stitched in the critical areas such as zippers. I tore a huge hole after falling on my butt the first day on the hill (yes, it wasn't a brush up with the tree). Looking at the whole, I couldn't believe my eyes: this thin fabric was simply glued to the zipper and separated after the first stress. Backcountry stood by their warranty and made a refund. Great service from backcountry, very disappointing pants from Burton! I used to think that AK was high-end stuff, but not so much after this incident. Also, the velcro straps were positioned way too far, so the bibs were hanging way too low even on the highest position (seems like a poor design) and no way to adjust the length of the straps. Instead of these go for the tougher 3L fabric bibs such as Patagonia or Arcteryx which have proper stitches and adjustable straps.
These pants are pretty sweet apart from the straps. Nice cut, seemingly enough insulation to stay warm, sweet color, but what's up with the shoulder straps. Sure, I'm no giant at 5'7", but the straps can't be adjusted within three inches of my shoulders, leaving a floppy mass of fabric. Total drag.
love these bibs, bomb proof and gore tex. taped seams, great fit. couldn't ask for more out of a bib. these are my 2nd pair. my first pair are 4 years old and still in great shape, but, i am 4 years older and need a little more room for layering...

great pants.
I'm 6'2, 160 lbs... would I be a medium...
I'm 6'2, 160 lbs... would I be a medium or a large?
Hey there, you need to use your waist size to determine which one to order...
At your height, I'd have to say a large, but it'll probably be pretty baggy. If you go with a medium, you might find the legs a little short (but that might not be a huge deal since they are bibs, you could just loosen the straps and sag the pants a bit). I'm 6'2/185 and wear a large in AK gear, but they're pretty baggy. I tried a medium, but they were too short in the leg.
great pants. When its burly cold and nasty new England, these rule the elements. Best pants i have ever owned.
I bought this pant off of Backcounty about 3 seasons back. Going on my fourth year of riding in them. By far the best constructed, most durable and waterproof pant I have ever owned. I didn't take great care of them, normally left in my bag at the end of the day with the rest of my gear. Held up amazingly, both to abuse, and the elements. Took multiple broken branches with no holes, and never left me wet. Only complaint I would have is that there is no mesh in the inner leg vents. If you forget they are open, or accidentally leave it unzipped an inch or two, prepare to get a crotch full of pow when you wreck. Can't say enough good things about them. I'll be buying another pair of these once I find another deal on them. $400 is steep!!
Seemed a little thin, mesh lines only, no fleece at all. Seemed like a good idea gone a little weak. Just sayin, more durable and fleece seat and knees would help
Flood proof function for those who ride where few follow. Adjustable suspenders, Testicool cross flow venting and zip cargo pockets. With added fleece bottom and knees.Extended comfort and function in the most demanding of conditions. Unbeatable blend of breathable comfort, waterproof, and windproof protection.
Is BC going to carry other colors other...
Is BC going to carry other colors other than black?
Hey,

Yeah, we have the other two in stock right now.