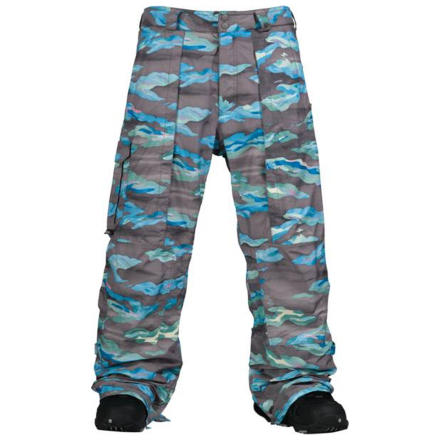 Community Images
Love these pants... Warm/dry in the coldest/wettest conditions, comfortable, and ergonomically designed. Last pair of pants I'll ever buy.
Just right amount of baggy.
I bought the 2009 version in True Black. They are actually black. I like my snowboard pants baggy but not so saggy that I can't walk right. I am 5'10" and 160# and I got the large ones. They fit over my knee brace. Very waterproof on wet spring chairlifts. They have the snap straps that keep them from dragging across the parking lot, sweet feature. There is only one cargo pocket, so they could use one on the other side, that's the only thing I would change.

Backcountry outlet has the best service, I buy a lot of my gear there (and Steep and Cheap)...very good customer service.
Do these have fleece seat and knee?
Do these have fleece seat and knee?
No, it has a mesh lining throughout the pant. These are the top of the line pants that are offered in the Burton line. You will not be disappointed.
Do these have fleece seat and knee? Do...
Do these have fleece seat and knee?
Do they have the hanging mesh lining throughout, thanks
It is the mesh lining that is custom for the Gore-Tex products. You will like it a lot.
Win. These pants are made of it.
Just got these babies in today. Got a killer deal on last year's colours and they look siq. I'm 6', 180lbs, 32 inseam. I got the XL and they're big, but not unwearable. Just steezy as hell. Can't wait to rock'em on the hill on Saturday. They're super light, tons of mobility, and I trust that the goretex shall keep my ass dry. Will update after the weekend.
Thicker Built Athletes Will Love These
These pants are perfect for the larger athlete! Our experience has been that just because snowbard pants are baggy - doesn't mean they'll be comfortable. My sons are football players/weightlifters (thick thighs and all) and with the suggestion of the Backcountry Experts - these really did the trick!

No complaints of "too tight in the legs". Both are 6' tall with 35" inseams (my guess is that these have a 36"+ inseam) as they do run on the longer side. I ordered size XL for both and had one tailored in the waist slightly - the adjustable tabs in the waist band give a lot of adjustable possibilities.

They've stayed comfortable and warm during the high wind and snow storms in Mammoth, and the vents kept them cool on warmer, sunny days. Highly recommended!