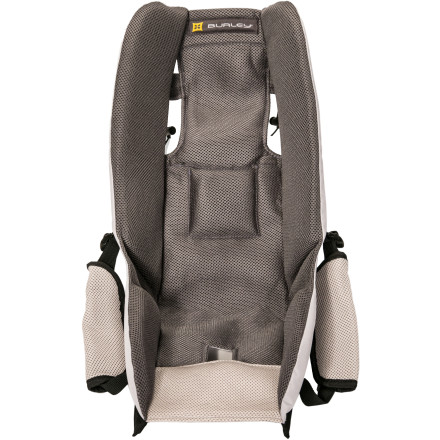 Detail Images

Community Images
Description
Keep your little one snuggly.
Get back into your fitness routine with the Burley Baby Snuggler. Burley gave the Baby Snuggler soft, thick side padding to keep your baby comfortable and stable when you're on the go. Lumbar support cushions your infant's back and holds his or her head securely when you jog or ride.
Machine-washable because spills and spit-up happen
Unanswered Question
People are talking about using this product for cycling with the burley, and it is even advertised that way by backcountry, but the up-close photo of the warning label says NOT for use with cycling. Why is that? Is it unsafe for use while cycling. Thanks, I really would like to know. My daughter is nine months now and looks soooooo uncomfortable in the burley bee the way she sits in it.
Soft and Snuggly. The Baby Snuggler™ keeps your littlest traveler secure when jogging, strolling, or towing behind your bike (child must be able to sit upright unattended and hold his or her head up while wearing a bicycle helmet while biking). Recommended for children 6-24 months of age. Child should be at least one before biking in trailer. Before then it is recommended to use the Snuggler for strolling and jogging.



-Machine washable

-Thick side padding for comfort and support

-Lumbar support pad for the infant's back

-All materials are phthalate-free
I got this for my niece.
Familiarity:

I've used it once or twice and have initial impressions
She looks so happy and cozy in this snuggler. She can fit in her stroller now, and that's definitely a plus. It's easy to install and remove too.
My son is 15 months old and weighs 22 lbs,...
My son is 15 months old and weighs 22 lbs, will this be small for him? He slouches because there is no back support inside the burle bee and after 10-15 minutes of riding, he gets annoyed of how he is sitting. I tried padding it with a little small pillow, but I wan something that is made for the burley bee. I looked at the Encore and Solo seat pad and they look like they will suit him. Please I need advice. Thank you.
The Snuggler is mostly intended to provide neck support to small children 6-24 months of age. If your child is complaining about slouching he probably need some lumbar support. The Snuggler can help with that, but a rolled up towel behind the back also works great for lumbar support.
Can you use the snuggler with non Burley...
Can you use the snuggler with non Burley bike trailers as long as it has 5pt harness?
If the straps on the harness are arranged in the same way, the Burley snuggler should work in another product.
My burley was made in 2001. Can I use...
My burley was made in 2001. Can I use this Snuggler? Thanks for any information.
It can be used with any Burley trailers that have a 5-point safety harness.
Write your question here...Can you use...
Write your question here...Can you use this behind the bike with a 8 month old?
I can only offer a rough guideline because every child is different in their physical development, but the generally accepted limit is that the child be 1 year old before cycling with them.
I started riding with my daughter in the Burley trailer at 5-6 months old. Probably not generally recommended, but it worked out fine for me. Obviously, just use common sense and caution.