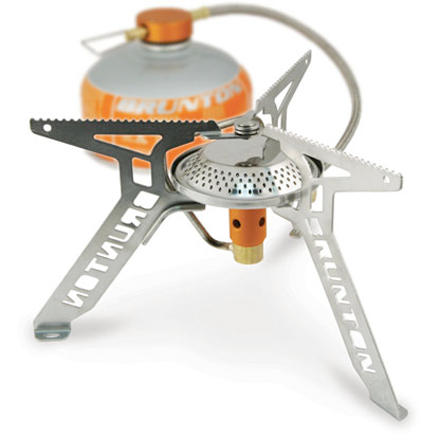 Community Images
Great Stove, find one if you can!
Great canister stove! I really like the size of the cooking platform; its big enough to support my larger pots without fear of falling. This does make it a tad larger then other stoves so it may not fit into that cooking pot your old stove used to fit into. The fuel line is a braided steel line, and fits sturdy into its housings... after all the use I have yet to cut/reseat the hose on either end... All in all a great stove, it doesn't excel in any particular area nor does it fall short, just a great all around performer!
So-- I am not the most experienced camper--...
So-- I am not the most experienced camper-- how easy is the stove to set up? Thanks!
Best Answer
If you can thread a light bulb, you shouldn't have any trouble setting this stove up. All you need to do is spread the legs around the burner and then screw on the end of the fuel line to a fuel canister. Great product and its pretty stable on the ground (or other flat surface) as well!
Can someone please upload a picture of the...
Can someone please upload a picture of the Vesta in its folded form, maybe along with a butane canister or something similar for size reference?
Best Answer
Hey Andrew,

Here's a picture in its package. Folded dimensions- Side to side, it measures 5". Base of legs to top of pots supports, 4". Burner head and fuel line ends up at 3" wide. Comes with a storage sack and wind screen. Fits nicely into most 1.5L pots. Don't even hesitate to buy this stove for a minute. For the price, quality and performance, it doesn't get any better.
After reading the reviews of Phil and Jeff buying this stove was a no-brainer. If it passed the test from those 2 guys I knew it was a good one.

Fantastic flame control, you can simmer and not worry about scorching your food. Very reliable, has never let me down yet. Comes with a softcase and windscreen. Folds up small.

Very efficient burning and works with any brand fuel with a Lindal type valve.
New guy trying to learn the ropes! I'm a...
New guy trying to learn the ropes!

I'm a new buyer and looking for a reliable backpacking stove. I am between this and the currently on sale whisperlite. From what I can understand, the flame control and stability of this canister styled burner is far more reliable. However, I reside and frequently camp in the midwest, meaning that I am exposed to a wide variety of temperatures. It's possible that I may be using a stove at or even below 30 degrees. While I understand that a remedy to cold weather is keeping canisters warm with body heat (whether in a coat or sleeping bag) I was wondering how outside weather could affect the gas during operation. Based on my specs, would you recommend this or a liquid-fuel stove such as the whisperlite? I've weighed out the pros and cons, and I've even gotten some opinions from previous (less experienced) backpacking parterners, so what I'm looking for are opinions of experienced users. Thanks for the input!
Best Answer
As you can see from our reviews, we're really impressed with this stove. It would unquestionably be my first choice of the two you mentioned, and canister fuel is what I would choose over liquid fuel, except in all but the absolute worst of winter conditions, or, depending on where I was traveling, internationally. The beauty of the ability to invert the canister is that you've gone from feeding a mixture of gases that otherwise have to be vaporized to burn, to feeding and burning the fuels in their liquid form, which essentially does away with most of the restrictions and performance issues in cold weather. 30 Degrees is easy, and the range where I would transition to one of my liquid fuel stoves is sustained single digits to sub-zero. You will love this stove, and for the reliability, stability, performance and price, you won't find anything even close. Hope that helped.

BTW- if you're interested, have a look at zenstoves.net for some good info on fuels and stoves.
Sean,
My answer is based on the primary/majority usage of whichever stove you choose. Both stoves work well in moderate temperatures. By inverting the compressed gas canister, the Vesta will give you an extra twenty degrees of cold weather use. You shouldn't have to sleep with the canister to achieve these lower results. On the flip side, the WhisperLite will give you even better performance @ much lower temperatures & almost as good performance in more moderate conditions. I like canister stoves better in these situations. The Vesta is lighter, cleaner burning, & slightly quieter.

Going back to my initial statement, the most important factor for you to decide is how & where you will be using your stove the majority of time. BTW, either stove would be an excellent choice.
A sturdy stove for backpacking
A great stove for camping and backpacking. Easy to use with the fuel can away from the burner. The three legs provide a sturdy surface for all your cooking needs, from boinling water to frying burgers. No complaints, only compliments.
Out of the package and into use within minutes, I needed to closely scrutinize the construction and performance of this remote canister stove with a VERY critical eye and a few basic tests before I could even begin to consider relying on it out in the field for the first time in a few days. Time, and the beating I intend to give it, will tell, but just as the other reviewers have noted, this is a very stable and solid stove. It's also simple and fast to deal with. 11,500 BTUs, with amazingly precise flame control that not only roars on high, but simmers as well as anything I own that costs 3x as much. At 1000ft, I brought 2 liters of water to a rolling boil in an uncovered titanium pot in just under 8 minutes at a medium-high setting. The 7" wide, deeply grooved pot supports virtually locked my 2.4L pot into place, and the large (2 3/8") burner head provided a nice, wide, even and unwavering flame. I was also pleasantly surprised to find that the aluminum valve body did a great job supporting the fuel canister when inverted, even on a less than level and smooth surface. Overall, I'm really impressed so far. For the quality, price and performance, it's already pretty clear that this one will be hard to beat, and should definitely be considered when you're looking for a canister stove of any type or brand.
What are the footprint and pot support...
What are the footprint and pot support diameters on the legs, and how's the gauge of the steel? Any distortion or torquing when stirring a full 2L+ pot, or when unfolding and closing? Overall, pretty sturdy and well made?

Thanks
Best Answer
The pot supports are 7" in diameter. The ends of the legs are positioned directly below the ends of the pot supports creating amazing stability especially when using larger pots & pans. I don't have a micrometer to measure the actual thickness of the stainless steel but this stove can handle more weight than any "on top" stove. The serrations are deeper than most keeping cookware in place especially on uneven surfaces. Very well made & this remote canister stove is considerably less expensive than the MSR model. In my opinion, more stove for the money.
Especially Good For Windy Conditions
I've now used my Vesta stove on two outings. Both times were in windy conditions gusting up to 30mph. I purchased this stove for that reason allowing me the option to use the included windscreen around the stove. I have yet to use the windscreen. It worked great without it.

Upon lighting, a powerful, low pitch sound could be heard. It took only 5 minutes to boil 24oz of water on a low setting @ my camp @ 11,200ft. Due to the size of the burner head, this stove is ideal for use with larger cookware especially frying pans & cooking for larger parties. I also noticed it is very efficient using only 100 grams of fuel in 11 burns. The legs open & position themselves @ equally placed stops creating amazing stability.

All things considered, this is a very good choice for solo to multi-person usage. It is reasonably priced especially considering what the other manufacturer's price is for their comparable stove.
Not the lightest stove in the world, but quite packable and one of the few that'll easily support large (2-3 quart) pots (Pictured with my 2.5 quart MSR Quick 2 pot). Just used it for a week trek through the Boundary Waters in 30-40 degree weather; for a canister stove it performed very well in the cold, only frosted up once at a balmy temp of 30 degrees (and I had also forgotten to store the fuel in our sleeping bag that night). Fuel-wise we used about 12 ounces of fuel for one week, at two, two-person hot meals and one pot of coffee a day. That's real meals too, not freeze dried, and at an average daily temp of 38. Simmers very well. Would give it 5 stars except for the fact that it doesn't include the wind screen or hard case Brunton promises, does include a stuff sack though!
Can the canister be turned upside down for...
Can the canister be turned upside down for use in cold weather?
I recently purchased a Vesta so I'll be reviewing it before too long.

I'm sure the canister can be turned upside down to burn the liquid. I'll let you know the results as soon as I can test it out.
Best Answer
The Brunton Vesta stove canister can be turned upside down in order to burn it's liquid fuel. The valve body diameter is slightly larger than a half dollar (remember them?) enabling the canister to sit level, as long as the ground is.
I have only used this stove twice, but it has performed flawlessly, packs small, weighs nothing, and boils water in a minute and a half.

I use it for motorcycle camping and don't feel a need for anything else.

I would definetly recommend this stove AND backcountry.com. Excellent customer service.
how do I refill the butane canister, what...
how do I refill the butane canister, what is the cost & or is there an easyer cheaper way to use it ?
You can't refill these, unfortunately.
Best Answer
Tent stakes also make great puncturing tools.
Write your question here...Will this stove...
Write your question here...Will this stove fit into the GSI Pinnacle Dualist cookset?
Best Answer
by the time you throw your forks, cups and mugs in i dont think that it will. But the dimensions of this stove are 4x5x3 and the dimensions of the Dualist are 6.4 x 5.9 inches. So if you have the Dualist already do some measurements and see what you come up with but i doubt it. Either way at 4x5x3 it will fit in lots of places!
Will it work with MSR IsoPro fuel...
Will it work with MSR IsoPro fuel canisters?
Best Answer
This stove will work with any screw-on, Lindal valve type: standard fuel canister.