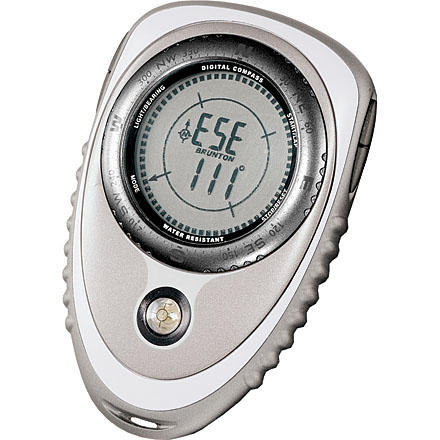 Community Images
Find your way with the Brunton Nomad V2 Digital Compass, which gives both forward and reverse bearings. Instead of squinting at a baseplate compass, see your bearing in a large, easy-to-read digital readout on the Nomad V2. A bubble level lets you get the most accurate compass reading possible. Not only does this digital compass help you get to your destination, it provides temperature readings, the time and date, and has an alarm. Because the Brunton Nomad V2 has a backlit display, you can find your way at night, too.
Unanswered Question
This is listed under kayak accessories....
This is listed under kayak accessories. Is it water proof???
I purchased the V2 for $55.00 and it so far has been working well for me. The compass gives a very quick reading and is extremely accurate when I point it at the same direction of my Suunto MC2 by less than one degree. The thermometer is also useful, but is slow. The buttons are small, but do not go off in my pack. The clock is accurate and the backlight is useful in the dark.
I really like this compass and have found it very accurate. The only downside is that you have to push the button for each reading. Very large display that is very easy to read and pinpoint your direction. A bubble level lets you know you are on plane for a accurate reading. Backlit display if you need it.

This thing is a little large though, bigger than you would think and heavier than anticipated.
Electronic vs liquid filled
Seems like a good compass but I prefer liquid filled for immediate constant direction. I don't like having to constantly push a button to get my current heading. If this isn't an issue for you, you may be happy with this compass.
What is the degree of accurracy on this...
What is the degree of accurracy on this digital compass? Within 1 degree?
Thanks,
Steve
Best Answer
Steve,
+/- 2 degree accuracy according to the manufacturer spec found here:
http://www.brunton.com/product.php?id=349
I hope this helps!
Is this also an altimeter giving altitude...
Is this also an altimeter giving altitude readings?
Best Answer
No, I am pretty sure this one is just the compass, I believe you are looking for the Brunton Nomad v2 PRO which also has the barometer.
This model is only the compass, thermometer and time.