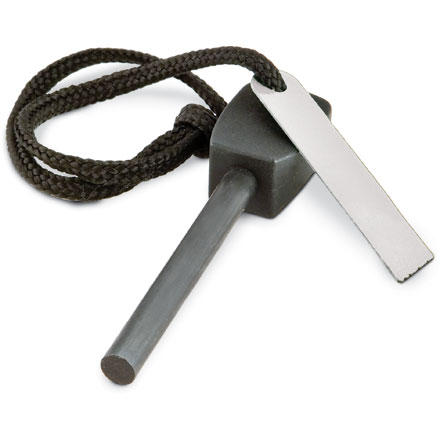 Community Images
Share your thoughts
What do you think of the
Brunton
Striker
? Share a...
build up your pile of shavings, get something highly flamable to start burning, strike, strike, strike, flame. get warm. Good survival tool but pretty heavy for back packing.
The metal striker plate broke the first time I used it.
I was even being careful because I read that they break easy. I will save the little piece that is left for emergency. I mostly use the inside edge of my leatherman pliers now. Otherwise it invaluable and fun to use... you piro.
Throws tons of sparks for the size. Definitely still want to take at least 2 other fire starting methods. I can not comment on the striker integrity, because I usually use the back of a knife, and don't even carry the striker with me. You can light a strong fire, with just a little bit of kindling, and keep it going long enough to dry out wet wood.
We dont need no water let the mother@#%&*+ BURN!!
Ive lit several fires with this bad boy, throws good sparks, works way better than those Magnesium/Flint combo ones.

I don't no what happened to the guys' one below, but my mine works great.

Use Lint from the dryer as tinder!!!! Ive never had to strike more than twice using Lint as tinder, and it burns surprisingly long.
I see the other reviewer's complaint, and maybe my striker will suffer the same fate. But for now, it works great. Throws a BUNCH of good sparks. Starts fire. Great to have in the pack as a primary source of fire or as a backup.
The steel works as it should, it throws sparks and (after some time) gets a fire started. However, the striker; which is different than the one pictured above is of poor design. The one I received has a 'V' cut in the end of it to scrape the steel with, as well as a 'stepped' 'V' shape on the side of the striker, intended to "rough up" the steel so that more sparks can be thrown.

My striker (this is the first trip I took it on) failed the second time trying to use it to start a fire. It broke right at the top of the 'V' on the side which resulted in having very little to work with in terms of being able to throw a spark using it.

Half of this equation works, but the other half sucks. If this product was the same as the one pictured, than I'm sure there would be no issue with it.

Here's a picture of what's left of the striker, sorry for the quality... it's from my cellphone.