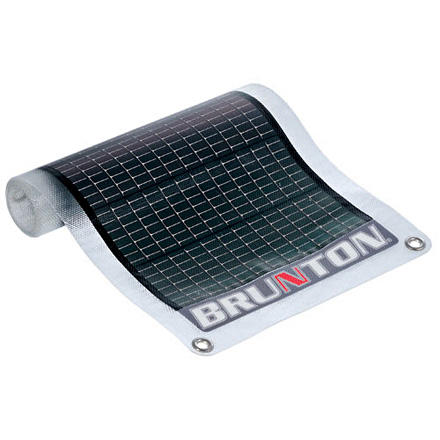 Community Images
Description
Quit hauling batteries into the backcountry and bring the lightweight, durable Brunton Solar Roll to charge your GPS and digital camera instead.
Roll the Brunton Solar Roll up like a poster and stuff it in your backpack or luggage. This rugged portable solar panel charges your digital camera, camcorder, GPS, and satellite phone. Expedition members no longer need to pack heavy batteries for their worldwide journeys. Choose from the 4.5-watt, 9-watt, or 14-watt Solar Roll—all of them are waterproof, come with a carrying tube, and have built-in reverse-flow protection. These flexible solar panels have amorphous solar cells, which work great in overcast or indirect light. The 14-watt Solar Roll is the best option for charging laptops, though the lower-wattage options will trickle charge it.
great product easier shipping. Lots of features
Aconcagua Proof!
Familiarity:

I've used it several times
Worked like a boss on Aconcagua, then i sold it to a porter! along with a lot of other gear!
Unanswered Question
Can I use this to keep my phone charged...
Can I use this to keep my phone charged out in the woods ? I have a 4.5 volt and just want to use it to keep phone up .


Bad experience with SolarRoll 9
I bought one of these in 2008 just prior to an Aconcagua trip and ran out of time to test it before leaving. On the mountain it produced zero current. I should have returned it or made a warranty claim, but I figured I must be using it wrong. It went into the garage. Now I have a Peru trip coming up so I tested it today with a multimeter. Nothing. Zero output. So if you take a chance on one of these, test it carefully as soon as you get it. I think there are better options out there these days.
thinking about getting one of these for...
thinking about getting one of these for my hike on the AT to charge my ipod and kindle, however i was planning to just drape it over my pack while walking. One chap said this wouldnt work, does anyone else agree, or has anyone else tried this?
The problem you may run into is that the charging circuitry of some modern electronics require constant input (like the iPhone for instance) so if you end up walking in dappled shade or under trees or experience cloud cover the charging may stop and you wouldn't know it. You may have to unplug and then replug the devices to start it again. The easiest solution is to get a battery pack that your panel charges throughout the day and then just juice up your stuff from that overnight while you sleep. That's what I tend to do and it works like a charm.
Thank you, thats exactly what I needed to know, however just to be sure I understand, you are suggesting something like a brunton inspire, along with a solar roll? The solo will charge even in intermittent sun light conditions as you decribed above
yes, Chris the Inspire would be a good solution to use with the solaroll.
If my travels ONLY involve using my MacBook...
If my travels ONLY involve using my MacBook Air and iPhone, can the battery in the MacBook be used as my storage device for the SolarRoll 26? And how do I best connect the MacBook to the SolarRoll?
You won't be able to connect the panel directly to your macbook. Your best bet is to get a small power inverter that will plug into a 12v outlet. This will allow you to plug in the same as a regular wall outlet at home, and you can plug your iphone into the usb on the computer to charge it at the same time. If you need to be super mobile this way, you can get a small 12v battery, and a 12v outlet with alligator clips to plug into, just make sure to get the polarity right when you hook it all together. Panel-battery, battery-outlet, outlet- inverter.
Can this be used to keep a house warm in...
Can this be used to keep a house warm in winter?
That will not likely be a good solution as the panel only generates 4.5 watts of power, which wouldn't really be enough to run a heater.
Will this charge a Deep Cycle Yellow Top...
Will this charge a Deep Cycle Yellow Top car battery? If so any ideas on how long it might take?
The 14-watt version may trickle-charge a car battery, but it will take a long time to fully charge. Max output of the 14 is 900mAmps @ 12 volts. Your Yellow Top likes 13.8 to 15.0 volts, 10 amps maximum. (http://www.optimabatteries.com/product_support/charging.php)
Is the 9 watt brunton capable of charging...
Is the 9 watt brunton capable of charging the goal zero AA battery packs? Also is it capable of charging more than one devise at a tim?
It should be able to charge those packs but won't charge multiple items at once.
I own the Solarroll 14 but am missing the...
I own the Solarroll 14 but am missing the accesories. Does anyone know if and where I could purchase the adapter accessories separately?
I would try contacting Brunton and see what they can do for you.

http://bruntonoutdoor.com/contact.php
Check NewEgg for the adaptors. Some solar works @5.5v with a USB2-3 connector. Some works on 12-24v cording that you can get anywhere Coleman campgear is sold. WHATEVER you use, make sure it is correctly attached! I had one of my cheap little solars on charge too long. It went from flat to sausage overnight. Still works, though.
Unanswered Question
I would like to purchase the 14WT solar...
I would like to purchase the 14WT solar roll panel but am not sure what the needed componets required to charge my AA Ni-Mh rechargeable batteries as well as my GPS and Phone?
I like this to this to be as universal as possable for a variety of componets. Got any ideas?
I have a glider, on a curved surface I...
I have a glider, on a curved surface I would like to permentently incorporate a solar panel for charging and power supply.
the battery is a 30 AH 12volt.
the area is 30''w x 45'' long .
I need to imbed /attach and come out with a smooth,
curved surface.
Best Answer
Did you have a question?
I do a lot of fishing and have just bought...
I do a lot of fishing and have just bought a larger boat with 2 12v batteries. If they went flat could I use a roll up flexible solar panel to trickle charge one battery?? Pete
I don't think you can connect directly to the battery. You'd need a battery charger connected to a solar panel. Also I'd suggest going with the Goal Zero brand, top notch stuff.
It would take an extraordinarily long time, but it is possible, Peter. Ryan makes a good point about Goal Zero, because they are designed to be linked together to take care of heavier charging tasks like a boat battery.
I used this for 10 days on snow in the Arctic this spring and it worked well. It stores nicely wrapped around your sleeping pad or bag. I used it to charge a Brunton Impel Portable Power Device and it operated as advertised. I attached the roll to the outside of the tent and put the power unit inside. We had bright/direct sun and it juiced the device right up, better than I was expecting. Didn't try it on overcast days so can't speak of how limited it's use is there.
I had a 9-watt roll for a summer. Planned on using it on the John Muir Trail to recharge my camcorder and other gear. The device worked "ok" in testing, but in real life use out in the mountains, the performance was rather unacceptable. It took over 4 hours in direct sunlight to charge two AA batteries (ok, could be the charger not being designed for the low current, but it still was impossible to spend half a day to charge batteries the GPS would chew through in a day). The camcorder batteries took about 4 hours to charge, but discharged more rapidly thana wall-charged. Worst of all, you had to keep the panel flat on the ground during the peak sun hours of the day to get any charging power. Draped over your backpack, it didn't do anything. Unless you are staying put in one place for long periods of time, this is not the device you want. It may be durable, but the charging performance for its size was not enough for my needs. I've switched to AA lithium batteries and saved pounds from my pack. You need to carry more than just this panel - all your gizmos need their car chargers, too, and that adds up. Instead, I now bring gear that is exclusively powered by AA and my pack weight is down, no hassle with charging breaks, and no worries when it is rainy.
Quick question, I've been looking to get...
Quick question, I've been looking to get either the 9 or 14 to charge a Nook and maybe some other slightly larger things (laptop etc). Would the 14 be too much for a Nook? Or would it be ok if I also got a Solo to go with it?
The 14 would not be "too much" it would charge it faster. If you're going to the Pac NW you won't get as much sun so you'd probably need the 14. Going somewhere sunny like AZ and the 9 is probably enough. Take a look at the Nomad 7m from Goal Zero. I think it's a better product and though it doesn't roll, I think it's more packable. Also check out the 27m for even more useage.
We bought a 14 watts brunton solarRoll for...
We bought a 14 watts brunton solarRoll for a missionary friend in Uganda. What do we need to get for him to hook this up to his laptop computer?
You need the car cigarette lighter charger that's specific to the laptop. Plugs right into one of the included accessory cords. It's also nice (but not absolutely necessary) to have one of Brunton's Solo battery packs as well. What he would then be able to do is use the SolarRoll to charge the Solo during the daylight, and then use the Solo to recharge the laptop battery overnight. That configuration would also give him multiple charges for the laptop from just one good day's worth of charging up the Solo.
I am buying a Roy L-Heat. This is a calf...
I am buying a Roy L-Heat. This is a calf warming hut. I need to take it to the field and have power to run the motor and fan. I am looking to get a solar panel to run it instead of electic power. What do you suggest?
This will be hard pressed to provide the amount of current you need to power a motor and fan. Plus there is no battery, so you would have to have it in sunlight in order to function. I would look into some plain old batteries, with maybe a solar trickle charger that you could leave there and just let charge when not in use.
I just got one from a friend for my trip...
I just got one from a friend for my trip to Haiti and do not want to undo the packaging to unroll it now. What attachment do I need to obtain to make it work for charging my computer, etc? Are the cords that go from the solar mat to the usb ports on my equipment already included inside? If not, what do I need to purchase to make it work on site. And, how long does it take to get a full charge under non obstructed sunshine? Is it just for charging or its own power source when fully charged so I can watch dvd's in my own tent?
Best Answer
You need the car charging adapter that's made for your laptop, and/or the specific cables for whatever piece of electronics you want to charge. This doesn't hold a charge, but it will directly power whatever you're using. How long it takes is really a matter of what it is you're charging, but basically, depending on exposure, anywhere from a few hours on up. The best way to use this is to trickle charge one of Brunton's Solo battery packs, then use that stored power for use or charging your stuff. Also, you really should take it out and become familiar with set-up and capabilities before you take it out into the field and need to learn it when it should already be second-nature and you know what to expect.