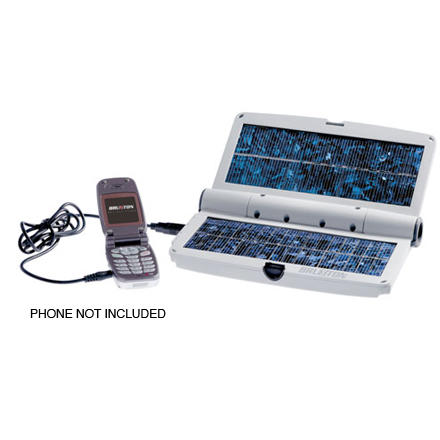 Share your thoughts
What do you think of the
Brunton
Solarport 4.4
? Share a...
Unanswered Question
does this contain an outlet connector? My...
does this contain an outlet connector? My camera batter has to be puged into an outlet to charge. will this work
Unanswered Question
Write your question here...Will this device...
Write your question here...Will this device charge the larger "D" and "C" size rechargable batteries commonly found in flashlights?
Unanswered Question
Do you get the AA battery charger with it?...
Do you get the AA battery charger with it? At sundance solar you get a AA charger with it, but it is 30 dollars more, but you state it is on sale. So..... about the charger???
Unanswered Question
Will it charge my laptop?
Will it charge my laptop?
I went camping in Moab, Utah over Memorial Day weekend. After listening to my ipod on two different hikes during the day I was able to hook it up to this with my USB cord that I attach my ipod to the computer with and charge it up. It took about 2 - 2 1/2 hours for my 30 gig video ipod to fully charge up. It was great to be able to use my ipod again the next day on another hike. Def. worth grabbing if you aren't able to charge via an outlet or car while camping/hiking.
Works well for its intended use
If you are going where there will be sun and you are taking any kind of rechargeable digital equipment I would recommend this. This unit seems to be fairly rugged, I wasn't going to drop it on purpose, so I don't know exactly how rugged it is. It charges USB devices with ease, all you have to do is bring your devices' USB cable, plug the cable into the Solarport FIRST, and then plug it into your device, that's it, nice and easy. It is a bit of a boost mentally to know you are not going to lose GPS ability because of dead batteries when you are somewhere where a Topo and a Compass are enough, but a Topo, Compass, and GPS are great. Looking forward to using this piece of equipment more in the future.
What an incredible piece of gear!
I just returned from the Paria River in Escalante, and this was great to have! It charged my camera, Ipod, make sure you plug in the USB to the Solarport before you plug in your Ipod or it will freeze your Ipod and you will have to reset it. And this will recharge rechargeable batteries keeping the GPS running so we could get out there and explore. Highly Recommended if you are taking high tech gear with you to keep your powered items running in the field.
If your phone is dead or iPod is dead, know this won't jump start them. I tried to leave a little life left when I was trying this out. It was great in the car on a road trip. There is a button to test the charge and to see how strong the whole solar input is. Pretty techy but if your going to take something rechargeable its a great addition. This doesn't have a ton of power so don't think its going to like save your life. Its great to put on the outside of your pack in a bungy storage and just hook up whatever you have.