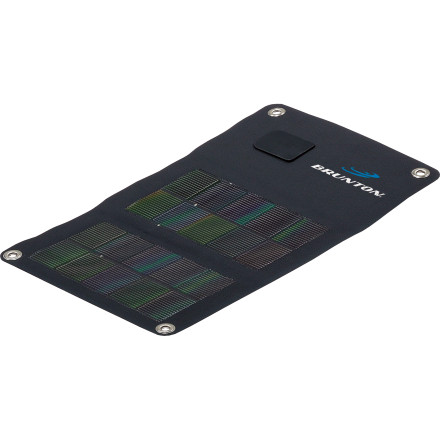 Community Images
When your camera, phone, or game player is running low on power while you're in the field, you'll be glad you have the Brunton Solaris Foldable Solar Panel. The Solaris plugs into your electronic device's USB port to give it a quick charge even under low light. The lightweight, compact design folds easily to stow in your pack, and the high-performance CIGS solar cells are flexible enough to stand up to long expeditions. Choose the 2 or 4 USB.
Made with thin, highly efficient CIGS solar tech, this unit folds down small for easy transport
Weatherproof design made to be used in wet conditions
Ideal for use in variable light, including low-light wooded and cloudy coastal situations
Note: USB output requires a compatible USB cord to connect to your electronic device (available separately from Brunton or included with your small electronics)
What do you think about this product?
Have questions about this product?
I strap mine to the top of my back pack. It'll keep my phone / IPOD and four AA's charged. I use my phone for emergencies, last ditch GPS and most importantly so I can have music in my head on the trail. I've hiked all day and had my IPOD on for much of that time and when I get to camp, my phone is still fully charged. It seems to work pretty well even on partly sunny and slightly overcast days. Don't count on it charging on a cloudy, rainy day. Save your battery on those days.
Happily charging my video camera while hiking the foothills of Himalaya.
Does Brunton make a portable Solor panel...
Does Brunton make a portable Solor panel that will power a 27' long camper set up in open area with plenty of visibility from the sun?

Will it operate a camper refrigerator?

Will it maintain 110 volts?
Also, to run a 110V AC appliance, you'd need an inverter, since solar panels are DC. Because of that, you'd lose some energy through the inverter (AC voltage is 0.707 of DC voltage, assuming equal resistance and amperage.



The only way I've seen solar provide enough power to run an appliance is an array of panels charging a bank of deep cycle batteries, and routed through an inverter. Obviously, these systems are not very portable.
The largest solar panel that Brunton makes is 27W that costs over $1000 and a small 12V camp fridge is 80W. You would need 4 of the big panels to power the fridge along with a battery storage system. You won't find any for 110V either as that is AC voltage. Solar panels only produce DC voltage unless you run an inverter before the applicance you plug in.



Your best bet for keeping perishable food is to buy Yeti cooler and some dry ice. You can keep items cold for up to 30 days with limited opening/closing of the cooler. Good luck out there!