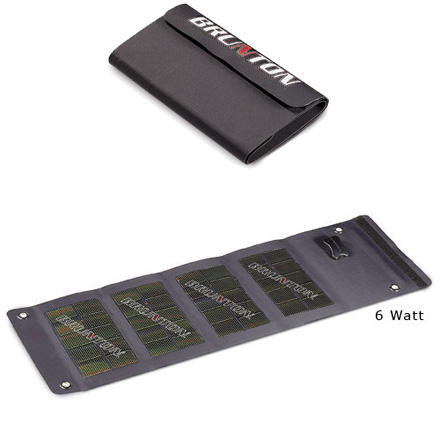 Community Images
Whether you take the lightweight, easy-to-pack Brunton Solaris Solar Panel to the Himalayas or down that nearby dirt road, its efficient, thin-film solar technology lets you up your gizmos' battery life without weighing down your pack. Choose either the Solaris six-watt or 12-watt panel; both of them fold up to the size of a CD wallet and work in all types of lighting.
Made with thin, highly efficient CIGS solar tech, this unit folds down to the area of piece of paper, about one-inch thick
Weatherproof design made to be used in wet conditions
Ideal for use in all types of light, from low-light to full sun
A built-in blocking diode prevents reverse battery drain at night
Solaris 6 features a max output of 6 watts; ideal for charging cameras, phones, music players, and other small electronics
Solaris 12 features a max output of 12 watts; ideal for charging cameras, phones, and music players, and for trickle-charging power-hungry batteries
Included vehicle outlet adapter enables you to charge just about any type of 12V electronics that have a car plug
Link two or more of these solar units together to really get the juice flowing around base camp
Unanswered Question
How many watts for charging an IPhone?...
How many watts for charging an IPhone? Would 6 watts work?


Unanswered Question
How can I get a us adapter without using...
How can I get a us adapter without using the cigarette lighter?



I tried calling, tweeting and emailing brunton with no response.t hey really suck at customer service.
Photon Collection Devices at 14K...
These Brunton charges are awesome.

I have the 26 and 12 and have used both extensively.

I prefer the thin-film Copper Indium Gallium diSelenide Brunton uses vs the heavier and bulkier polycrystaline cells used by Goal0. I have a Goal0 setup as well, but I almost never use it. I find it too heavy to lug and there's just way more accoutrements involved. Really cool concept though...solar catch, store and release via battery block...



I've charged my Canon 5DMKII, and the entire team's phones and ipods and whatever else they brought over and over with these, sometimes in completely clouded-over conditions.

One important note; this thing basically spits out a car outlet. If you can charge your stuff in your car, you can charge it with this.

You can easily enhance that capability by using a car adapter that also has a USB out. Before a big trip, get that dialed.

For example, I had to buy a specific car adapter to charge my 5D batteries. Everyone already charges their phones in their cars, so that's a no-brainer.

Just let everyone else who'll be with you know, too.

Because they will want to use it. Get in line...



I've found that 12 watts is about as low as one can go in practice.

In theory, yes, you could use a 6 watt.

But charging with 6 watts in variable conditions is janky at best and will probably annoy you. Some devices need to register a certain amount of juice coming in to even consider charging.

I've run into this with the 12 watt under cloudy conditions.

Not with the 26 watt, though...that thing swallows photons and barfs them back into your 1st World Toys with incredible efficiency.



5 stars for both the 12 watt and the 26 watt.

Great devices and really fun and rewarding to use.

I always get a crooked little "stick it to the man" smile on my face when I'm shooting mountain photos with a 5D powered by the Sun...
Are you able to charge AA, AAA, and CR123s...
Are you able to charge AA, AAA, and CR123s with this? If so, is there additional gear that I would need to purchase?
Best Answer
You will need a battery. Goal Zero has a battery pack that is exactly what you are looking for. The BC.com item code is GZR0022. I use mine quite often. I charged it with my USB at home to start with a full charge and I top it off with my solar panels when I'm not using them for anything else. Good system.
Unanswered Question
Write your question here...Does it charge...
Write your question here...Does it charge camera accu's??
Unanswered Question
Can any one tell me if I can link this...
Can any one tell me if I can
link this panel (Brunton Solaris 6 or 12) with
Brunton Solaris 26 (which I already have) ?

Thanks.
I want to fully charge 8AA batteries a...
I want to fully charge 8AA batteries a day, an Ipod touch 2 times a day as I'll be using it all day and night nearly constantly and fully charge an Asus eee PC netbook daily....all in overcast conditons....What do I need (is this possible?) Thanks!
Overcast is not the problem. You're getting radiation energy from the sun, right through the clouds. Ideally, all your stuff should run on a common type of battery. If that isn't possible, make sure you have adaptors. Which are a pain, depending on what's at stake. You can 'daisy chain' a few of your items. My Schosce (sic) can charge from a wall socket, and charge the phone at the same time. Since what you need, as you describe the conditions, is a solar system costing upwards of $1,000. It might cost less, and be more efficient, to have devices with USB2-3, USB mini, and USB micro sockets. Unless you carry a travel battery charger, your AAA, AA, C and D cannot be charged directly off your solar. IF the device has a USB connector, you can wisely charge the batteries inside the device, and not need a separate battery charger. Maybe, and I say maybe as in, "Maybe not." your net-top battery can be the system battery, if you have extra USB connectons on the net-top.

If you really have to have a lot of power, look at gel-cell motorcycle batteries. But every time you leave town, you'll have to lug a ten pound battery with you.
Is the 6W version sufficient enough to...
Is the 6W version sufficient enough to charge my Canon 5D Mark II DSLR batteries while trekking in Nepal and Tibet? Or do I need the 12W model?
Hi, yes the 6W will charge your batteries, but the 12W will do it faster... its really up to you... you would have to do the math... but if all other components are the same between the 6W and 12W its essentially twice as fast...
I use this in conjunction with a Brunton Sustain. I usually charge the Sustain with the Solaris 12 during the day....charge my gear from the Sustain at night. Works perfectly, everytime. Smart phone, Garmin GPS, Camera, anything I need to charge. It will charge my Dell Inspiron Laptop, but I never take it to the backcountry.
I've had a real problem finding something...
I've had a real problem finding something that is compatible with the 10watt IPAD beast. Will the Brunton 12watt work or will I have to go to the 26watt due to variable sun conditions?
Best Answer
More is better when it comes to solar gain. The Solaris 26 is the way to go vs the solar roll 12. Brunton also used to make a larger battery pack called the Solo that would've worked great on multiple charges, but I don't see it in their line anymore. I'm not sure of what type of plug the Ipad has, but it's probably also going to require you to get a proprietary car charger so that your device will plug into the lighter type adapter on the panel itself.
Brunton replaced the Solo Battery pack with the Impel and Sustain Battery Packs. I use the Sustain with the Solaris 12 Panels. It would handle the task with the car charger Phil mentioned.
I'm getting ready to thru hike the PCT,...
I'm getting ready to thru hike the PCT, and i'm looking to charge a smartphone and a digital camera. What set-up would work best for me?
Hey there,
I am a 2009 thru-hiker, and I found that with Verizon service I could manage to send off some text in southern and northern Cali. On those occasions, my AT&T friends usually ended up using my phone.
Southern Cal - Worked alright ,especially for the first few days. I cold even make a few calls. The Sierra - forget it! Northern Cali - occasionally I'd break through. Oregon - once in a VERY blue moon, extremely rare. WA - about the same as OR.
I initially started off with the idea that I would carry a solar charger, but the weight-to-power ratio did not seem to make sense. I simply carried an extra battery for each device (especially the camera) that weighed less, cost less, and suited me just fine (especially considering the fact that the phone could rarely be used.) I would simply make it a priority to charge all batteries when I made it to town... like everyone else.
I would check my phone on high, clear vistas and road crossings. After a while, thats the only time that it became even worth considering. The rest of the time, I carried the phone around simply because of my attachment to it, and I liked to have it as soon as I reached the road that I intended to use to thumb a ride into town.
My final thoughts: save your money. Buy a spare batt for each device. Spend your money on ice cream, or one final piece of ultra-light gear. HAVE A BLAST!... you're going to see amazing things and meet amazing people.
I am looking for a solar charger that is...
I am looking for a solar charger that is would charge my laptop. I've put in the leg work thus far, but the issue is that I live in the State of Washington and need one that is good with overcast conditions. It seems this is good for that, but too small. My use is just for power outage. I would be allowing it to charge next to the window. Thanks in advance!
I would use the Power Traveller, Power Gorilla. They seem to work a lot better than Brunton ones. I don't know if they sell them at backcountry.com though.
Will the 6 watt work for charging a Trimble...
Will the 6 watt work for charging a Trimble Geo XT GPS?
Best Answer
Yes, it should. Your Trimble has a 27.8Wh battery (3.7w output x 7.5Ah). If my math is correct (27.8/6= 4.63), under perfect conditions (and assuming 100% efficiency), expect it to take about 5 hours for a full charge with a 6 watt panel.

I should add- With the 12w, you're going to cut your charge time in half, but even then, you're going to basically end up with one day on, one day off with the ability to use your Geo XT for data collection. You might want to consider something like the Brunton Solo 7.5 as part of your system so that you can charge and store power in it with the Solaris during the day, then recharge the GPS off the Solo at night for the next day's work. Hope that helps.
I am planning a bike trip down the pacific...
I am planning a bike trip down the pacific coast trail from Vancouver to L.A. and possibly beyond. IAm lokking to document my trip via Iphone Video and Photo as well as a Fuji point ans shoot camera. I will not have access to power and am looking at the Brunton Solar products for my supply. I figure I can charge the panels while i bike during the day. Which product would you recommend. Was looking at the Brunton Solaris Flexible Personal Solar Panels as well as the solarroll. What product and size would you recommend? Thanks!
http://www.dahon.com/news/releases/2009/08/dahon-brings-green-power-every-bike

Check out this device made by Dahon. I have been eying it for a ride on the Natchez Trace to keep my iPhone charged. I don't know anyone that has one, but would seem to be worth a look.
we used the solaris to charge direct for our camera equip... mostly dslr cameras. super reliable and portable!
I am going to a island in tonga with no...
I am going to a island in tonga with no electricity for 8 months. i am doing a field research and will need power to charge a laptop, camera, and i-pod. what items would i need to do so. the solar panel.......then do i need an inverter?...........battery?........im not really sure how to go about it.
Best Answer
These will barely charge a laptop, go bigger.
Does it come with a USB port/ cable? IE...
Does it come with a USB port/ cable? IE how can I charge my i phone with it Or battery chargers that can connect to usb ports
Best Answer
Cannot tell if it has a USB port, though other reviews below say it has been used to charge iPhods, though if you are looking strictly for a panel with a USB connection check out the Brunton Solaris USB, link below

http://www.brunton.com/product.php?id=608
In my opinion if you're going to charge multiple items then just bring an inverter, so you can plug-in your normal 2 or 3 prong (USA) power cables. The inverter will provide AC current (same as your home wall outlet). In the attached picture you can see the cables that are included with the 26watt panel (awesome by the way): battery terminal connectors, female cigarette connector, and multi-sized connector. If you're only interested in charging an iPhone then go ahead and get a third-party car charger, it'll plug directly into the included female cigarette cable end. This saves the weight and hassle of carrying an inverter. Note, if you only plan on charging small electronics (no bigger than a laptop) you don't need to buy a really high wattage inverter (200w is sufficient with overage). This will keep the size, weight, and cost down. 2000 watt inverters are for running microwave ovens and such, most the packaging will provide a dumbed down chart. Now having said that, if you set up your panel to charge a bunch of 12v car batteries all day, providing you massive nighttime power, maybe you want a more substantial inverter lol. Hope that helped
Has ANYONE successfully used the 12 W panel...
Has ANYONE successfully used the 12 W panel to charge an iPhone 3Gs? My phone rejects a standard ATT car charger when plugged into the solar panel (it works fine when plugged into my car).
My 3Gs is really touchy when I plug it into the inverter off a car. The touchscreen goes a little crazy. The AC current probably isnt as pure/conditioned as what comes out of the home wall outlet. It definitely charges though no problem. I experience the exact same when connecting an inverter to the 26watt panel. Charges quick, but the touchscreen is almost unusable.
Does anyone have average times for charging...
Does anyone have average times for charging item such as a cell phone or a camera, I saw the laptop below but I never take mine with me camping. Thanks.
Check out the Manual for these panels at Brunton's website, link below

http://www.brunton.com/manuals/current/Solaris_6_&_12_manual.pdf

It has a chart for charge times with common end users for both the 6 w and 12 W
It is extremely dependent on a number of things, time of day, weather etc. I can tell you that the 26 watt charges my iPhone at almost a % pt per minute in clear sun when it's late afternoon (note, my iPhone battery isn't new anymore, it drains quick and recharges equally quick). Regardless, the 26watt shocked me with how effective it is.