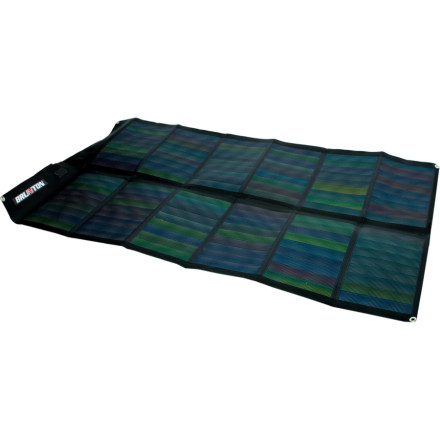 Detail Images
What do you do when you need to juice up your radio, cell phone, or laptop while you're in the woods or mountains, or between power grids? For starters, you can look to the sun; the Brunton Solaris 62 Solar Panel is about the size of a standard textbook and easily slides into your expedition kit to give you a much-needed jolt wherever you wind up. Do you need even more punch? Hook two 62's together and run a small command station during a power outage.
Made with thin, highly efficient CIGS solar tech, this unit folds down to the area of piece of paper, about one-inch thick
Weatherproof design made to be used in wet conditions
Ideal for use in variable light, including low-light wooded and cloudy coastal situations
A built-in blocking diode prevents reverse battery drain at night
Included vehicle outlet adapter enables you to charge just about any type of 12-volt electronics that have a car plug
Link two or more of these solar units together to really get the juice flowing around base camp
What do you think about this product?
Have questions about this product?
Unanswered Question
What is the voltage? Six volts will...
What is the voltage? Six volts will recharge laptops directly. Twelve volts mimic (widely) DC/Mobile/Marine applications. I believe you'd need at least 16 volts to service the losses of a great sine wave inverter.

Most 12-volt units are working on 16-volt generating to 12-volt storage. Anyone know what works best?
what can you use this for and how many...
what can you use this for and how many volts is it
Laptops connect directly to the USB port. This unit generates 12 volts. Most phones/camera/tablets work (optionaly)with a 12 volt battery (Car/RV/Marine). Check to see the voltage, wattage, and storage/isolator/inverter capacity. Usually presented as Amp hours.

Make sure, if you're going to rely on any of these products, that they are set up for your use.