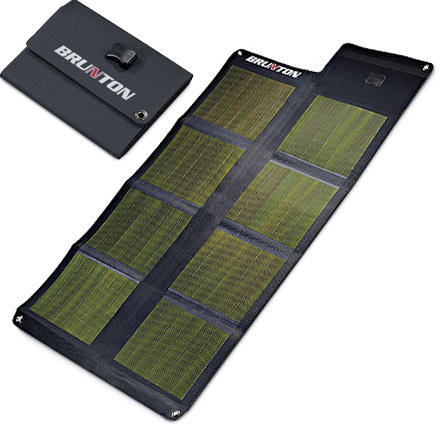 Community Images
Description
Keep charging.
With eight flexible CIGS solar cells and the ability to charge in low-light conditions, the Brunton Solaris 26 ushers in the next generation of backcountry solar power. Even on dreary overcast days, the Solaris 26 pumps out the 12 volts of power required to charge your video camera, re-up your power-hungry laptop, or even breathe some life into a dead car battery.
Made with thin, highly efficient CIGS solar tech, this unit folds down to the area of piece of paper, about one-inch thick
Weatherproof design made to be used in wet conditions
Ideal for use in variable light, including low-light wooded and cloudy coastal situations
A built-in blocking diode prevents reverse battery drain at night
Included vehicle outlet adapter enables you to charge just about any type of 12-volt electronics that have a car plug
Link two or more of these solar units together to really get the juice flowing around base camp
Reliable Solar Power
Familiarity:

I've put it through the wringer
I am a Mountain Guide and alpinist and (full disclosure) Brunton has provided me with power products for an upcoming alpine climbing expedition in the Himalaya of Nepal.



Regardless, this solar panel is impressive. It will charge even with sky obstruction, through windows and at odd angles. I have used it in snow storms in Alaska and the Caucasus and it will still provide a charge. I have owned other solar panels in the past that would only charge small devices and would struggle unless they were oriented to strong sunlight. I am sure this panel's power is due to the large surface area and advanced photovoltaic cells. Despite the size of the deployed panel, the unit folds up into a light and reasonable package, one which easily competes with other units that are not nearly as powerful.



I have attached a photo of the solar panel working while in the Barrels Camp on Mt. Elbrus, Russia. Cloudy and snowing outside, hung in the window, charging a smartphone and an iPad.
GREAT
Gender:

Male

Familiarity:

I've put it through the wringer
I combined two of these together on a trip through the Himalayas. Well-constructed and super easy to use. We beat them up, and they kept on working! I'd definitely buy again.
Unanswered Question
Which one of these units is capable of...
Which one of these units is capable of charging an ipad 3 and what other chargers etc. would one need

thank you
Unanswered Question
ok i just want to know what i need to buy...
ok i just want to know what i need to buy so i can charger aa\aaa batteries i plan on spending about 600 bucks on it
Why is it that no one that sells this...
Why is it that no one that sells this product tells you in plain English what comes w/ it...even Brunton???!?!?! From looking at this from many sources I am thinking there are 3 cords that come with it. One w/ clamps to charge a battery, a female car battery plug, and another that has 4 different ends on it. There is this Brunton DC 120 Inverter to 110 AC power box that is sold separately...or soes this come w/ it??!?!?! I want to use it on sailboats and in remote areas to charge my laptop and a few nicad battery packs (for Nikon D300), 4 AA batteries, and a sealed nicad battery pack for an Ikelite submersible strobe. If anyone can tell me specifics..it would be greatly appreciated. Scotty
Best Answer
In order to use solar power to charge something like a laptop, you need a power inverter to go from the 12v DC of the solar panel to the 120v AC of your laptop. You also need a solar controller and a battery. It would be connected something like this. Solar panel to solar controller to battery to inverter to laptop. None of these things come with the solar panels, but must be purchased separately. Brunton sells a solar controller, as well as battery/inverter kits like their Solo Personal Power Plant.
I posted some responses on the other sized Brunton Solaris but it's the 26 I actually own. I've attached a picture showing what comes with the Solaris. Electricity is a little confusing so do a little research no doubt... but you will have this basic setup: Solar panal - wires - inverter - wires - device to be charged. You can insert a solar controller as mentioned above if you have expensive batteries or are concerned about over charge. Though most my devices have a charge indicator so I can just watch the battery level and detach when it's done. That's more likely the case for car camping uses, vs home uses you'll probably be considering an array of batteries and really want the controller.
Will the Bruton Solaris power a MAC laptop...
Will the Bruton Solaris power a MAC laptop due to the different kind of power adapter it has
IF you have a cigarette lighter adapter for it, it'll charge.
Unfortunately, it is not powerful (26W) enough for Mac (Cigarette adapter does not help).
It can power notebook like ASUS Eee PC as reported on Amazon review.
I need a solar charger that is very flexible:...
I need a solar charger that is very flexible: charges many different items. I have a Nikon digital camera, handheld GPSs (boy do they suck down the juice!), cell phones, items that use CR123 batteries, along with the standard AA/AAA. Will this work and how do you hook up the different chargers? I don't want to have to buy 3 different units. Sure cell phones have car plugs; but, what about the CR 123, AA/AAA, and my lithium ion quick charger MH-23 for my camera?
Buy a cigarette adapter that will reduce the voltage from 12 volts to adjustable 3-12 volts. Select the 3 volt setting, run 2 aa batteries in series and charge them at the same time. Do the same thing with the cr123 just match the power output to the voltage of the batteries so not to fry anything
it gets cumbersome than charging the batteries directly but an inverter and normal power strip would work, plus you don't have to do all the electricity math. 26watts is great for device batteries. I use it for my phone, camera batteries, and laptop.
OK I'm going to be camping in an open field...
OK I'm going to be camping in an open field in June in Tennessee I'm saying plenty of sun! I'd like to power a somewhat large boom box type radio I have an AC adapter that I usually plug into the car cig lighter (but i have to run the car) its kinda like a little amplifier too i think. Ideally I would be able to play the radio while it charges, then when the sun goes down use it on its stored charge is this possible??
Should be do-able, just hook up the panel to the car battery with the supplied jumper cables. It will charge the car battery as long as you are not using too much power.
On top of the solaris, put a Brunton Impel between the two, Solaris
to keep continus charge to the Impel, then your boom box. It should
have unlimited power. As long as there is juice comming from the solaris. The Impel has 3 voltage selectors, 12volt,16,volt,and 19volt,
all Direct Current.
Phenomenal cosmic power? itty bitty living space
8 years as a Scoutmaster I have come to rely on few luxuries and you know the motto "Be Prepared" Plenty of power to charge just anything you need and most of the adapters to do it. I do wish it had a USB adapter to charge the old cell phone, but a quick trip to the local electronic store fixed that. It has found a prominent place in my bag, and not the "footlocker of doom" you know the one, that place you put all the crappy gear you had high hopes for, but they left you wanting.

Oh one other thing I don't like about it.... they could have saved .5 inches if they would have thought about the adapter a bit. Cripes they could have molded it into the corner or something.....
I have an inspiron 1200 laptop. How long...
I have an inspiron 1200 laptop. How long would It take to charge the battery and can I use the computer while charging?
It depends on how big your battery is on your laptop. It will be measured in AH or MAH. If my math is right A 26 watt panel will produce 2.15 AH or 215 MAH. If your laptop battery has 500 MAH then it will take just over 2 hours to charge it
For a trip of a lifetime (destination...
For a trip of a lifetime (destination Nepal)... One shot at getting the images - still and video (HDV camera) - no guaranteed power supplies available. Will it reliably recharge lithium ion batteries, etc. (A/C)? Can it be attached to the exterior of a pack while hiking? How long per battery? How does elevation affect its performance? Is this the best solution - or can you recommend something more ideal (smaller, but just as efficient)?
From Brunton:"That panel is more than adequate to charge most any battery. The problem arise from connecting the battery to the panel. They come with several different cords. One of which, the 12v adaptor, I've found the most useful. This essentially is the female end of a car cigarette lighter. Any sort of car-charger will function well with this adapter. Your customer mentions AC, but all panels produce DC. If they were to purchase some sort of aftermarket car adapter with a standard AC plug built in, they would be able to use their standard wall charger in conjunction with the panel. Length of time depends on battery size and light conditions. I usually tell folks to give it at least 4 hours. This particular panel would probably be too large to wear on the outside of the pack. The Solaris 12 might work better for that. All of them come with metal grommets for tying-down or attaching the panels. Elevations should not affect the performance. Indeed, higher elevations will probably see better performance. I might recommend using the panel in conjunction with some sort of storage device (battery). Our Solo line (the 7.5 would be good for him) really makes the whole process a breeze. It's only 2 pounds....despite what our website says."
I have taken this on every expedition I have been on for many years and it has never jacked a single battery, only smooth, fast charges. Kinda on the costly side of the gear list, but if you plan on needing to charge anything (Ipod Nano in a 1/2 hr) in the backcountry cloudy or not, this is your rig!!
does this have the solar controller built...
does this have the solar controller built in, to prevent overcharging?
Yes, it does - The flats don't but on the Solaris, it's built in.
We just got this panel back form the Amazon...
We just got this panel back form the Amazon where it spent a year going up and down the river with indigineous missionaries showing the Jesus Film. However the panel will now pull only about 1/3 the load. Whats up??? www.RenewTradingCompany.com
Can't say specifically since I wasn't there, but you could assume that a year on the Amazon is a tough life for any product. If the solar panel was ever stored while damp, stored with the solar panels facing outward, or folded/creased through the solar panels themselves then the product's performance will indeed suffer. I can't imagine spending a year in the jungle and having this item never get wet. According to Brunton's online manual, this item is water resistant, but it also stresses that it should/must be stored dry. Hope this helps!
I also am no expert but have done a lot of research and know that solar panels do have a "shelf life." I certainly hope they last longer than a year though lol I want more use out of mine... i love it. Good luck