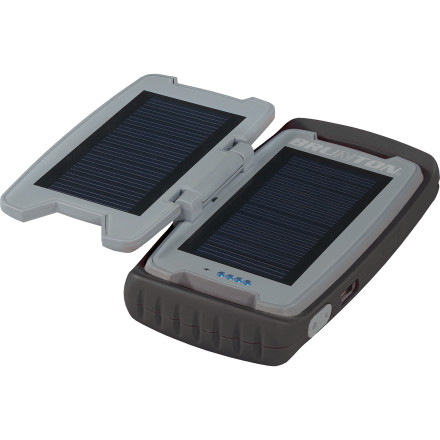 If you rely on your portable electronics, you need a reliable way to charge them up when you're off the grid. The Brunton Restore Portable Power Pack gives you a fast, easy way to harness the power of the sun to charge your MP3s, smartphone, digital cameras, and more. Inside the durable, water-resistant clamshell, you'll find two highly efficient 100 mA polycrystalline solar panels that boast an impressive 90% power capture rate to deliver more juice to your devices.
Water-resistant construction and rubberized shell stands up to life in the field
Two 100 mA polycrystalline solar panels harvest energy from the sun when they have access to light
Internal rechargable lithium ion battery features a storage capacity of 2,200 mAh
5V output is USB-compatible
Power gauge and auto shut-off lets you keep tabs on your energy use
Compatible with Brunton Sync Tech-enabled headlamps and task lights
Note: USB output requires a compatible USB cord to connect to your electronic device (available separately from Brunton or included with your small electronics)
Share your thoughts
What do you think of the
Brunton
Restore Portable Power Pack
? Share a...
Panels Prone to Scratching
This is a tough unit providing adequate reserve power for many small electronics. It takes several hours of direct sunlight to achieve a decent charge but can store sufficient energy in its reserve battery when charged via USB to be useful. That said, there seems to be a serious design flaw: The soft plastic covering the solar panels rubs against itself causing inevitable scratches even with very little use. Notices these on a brand new unit. The dealer exchanged it for me but, within weeks, the replacement had also developed scratches that seemed to get progressively worse while the unit was sitting on my desk. These scratches, which appear in a circular pattern around the periphery of the panels likely reduces the efficiency of the solar panels. If looking for reliable backup power, I suggest you look at some of the Goal Zero products: I have used several of these and find them very satisfying.
Works well out of few options
Gender:

Male

Familiarity:

I've used it several times
Not many choices to have a battery pack that has a built in solar charger. The battery does what it should though for its size I would think it could hold more charge. Have not has a great chance to test the solar aspect of it. I got it primarily as an emergency back up, you know so you could potentially charge a phone long enough to make a call if needed. Size and weight seems like it could be much better if updated with newer tech. 4 stars for this reason.
This has been a very handy unit thus far. Charge it up before you go, toss it in your pack, and if you need some extra juice for your gadgets it'll be ready and willing. Ability to strap it on to the top of a pack is key, and in my mind sets it apart from the competition. My Restore reliably holds a full charge for weeks and feels very durable. I now pack only USB-rechargeable gadgets knowing I won't need extra batteries and can rely on the Restore to keep them going.

Don't think, however, that two little solar panels like this will keep you super-juiced all the time. I always charge mine at home and use solar just to supplement while I'm out and about. I take a 3GS iPhone into the backcountry as GPS / nerd toy, and after 4-5 hours of direct sunlight the Restore will only boost the 3GS by 10-20%. Fully charge it at home, on the other hand, and it will deliver 1.75 full charges to the iPhone (w/o solar exposure). So don't take it into the backcountry empty if you intend to rely on its power. Small solar panels like this will take days of full sunlight to fully charge the Restore, but will help extend its ability an awfully long time if you charge it at home first. (And never, ever rely solely on electronics! Always take a paper map too, just in case...)

I'm also a bit disappointed in the durability of the plastic covering the solar panels -- hence 4 stars instead of 5. I've had my Restore for all of three months, have only taken it on a half-dozen trips, and it was never dropped or saw any nasty conditions or abuse. And yet, some major scratches have already formed on the plastic over both panels. Luckily the scratches aren't directly over the solar panels -- yet -- and now that I know I'm careful to wipe off debris before I fold them onto each other. I'll probably take a little piece of felt or something along in the future that can sandwich between the panels and keep them safe, but a little rubber molding around them to keep them slightly elevated from each other would clearly have gone a long way. So, Brunton, for your next revision, figure out a way to keep that soft plastic from rubbing against itself -- it's too scratch-prone!

Overall, though, I'm very happy with this little device.
Would recommend this item for anyone that travels or works in the outdoors. I pack it daily and use it at least 2-3 times per week. Great way to capture solar power. It charges quickly via the sun, a USB port, or a cigarette lighter. I usually can get two full charges to my G'z One Verizon phone. Definitely worth the money. Compact, durable, water-resistant, etc. Well built.