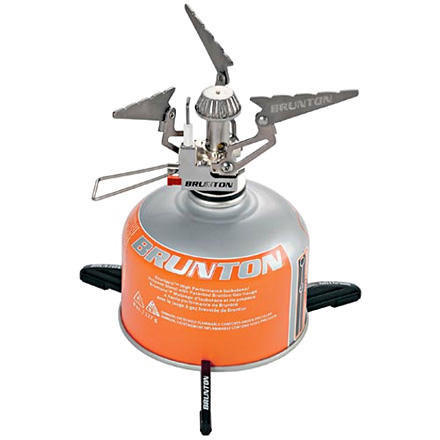 The compact Brunton Raptor unfolds three arms into a good-sized platform on which you'll be able to balance your big pots without fear of losing your stew. Made of sturdy stainless steel and with a piezo-electric starter, the Raptor is easy to use, reliable, and powerful. Precise control lets you simmer like a pro or go to inferno mode and boil water fast. At a dainty 5 ounces, there's no good reason not to take the Brunton Raptor along on your next backpacking trip. *Self ignites at altitudes below 8,000 feet. Bring a lighter for higher altitude trips.
Brunton Rocks, Please bring back your awesome products!
okay personal opinion here... but Primus stuff SUCKS, compaired to the stuff that Brunton was making. why they stopped making their stuff not to compete with Primus is insane. i've compared every single cooking device they have had simular to eachother and Brunton wins every single time! Why did the good stuff go away so that crappy stuff is all we're left with?

BRING BRUNTON PRODUCTS BACK, or at least sell your designs to Primus stuff better!
This is a great little stove. Works wonderfully. Couldn't be happier with it. The lighting mechanism hasn't failed yet. Durable, light weight, functional.
I have bought 7 of these stoves to use for my Boy Scout troop. They are excellent in more than just boiling water.

They will simmer nicely and we have even baked muffins in them. (Well, boiled...make a 'just-add-water' muffin mix, but in produce baggie and 'boil' until you muffin is done).

The one plus that I found was the electric (piezo) igniter. Yes, that can malfunction, but everyone should be prepared and have matches or flint & steel.
Can't be beat for the money
I picked this up on BC for only 25 bucks! You might find a better stove, but you will not find a better stove for the money. I am not an extreme mountaineer like many here and only use the stove on 2 or 3 day treks at low altitude but for these purposes it has performed flawlessly.
I just bought one of these, but I was...
I just bought one of these, but I was wondering if I can buy a adapter for this thing so I can hook it up to a 16oz Coleman propane tank?.
The typical pressure for the lindal canisters that this stove is designed to work with is about 15 psi, the 16oz Coleman is about 140 psi. If you can find one or make one (I've personally never seen it, and wouldn't recommend it, although I've heard of people hacking up blowtorches), you'll need a regulator in between the stove and propane bottle to keep the stove from becoming a rocket. Probably not worth it, even though the destructive side of me thinks it would be pretty cool to watch.
I just got this stove in the mail last...
I just got this stove in the mail last week. I bought an 8 oz MSR canister today and followed all the instructions in the manual for attaching the stove to the canister. When I turn the valve nothing happens (no sound of leaking fuel) and even with the valve wide open, the ignition is not lighting the stove. I assume I have a faulty valve, does that sound about right?
Best Answer
That might be the case, but needle valves are so simple that it's hard for them to fail. Sounds more like something going on with the Lindall valve on the canister. The stove might not be penetrating, and a little extra torque when the o-ring is new might be all it takes until it can seat properly. Remove it, then thread it on and see if you can at least hear the gas. If not, return the canister for a new one, or one made by Brunton if they have it, (although, all brands should work fine). If that doesn't do it, send the stove back. Good luck.
Great Scout Backpacking Stove!!!!!!
These are great stoves. Our Boy Scout troop switched to these stoves about 4 years ago for our backpacking trips. No more catching the forest on fire trying to start stoves. They are light weight, easy to operate, compact, durable, and not real expensive. They are nice for trips when we have to fly somewhere because they can go in your lugage. We buy the fuel canisters when we get there. I sometimes carry two stoves backpacking when I want to do more elaberate cooking. I can boil rice with one and stir fry some chicken mix to go on top of the rice with the other. I don't think we have had one go bad yet. The only minor problems we sometimes have when the canisters get low and it is below freezing out, the flame is a little low or if they are not screwed all the way on the flame might not work. But we have used them up to 10,000 ft in Colorado and in below freezing weather in late fall or early sping. These are super stoves!!!!!!!!
Very Solid & Compact Stove
Since I camp in more demanding environments, I must have a stove that performs well in windy conditions. The Raptor works well in these settings & does it even better with a wind break, if it becomes necessary. (Just remember to allow adequate ventilation for the canister). As far as fuel consumption is concerned, the Raptor is very similar to most other canister stoves burning 10g of gas per four minute usage @ higher elevations in the summer while cranking out 11,000 BTU's. Don't expect the auto ignition to work above 10,000ft. max. None of them do. This stove folds & stores very compactly in it's case. I found the only drawback is it's weight, slightly over 5 ounces. Made in Japan.

I have recently spoken with the manufacturer & apparently Brunton seems to be going through another change & isn't going to be manufacturing stoves & some other products any longer. The reasoning is they don't want to compete against Primus, who they rep for in North America. Too bad & so sad. Brunton made very good stoves from canister to multi-fuel. I don't know how much longer the Raptor will still be available, so purchase ASAP! They will continue to support their Brunton products as long as they can. After that, they will exchange with Primus when necessary.
Had this thing for quite a few years now and it's never let me down. Lightweight and durable. (Dropped it a few hundred times, fallen into a lake, etc) this little guy has helped me with warm meals without a single problem. Burns fairly efficiently and is probably one of the most compact out there. I've loved it. You probably will too.
This stove is super compact and really brings the heat. You do have to be careful when balancing a full pot of liquid but what stove doesn't have that problem. I love this stove.
I've been using this stove for the last 4 years and I have been extremely happy with it. I have never had problems with the ignition or any part of the stove for that matter. The flow of fuel is extremely easy to control and when trying to get that tiny flame to just keep something simmering, you don't have to worry too much about the flame going out altogether, because with a click you are back in business. I have seen a lot of small lightweight stoves, but way too many of them lack the ignition.

Again.. 4 years, tons of use and still going strong.
Would not go into the woods without it
Great lightweight stove, with a reliable starter.

Got to use it on a winter trip. It was a bit slower boiling water and melting snow, but bang for the size, it cannot be beat.
I have been backpacking in the Smoky Mountain National Park 2 times when using this stove. I have actually had a different stove each time. The first stove, the igniter stopped working after a few uses and had to be lit manually. Not a big deal but I returned it for another since it still did what it was supposed to. I recently used the second one which started shooting out fire like a flame thrower. It was out of control for several minutes and thank God the ground was wet, otherwise I would have been responsible for a large forest fire in the National Park. The fire destroyed the o ring, igniter, and metal arms. This stove was no longer safe to use. I would love to give it 5 stars for when it worked, but I give it two stars. Maybe I've just had bad luck…
Wow I love this thing. Most of the use comes from "back yard camping" with the daughter. It boils water great and cooks canned soups for the "back yard camping" very quickly. For the size and weight it is perfect for the use it gets it gets from me though I'm sure it could with stand a lot more than what I put it through.
Man, I love this little thing. Pans don't slide around on it, boils water fast no matter what kind of wind, small, easy to use and it did light at 9800 feet with the igniter! It doesn't take a lot of fuel. The igniter stoped working after the second year of use, but I never was a firm beleiver in those, on any stove or grill.
I was wondering if I can fix the igniter...
I was wondering if I can fix the igniter myself, it will not click to ignite. I push the button and no click or lighting it just goes in. the spring is still working too.
Best Answer
Don't bother trying to fix it yourself. Your Raptor stove is covered by a lifetime warranty including the Piezo ignition. Simply call Brunton, 307.857.4700, get an R.A. #, mail the stove to them & they will mail your repaired stove back to you. They are very easy to work with.
Jeff, doesn't do me much good. I'm leaving for the Canyon in 9 days. Just wondering if there was a quick fix to it. I will just mail it in when I get back. Tanx, Tucson
First time I used this stove I was really worried I had picked the wrong stove but it was really windy. After 30 minutes and the water still not boiling, ate our freeze dried lasagne lukewarm and crunchy noodles. Gave it another chance on a much nicer day and it performed as advertised, water was boiling in a couple of minutes. Great design, folds down small so easily packable, very light weight and when arms unfolded holds the pot very stable. Also the self igniter worked beautifully. I've decided I really like my stove, just gave it 4 stars due to the wind issue.
Great little stove. Amazing how compact it is. The design of the folding legs is really impressive and lends itself to homeade windscreen making which I will post pics of as soon as I get it done :)

Took it outside as soon as I got it and boiled a quart of water right at 4 min as advertised ( there was a slight breeze).

The optionl can stand from Brunton is worth the extra $$ IMO.
I tried this stove on a 4oz MSR Isopro...
I tried this stove on a 4oz MSR Isopro cannister and when I removed the stove the fuel was leaking out the top.Did I crank it down too tight and break a seal? Thanks,Peter
Best Answer
Some canisters do leak a small amount of fuel after being removed from the stove however if you drained the entire canister, it was a defective Lindal valve. If this was the case, notify the the store where you purchased it or manufacturer to receive a replacement or credit.

In the future, tighten the stove to where it stops. This adequately compresses the seal just enough to not allow any leakage.
Where can I get the fuel for this stove?
Where can I get the fuel for this stove?
Best Answer
The Brunton Raptor can use any Lindal valve (screw-on) type fuel canister manufactured by Brunton, Coleman, Jetboil, MSR, Optimus, Primus, Snow Peak, etc. These canisters are readily available in the US, Canada, & many parts of Europe.
Wal-Mart now has fuel for your Raptor!