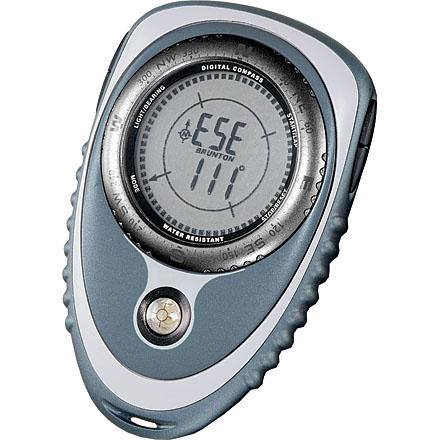 Community Images
The Brunton Nomad V2 Pro is a handy navigational instrument for anyone tired of squinting at analog compasses. No larger than a normal baseplate compass, the Nomad Pro gives you your heading in a large, easy-to-read digital readout. The Pro Version incorporates an altimeter so you can track your accumulated and max altitude for bragging rights. The barometer lets you keep an eye on the barometric pressure to get a feel for what the weather has in store. The Nomad is declination-adjustable and has a thermometer, time and date, and two daily alarms. A bubble level lets you get the most accurate compass reading possible.
where can i find directions for setting...
where can i find directions for setting time, date, etc
You can download the user manual here:



http://www.manualslib.com/manual/22178/Brunton-Nomad-V2.html#manual
Boogie,
A Google search found one site claiming the unit to be water resistant to a depth of 10 meters. But the manufacturer fails to list this spec on either the product's page or in the instruction manual. I would suggest contacting Brunton directly at 307.857.4700 for a positive answer. Good luck!
(1) Will it work in other countries ??...
(1) Will it work in other countries ?? i.e. Japan ?(2) What is the minimum unit that the altimeter reads ?? i.e. 10Meters or 5Meters or 1Meters ...
Best Answer
I do not know for certain if the Brunton Nomad V2 Pro Digital Compass will work in other countries but I see no reason why it would not. It is NOT a GPS and does not use Satellites. According to the included product manual: "the altimeter has a 1 meter (or one foot) resolution and has a working range from -700 meters (-2296 feet) to 9000 meters (29520 feet)." So just keep it in that range, which shouldn't be hard, and you are good to go. EDIT (Jersey Hiker): Yes, this will work anywhere on Earth. Altitude is determined by air pressure, and the compass is simply a digital version of a standard magnetic compass - no sattelite or other local data system is used.