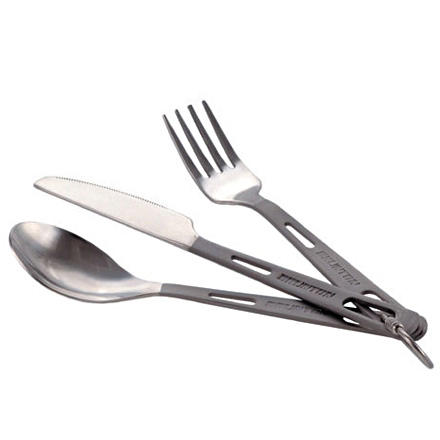 Does the job and it is cheaper than most other full sets
Very lightweight. No complaints, although the butter knife I never seem to use. I probably will not be packing it anymore for hiking. Otherwise, it is a great product. Would be nice if it had a small sheath to keep everything together.
What is there to say. Amazingly light, study, and comfortable to the hand. Just great for backpacking in the high country.
The Brunton My-Ti has high quality and good design. Almost like eating from my kitchen flatware. Some of the best lightweight flatware I have seen around.
Easy to use, solid and simple kit. Spent a month with this set up on the glacier and it held up great.
Makes food tast better!!!
This flatware is just awesome! It's scary how light it is, and it's really strong. What more do you need to know? Just buy it!
Wanna hear a joke? Sporks. Seriously, they don't poke stuff very well and the spoon part has jaggedy leaks in the edge. They neither fork nor spoon proficiently. Well with this, you can afford to take both spoon and fork because they're made of titanium, the coolest material on earth. It doesn't bend, it doesn't melt, it doesn't rust, it's really light (about half the weight of steel), it's awesome. And all the ladies love it. Plus the knife will keep its edge for waaay longer than a steel edge. The case is a little weird, but just don't bring it. Easy enough. Seriously, if you want a flatware set that will get the job done, do it well, and keep doing it for longer than your lifetime, this is it.
This setup is perfect for going light. All the necessities are here in a fork, knife and spoon, because personally I am one of those people that hates using a spork. As mentioned, the case is pretty ridiculous, but just leave it behind and volia...
This is a great great set. I prefer a little more than a spork and this set is perfect. Very light, durable, no nasty taste or texture. Just a really good set!
This is a great set for those who want to go light but don't like just using a spork. I have this set and it is very light. It is also very durable.
Very nice set. Easy to use together or separate units for individual use. Carabiner should be tack welded to a utensil so it is not lost.