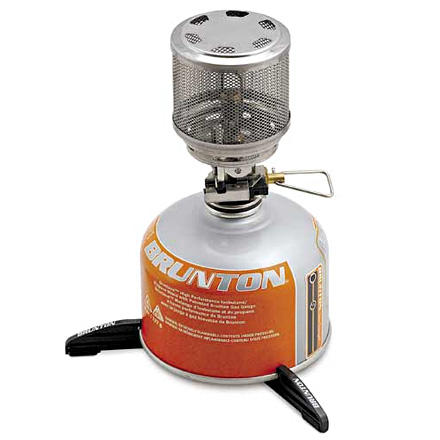 Light, small, efficient.. but warm.
Alright, check out the dimensions.. it's small and light. With that, you should know it's not going to be uber-bright. I bought it to use in my small Marmot Eos 2 tent for when I'm playing cards with a buddy at night in the rain. I've used it a few times now, and don't think having it around the fire would really do any good. Inside the vestibule though it works pretty well, it gives off a nice amount of light and I'm not worried about it burning my tent down around me. The DOWN SIDE- it pumps out so much heat that you would almost rather sit in the rain after you use it in your tent for a few minutes than put up with the temperature inside. I can see how in the other three seasons, this will be a fantastic little alternative to burning up batteries in my headlamps.
Small, Lightweight, No Glass
I love how small this is and that I don't have to worry about breaking the globe on my Coleman lantern.I typically use my Coleman on cabin trips, and I bought two of these to replace one of those. They'll be easier to pack and travel with, but the gas is more expensive, the lanterns are more expensive, and they likely cast less light together than the Coleman dual mantle lantern alone.I'll update this after I have an opportunity to use it for the purpose I intended. So far I have only use it to light up my kitchen, which it seemed to do as well as I expected.Update: Used it on a car camping trip where the weight, size, and glass of the larger coleman would not have been a bother, but it was nice to have this little, VERY stable lantern that produced plenty of light for our makeshift kitchen. In fact, we often complain that the Coleman makes too much light and we have to turn it down to protect our eyes, so this lantern was great all around.
Great alternative to my Coleman Northstar - useful when I don't need to light up acres of land at a time. It's small enough that I feel safe using it inside of my tent vestibule.
WHAT IS THE LIGHT OUTPUT IN LUMENS
WHAT IS THE LIGHT OUTPUT IN LUMENS
960 lumens @ 65 watts.http://www.brunton.com/product.php?id=333
I don't think that's quite right. The page that Jeff points to indicates that this outputs about 27 candlepower. Assuming they mean candela, then the luminous flux is roughly 325 lumens.
Will it work with other types/brands of...
Will it work with other types/brands of fuel containers.
Yes, it will work with other fuel canisters.