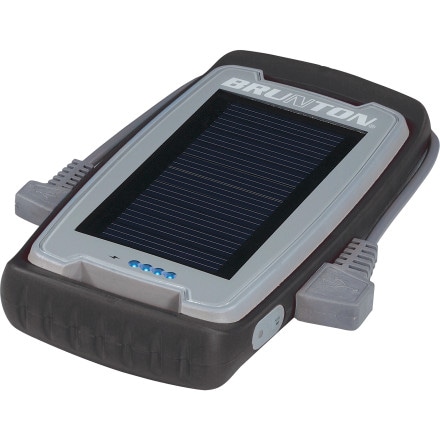 Description
Keep critical (or not-so-critical) devices powered up.
Even if—or, rather, especially if—you're going off the grid, you're likely to need a means of recharging small electronics like a GPS, cell phone, or digital camera. The Brunton Freedom Portable Power Device provides the juice to run these essentials. Its internal, rechargeable, lithium polymer battery draws power from your car (AC adapter included), your laptop, or the sun. Compact, durable and water-resistant, the Freedom Portable Power Device packs easily to accompany you anywhere you might roam.
Water-resistant construction and rubberized shell stands up to life in the field
The 100 mA polycrystalline solar panel harvests energy from the sun when it has access to light
Internal rechargable lithium ion battery features a storage capacity of 2,200 mAh
5V output is USB compatible
Power gauge and auto shut-off lets you keep tabs on your energy use
Compatible with Brunton Sync Tech-enabled headlamps and task lights
Note: USB output requires a compatible USB cord to connect to your electronic device (available separately from Brunton or available with your small electronics)
Share your thoughts
What do you think of the
Brunton Freedom Portable Power Device
? Share a...
Easy to use
Member since
Posted on
I got this for my brother-in-law to keep in his truck, but he's not really a techie, so he thinks its okay but not a necessity. We have a similar unit and love it. Only use it for camping and backpacking.
I will be packed into the woods for a month...
Member since
Posted on
I will be packed into the woods for a month and hopping to use my ruggedized camera, however it doesn't take AA batteries and has its own. I need to be able to charge it and I was just wondering how well this actually works. I have seen other unfordable ones that look to give almost 10 times the surface area of this and they take 6 hours to charge a camera. Just wondering if you have an experience in using this product.
Member since
Best Answer
Responded on
As Lyric and I discovered, the reviewers on REI's site who do have experience with the Freedom were less than kind in what they had to say about it. I would suggest you start by reading them yourself before you decide.
What type of fittings and adapters does...
Member since
Posted on
What type of fittings and adapters does it accomodate?
Member since
Responded on
All it apparently has is the mini-usb plug. Brunton offers nothing else at this time, but says that it will power any type of handheld electronic device, from a GPS, cell phone, or i-pod... I can only assume that this means that you'll have to find a proprietary usb adapter from the manufacturer of the specific device you want to charge, if it's required. Before you decide, you definitely want to read the few reviews on this from REI. Sorry I couldn't be more helpful, but there's nothing that I can find more specific out there beyond what I conveyed here...not even from Brunton.
Member since
Responded on
Hey Jeff, I too was only able to get a meager amount of information on the dongle that this unit supports, however... if you check out the picture I attached from the Brunton product page (http://brunton.com/product.php?id=636) you can make an educated guess.

To me, it looks like you can remove the cable Brunton sends along with the unit. The especially good news is that the main USB port on the Freedom is a good old standard USB-A plug, or what I suppose Brunton have chosen to call "Computer USB." This is almost guaranteed to be what is on the end that isn't connected to your phone/gps/ipod.

That said, as Phil said, check out the reviews over at REI. I don't especially like cross linking on competing sites, but this device costs a pretty penny and the reviews there are mostly negative and warrant reading.

Good luck finding the right device for you.
Member since
Best Answer
Responded on
Hey thanks for expanding, Lyric. I'm not big on referring or linking the competition's sites either, but when I saw that, it would've been a real disservice to Jeff not to bring it to his attention. Reviews like that are tough to get around. At least we now have a point of reference to begin some solid feedback here when called for.
Member since
Responded on
It comes with a plug that has a regular (full size) on one end and an USB mini plug on the other (with an adapter that goes to micro usb (standard on most new non apple phones). When charging the internal battery the full sized usb plugs into a computer or wall charger and the mini end plugs into the unit...then when using the unit to charge a phone or mp3 player the full size usb plugs into the unit and the mini/micro end plugs into the phone...This sounds confusing but it makes sense because this way they only have to include one cord that will allow it to charge from most power sources and charge most small device. I've had my unit for about a year and bring in on camping/travel trips. The internal battery (when charged from a wall or car outlet) is strong enough to refill my cellphone battery 1-2 times. The solar panel on the unit is enough to trickle charge my cellphone with enough power to make a phone call after several hours of charging (tested at home not in the field)...If you are looking for something with a solar panel big enough to recharge your phone/camera battery on its own on a daily basis (long camping trips) you need to look somewhere else and be prepared to pay several hundred dollars. If you are looking for something to take with you when traveling or on short camping trips as an emergency backup then this is the way to go. Sorry for the long rambling response, but I feel people are giving this a bad rap because its purpose is not clearly understood (or labelled).