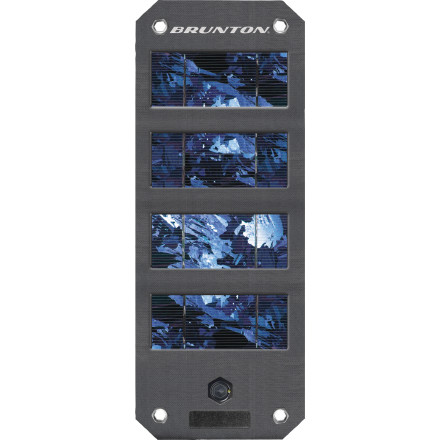 The Brunton Explorer Foldable Solar Panel can add extra security to your trek or wilderness escape by quickly charging your cell phone, GPS, or other small, USB-compatible electronics. With these four compact solar panels, one hour of good sun can provide enough battery power in your cell phone for eight hours of talking. During long treks or true wilderness missions, this 14.8-ounce solar won't weigh you down, yet it offers a great deal of convenience as well as an extra layer of safety.
Folds down to 4.5 x 9.5 x 1in so you can easily pack it up and carry it through rugged terrain
Four polycrystaline solar panels absorb the sun's radiation while the flexible package and loop holes enables custom orientations on your pack, tent, or anywhere with lots of sun
5v, 1000mA USB output is compatible with most MP3 players, portable game consoles, and smart phones
Also compatible with Brunton power systems (sold separately) for storing the energy and for SyncTech headlamps and task lights (sold separately)
What do you think about this product?
Have questions about this product?
Does this work on charging iphone 4 &...
Does this work on charging iphone 4 & iphone 5? What about ipads? THANK YOU in ADVANCE!
This is capable of charging the iphones (4 & 5), but it will do so pretty slowly. It will be comparable to the charging rate when your phone is plugged in to your computer USB instead of the wall outlet. It might charge an iPad, but it will have to have the screen turned off and will take 4-5x longer than it normally would if plugged in to the iPad wall outlet. The 1 amp (1000ma) output of this solar panel is likely max when in full sun, so don't expect a full charge on your phone in less than 4-5 hours.
Just an addendum to what Matt said: the wall charger for an iPad is 12W, and this solar charger peaks at 1W. So best case scenario, it'll charge twelve times slower than it would at home. The iPhone/iPod charger has an output of 5W, so you're looking at 4-5 times longer.