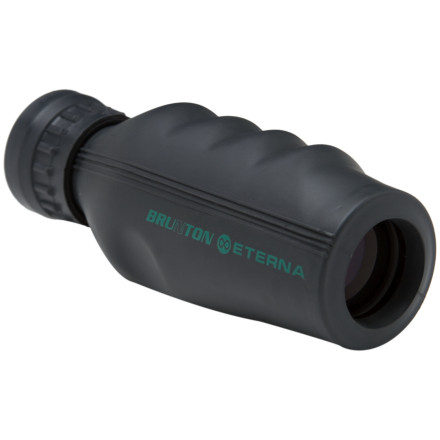 Detail Images
The Brunton Eterna Monocular offers lightweight and compact convenience for the observant backcountry enthusiast who likes to go light. With the Eterna Monocular, you'll get the benefits of Brunton's most sophisticated binoculars. Use the Eterna with or without eyeglasses, and don't worry about this monocular in foul weather because it is waterproof inside and out. Because Brunton phase-coated the Eterna's lenses, you get a crisp, clear image. Whether you scope a line on the powder-laden peak in the distance or catch a close-up of a rare bird, you'll appreciate the Eterna Monocular's generous 341-foot field of view at 1,000 yards.
Stick with compact binos!
This thing lasted me almost a whole year. That is not a compliment. It works great if you don't have to adjust the focus. The lens just snapped off and then all the guts fell out. I tried to perform surgery but all was lost. For a hundred bucks it's a piece of crap. I turned around and bought a name brand pair of compact binos that weigh about the same but are so much better for not that much more. You can always find a deal on quality if you look in the right places.
Amazing optics for the price
I bought one of these on a whim for my wife who likes to kayak and wanted something robust for her trips. The optics are increadible for the money - super sharp and bright even in extremly low light conditions. We recently took it a music concert and it was super cool watching all the stage action up close. I liked it so much I bought a second one for my buddy.
This is such a quality unit. Very clear optics and ruggedly built.

Keep this bad boy in a front pocket for when you're on the move and need a quick clear look at a hawk or peak. Even comes with a nice case that can attach to your belt or to a carabiner.
I had this mono for less than 24 hours when I was focusing to peer out my window and the focus/ eye piece straight up broke apart. Couldn't fix it. Now I'm sending it back. I was really dissapointed.
We wanted a monocular because we wanted to keep our pack light. It is definitely lighter than a binocular - so we felt it did the trick.
It works well. However very heavy.
VERY easy to use, & has awesome range
I used this monocular when I went to Grand Teton National Park a few weeks ago. I was impressed with how easy this is to use. I've also never used a monocular before until this one, and I think they are much easier than binoculars. I used it to zoom in on the mountains and on all the wildlife that only looked like little specs from the road. Things that would otherwise be out of view are easily visible with this Eterna Monocular.
I've always had trouble with binoculars but my new Brunton Monocular gets right on target (for example moving trucks), has good eye relief, easy to focus and I really like it.
Oct 07, 2005
Initial Impression - I recently bought this monocular after exhaustive research on the Internet. My initial impressions are: It is fairly hefty and bulky, which appeals to me. The light gathering ability is very good, again I've only had it for a short while but, for example, I can read the house numbers at night using the monocular and cannot even see that there are numbers on the house with out it. I have taken it with me when I go mountain biking and been impressed with it's durability and clarity. In short the clarity is outstanding, all the way to the edges. The light gathering ability is surprisingly good for just a 30mm objective lens. I am surprised at how well a 6x monocular can perform, it's so clear and bright it is as if it is a much larger and powerful scope. I have no idea how well it will hold up, but just so long as it is not abused I'm sure it will be fine. My experience with optics is based on over 20 years of hunting and recreational hiking using spotting scopes, telescopes, binoculars.

Jan 10, 2006
Follow Up Review - Follow up to original review. I have taken my monocular on my vacation to Eastern Europe during the month of December. We traveled to Frankfurt Germany, Vienna Austria, Prague Czech Republic, Walbrych Poland, as well as various other mini trips for skiing and sight seeing. The weather during the trip was just above or below freezing with rain and snow almost daily. The Brunton Eterna Monocular performed like a champ. I had no problem with fogging despite the weather. It was large enough that I or my wife could handle it with ease while wearing gloves, but still small enough to slip into a coat pocket with ease. We used it for sight seeing, scouting ski runs, navigation aid, and watching the wild life. Bottom line: It added a new dimension to our vacation it was very handy and just plain fun to have along with minimal space and weight penalties. No post purchase remorse on this one, and I definitely recommend purchasing one to others.