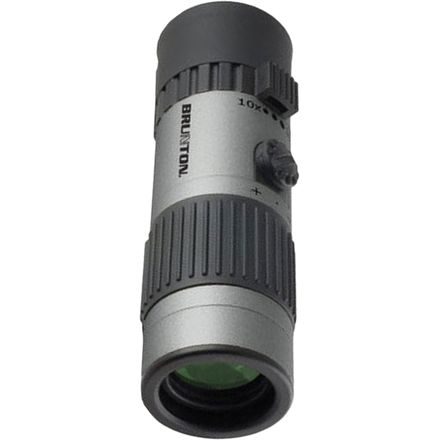 Are you a secret agent looking to boost your gadget count, or a modern-day pirate sick of ancient spyglass technology? In either case, you'll love The Brunton Echo Zoom Monocular's compact size and 10-30x zoom capability. Agents, this miniature monocular fits in the palm of your hand and stashes easily in a tuxedo pants pocket, so it's ready to deploy as soon as henchmen turn the other way. Pirates, it has that cool spyglass look at a fraction of the weight, and the coated optics will have you "Arrrrgh"-ing with satisfaction. Lightweight hikers, game-spotters, and backcountry tour enthusiasts will enjoy all of the above, plus the Echo Zoom Monocular's ability to bring distant moose and sketchy slopes in close without making them angry/setting off slides.
Always in my pack
Familiarity:

I've put it through the wringer
For a long time I had an REI brand Monocular and its field of focus was very finite, and visual clarity was poor. That being said they were 18 dollars on a Labor Day sale. These are a distinct upgrade, and I keep it in a Loksak with my compass and map in an exterior pocket of my pack. The relatively wide field of vision (by Monocular standards) makes it wonderful for orienteering. Its also nice for viewing wildlife from a safe and respectful distance. This is not comparable to a pair of Nikon Binoculars in this respect but they are a quality light weight small footprint option. They focus effortlessly and can be used on the move, which in my experience is not to be said of all monoculars.
Is this monocular waterproof/water resistant, fogproof or shockproof?
It has limited weather resistance, but is certainly by no means immersible. I've had some fogging issues particularly on humid summer mornings. They do not claim to be shockproof but they seem to feature rugged construction.
This is a great devise to have on you. It is very lightweight so you won't even notice its in your pack. Great for scoping trails, campsites, wildlife and scenery.
You get what you pay for
Gender:

Female

Familiarity:

I've used it several times
Pros: lightweight, small, easy to use, doesn't take up much room in a pack, great price.

Cons: Squinting through ONE eye for too long gives me a headache:) I decided that binoculars are for the car and monoculars are for backpacking.
Not perfect, but adequate
This monocular is super lightweight, extremely small, packable and easy to use. On the other hand the visual clarity just doesn't compare to a good set of binoculars. If you're really counting the ounces this is the way to go though.
This is one of the neatest little purchases I've ever made. Compact and powerful, I've used it on hikes, and often break it out when I'm driving in the country. Used it to spot wild horses, big horn sheep, antelope, and coyotes in the Steens High Desert country of E. Oregon. Don't expect to get up to 30X freehand (but who's really gonna bring a tripod for this little thing?), but its great to about 20, which is all I need. Bottom line: great fun for the price.
This little guy is great for anything you would need binoculars for. I only ding it 1 star because while the zoom is powerful, you almost need to mount it to a tripod to keep it steady. Just holding it is fine until it is zoomed about half way. However, the field of view and clarity is superb when zoomed out. For the price, and application, you can't beat it.
I wanted a small monocular to carry on my backpack strap for quick and easy access. What good does a nice pair of binoculars do for you when they are buried in your pack? I was impressed with the clarity of this monocular and how crisp it focused.
I use it for scouting lines while skiing big mtn. It's perfect because you get good enough magnification to see the mountain well, but it's still small enough to throw in your pocket and ski without it bothering you.
This is a nice little monocular with good glass, easy to carry size and easy to use controls. As long as you keep it at 10x, the view is quite clear, but once you get it up to 30x, it's quite a bit harder to see things and the depth of field is very narrow. So, don't plan on using 30x for very long, and get a little tripod for it. But, overall, it's a good, capable little mono at a great price.
Great Mono.. incredible price
I bought this mono for hunting and dual purpose it for a pocket spotting scope at the range. Way more clear and powerful than I expected for the size and price.

Easy to zoom, focus and use. You need to have something to support your elbow on to see anything at 30x, but this is not the mono's fault.
I was looking for a quality monocular at a reasonable price. This is an awesome piece.
youwill not believe how powerful this thing is

is dificult to control at the begining but once you get use to it is very easy
This was my first monocular/binocular purchase. Just wanted something for checking things out on hikes, bikes, etc. Also considered its little brother the Echo. For only $12 more I decided on the greater mag and have been very happy with it. As a novice, it takes a little practice to use it at anything above 20X. Now that I've gotten used to it I can't imagine only having 7X. A little bigger than the Echo but still fits in your pocket fine. The description doesn't mention it, but the lens material is the same as the Echo - Multi-coated BaK-4 prism glass, and it comes with a lanyard and nylon carrying case. This thing is a steal for $33.
Makes far way stuff close
The big brother of the echo, this monocular can zoom to 30X, considering most binoculars are 10X or 12X you get a lot of band for your buck. Or course most binoculars that are 30X are mounting on navy ships on a stand to keep the image from shaking. You have to have a steady hand for 30X. Don't let this deter you from this great monocular. It's nice to scope around at 10X, spot something or interest and twist the ring bring the object even closer. It's a little bigger than the other Echo, making it a little less Spy-Friendly. Great as a handy scope will birding on the spot.
Great for scouting rap anchors and climbs in the desert.
Brunton Echo Zoom Monocular 10-30x21
Awsome monocular! It is SO DANG POWERFULL!! I love the easy zoom accessary. Evreyone who wants some good optics HERE IT IS. I recomend this to anyone.