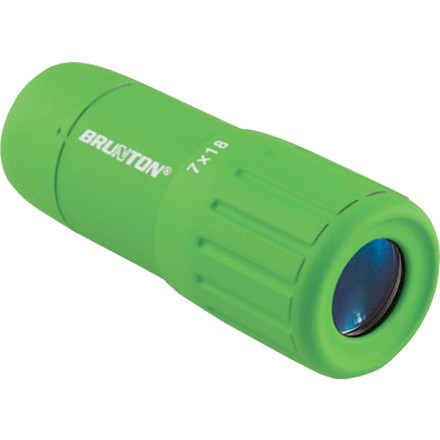 Community Images
Description
Carry the lightweight, small Brunton Echo Pocket Scope with you to see both faraway and close-up objects better.
Stash the lightweight Brunton Echo Pocket Scope Monocular in your trench coat pocket, and head to the stakeout. This monocular magnifies your view seven times, which means that objects 700 yards away appear to be 100 yards away and seven times larger than with the unaided eye. Even if you don't work as a detective for a living, you'll find the Brunton Echo Pocket Scope useful for birding or viewing a show from your balcony seats at the theater. Plus, with a near focus of 13 inches, you can get close-up views of that cool-looking bug by your foot.
Love this little thing
Gender:

Female

Familiarity:

I've put it through the wringer
I love this little thing. It's so cute and handy. I've used it to check out birds, mountain slopes, even reading the little subway maps on the T. It's a great little tool I always bring on nature walks.
Great for getting a better look
Gender:

Male

Familiarity:

I've put it through the wringer
Absolutely worth having on any trip. I have 20/15 vision and the optics on this are clear. The unit is light. If you see something in the distance but cant quite make it out, this will give you the edge.
compact lightweight but...
OK for scouting the area a little more up close, but the magnifying is really not very high, but for this price you cannot really complain.
The magnificiation provided by this scope is not appreciably greater than what I can see with my unaided eye. I am returning it.
Just watch exposing the monocular to really high temperatures. While in Afghanistan I left it exposed to some extreme heat and it started rattling (I think some of the glues started softening). So I took it apart to see if I could re-apply some glue where needed and all I really accomplished was getting lots of dust specs all over each of the lens elements lol. Good, cheap, little, light monocular though- I bought another at a great sale price.
is it weather resistant or waterproof?
is it weather resistant or waterproof?
The literature that came with it didn't mention either so I am thinking it is not. With that said, I have had mine out in light mist and fog and did not have any issues.
I agree with Mike Throgmartin. While it's certainly water resistant, I wouldn't call it water proof after taking it apart- there weren't really any seals. I think the only concern with water would be a drop causing full submersion.
Bought this as it's tiny and wanted something small to take with me for Peace Corps. I'll know more in a few weeks when I get to use it in the field, but so far, all my home use is good. IT comes with a tiny soft case and lanyard.
Size, feel, weight and performance exactly as described on web site. Used it for skiing and mountain biking two days in a row with great satisfaction. Can't attest to longevity as I just received it. Just what you need for spotting the bad guys (Jack Bauer). Son in law was so jealous my daughter is getting him one.
Does this come with lens caps/protectors...
Does this come with lens caps/protectors?
No, it comes in a little nylon case with a flap and velco closure. It does a pretty good job of keep dust off the objectives. I've been hunting little caps for a while without luck. Let me know if you come up with something.
for skiing
Familiarity:

I've used it several times
I use it for shredding and picking lines. it's great
Easier to use and carry than full size bunoc's, great for hiking.
Is there a place to put a chain or cord...
Is there a place to put a chain or cord on this?
Best Answer
Yes. znoy sure about on here but from Brunton it comes with a lanyard.
I've fallen in love with this little scope. It has earned a perment spot in my bag. I've started noticing when it's not around that I miss the little guy. It's great for boats on the horizon, figuring out what kind of bird that is on the wire. You can also check out that little fish swiming in a tidal pool. It has a 13" close focal range so you can see up cloe things in detail.
I shopped around for a monocular. Big decision on whether to go for all zoom power or a step down that includes a macro feature. In the end... I made the right decision. Not only can I see far away but there is an extra value in close up to look at the smaller things that you will not notice (i.e. bugs, flowers, etc...). This feature is hard to pass up.
Great price per quality per size ratio. I've been using this little scope for backcountry snowboarding, spotting lines and keeping an eye on friends/critters.
It weighs next to nothing and takes up no space. Brunton quality, good visual clarity and puts a smaller dent in your wallet than a round of PBR's.