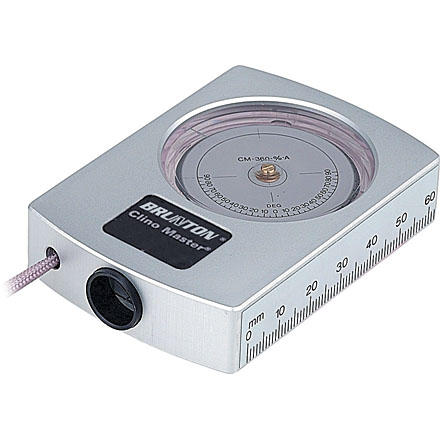 Use the Brunton ClinoMaster to measure the height, angle, and slope of nearly any feature. Whether you're a forester measuring the heights of trees, or a backcountry skier or boarder checking out the angle of a slope and the probability of an avalanche, you'll find the Brunton ClinoMaster indispensable. This clinometer is accurate to within one degree and comes with reference cards that include a tangent table for quick height measurement. You can use this clinometer with a tripod.
What do you think about this product?
Have questions about this product?
Be Safe and Take Quesswork Out
As we have come to see in the last couple of seasons, backcountry skiing has become a dangerous animal indeed. One miscalculation with the snowfall amount, daily weather or slope angle and you can be in for a tumble at least. Thankfully, the Brunton Clinomaster is here to take care of at least one of those three variables.

Getting the measure of any slope angle and height through either a tripod or looking through the glass couldn't be easier and the aluminum/glass construction feels super bomber. It also comes in a carrying case to be sure that no damage occurs. If you are often in the backcountry, please pick this up!
This may be the single most useful piece of skiing equipment I recently purchased. Basically since terrain is the one factor that never changes, you have to know the terrain when in avalanche country. This clinometer takes all of the guesswork out of slope analysis, you sight the slope and you know if it can or cannot slide. In a bony season like this one the Clinomaster allowed me to go out on days I would have normally stayed in by making accurate assessments of slope angle and terrain. It is really easy to use and since it fits in the hip pocket of my Avalung pack I was able to constantly check for changing conditions. It is a very well made precision instrument with a great hand feel of solid aluminum. I would say that for a gram counter like myself, the weight is the only downside, but for what you get in sense of security and accurate information far outweighs it.