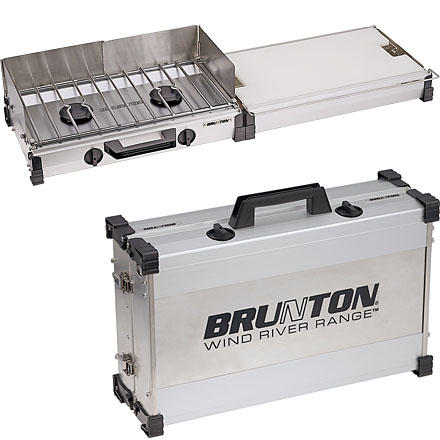 What do you think about this product?
Have questions about this product?
Expensive, but very nice.
I purchased this stove a couple of years ago. There is no doubt it is a good stove. I've simmered pots of chili on this stove. This is one of the reasons why I chose this. I wanted more control when simmering. It runs a little hot, but all and all it does a good job. WAY better than my previous stove. My previous stove was either on or off. There was no in-between. I did purchase a heat plate that helps distribute the heat more evenly, but I have found that 90% of the time I do not need to use it. I also purchased a small refillable propane tank that is awesome. I can cook all weekend without worrying about fuel. As a matter of fact, the smaller tanks cost more than the larger ones, but I do not want to lug around the larger tank.

The construction is super solid and well put together. It is compact easy to carry. It is heavy, but that is because it is not made of cheapo materials.

I only gave this stove 4 stars because of the cost.

Would I buy this again? Yes.
Can the Bruton Wind River stove be fitted...
Can the Bruton Wind River stove be fitted with a hose to take propane from my Colman camper propane quick-connect located on the outside of the camper?
BTW, are these stoves still being made, everyone seems to be "out of stock"
Best Answer
Although there may not be a simple plug and play system to do so it most certainly is possible if you get the right connectors and fitting.
It's already set up for propane, but Mitch is right, to go to the Coleman Quick-connect fittings would take at least a new adapter...probably available through Coleman with a little searching.

To answer your second question- No, Brunton Outdoors is the new North American distributor for Primus. Rather than produce a competing set of products, they decided that cancelling their entire line of stoves and focusing on Primus only was the best thing to do. Too bad, but that's business.
how much cost tank for gas
how much cost tank for gas
Best Answer
As of today I'm spending US$10 for four, 16.4 oz (nominal 1 pound) bottles at Sam's Club. With both burners on high, burn time will average about 45 minutes at sea level, about 30 minutes at 5000 feet. It is best used with a 20 lb or larger gas cylinder and regulator for economy and unlimited cooking sessions.Here's some more information:http://www.brunton.com/product.php?id=400