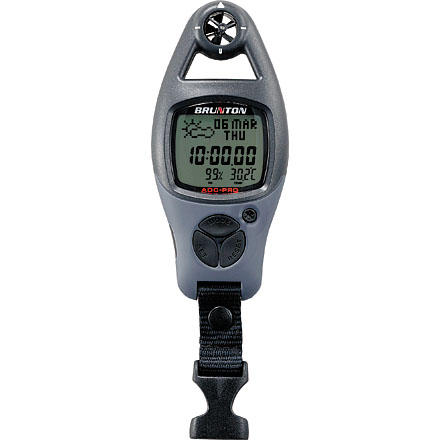 Description
Whether out of necessity or just for fun, the Brunton Atmospheric Data Center Pro does an incredible job of interpreting the weather around you.
The Brunton Atmospheric Data Center Pro gives you every conceivable weather measurement in the palm of your hand. The ADC Pro tracks the climate where you are and reports on an incredible array of conditions, from temperature and altitude to a 12-hour weather forecast. Fickle weather can cause mayhem on your backpacking, skiing, or climbing trip. The ADC Pro tracks temperature, relative air density, heat index, relative humidity, dew point, barometric pressure, and wind chill. It can even look at trends and forecast the coming 12-hour's weather. If the barometer drops, the Brunton ADC Pro alerts you—a nice feature, particularly if your view of incoming weather is blocked by the peak you're climbing. This handy gadget also tells you the altitude, and an altimeter alarm tells you when you've broken a preset altitude as you make your way up a Colorado Fourteener. A ski run counter is a fun feature on the slopes. You also get standard features like time, day, and date, along with a chronograph and race timer.
Share your thoughts
What do you think of the
Brunton
Atmospheric Data Center Pro
? Share a...