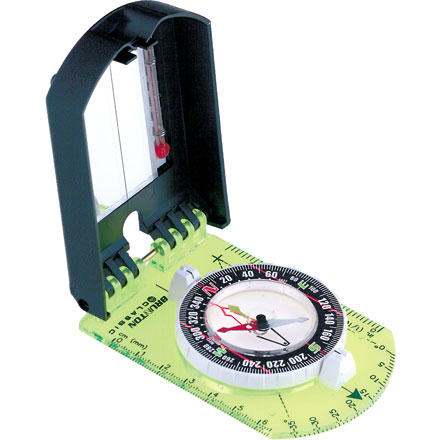 The Brunton 8040G Compass includes all the features you need for incredibly accurate backcountry navigation without a bunch of gizmos that you don't really need. Clean, simple, and accurate, the 8040G Compass has an adjustable declination, sighting mirror, and transparent base plate to make map work easier. As an added bonus, Brunton gave the 8040G a built-in thermometer to provide accurate bragging rights on dead-of-winter or heat-of-summer trips.
I received your compass for fathers day....
I received your compass for fathers day. I am more familiar to the hand adjustable declination compasses. So this tool free adjustment, unless I missed something should the little yellow arrow still move around all the time?
Yes - The yellow arrow is to help you get a feel for how steep a ridge or hill is in degrees of slope. Zero the compass, turn it on its' side and use it sort of like a level. Turned on the side, the yellow arrow is run by gravity not magnetism.
Wasn't thrilled with the quality
The compass itself worked incredibly well! There was never any question as to whether the needle was pointing North, or if it was binding. The compass worked great. The declination adjustment was nice. I was thrilled that it was made in the states... until I wondered why it clicked as I turned the azimuth ring. I realized the sighting "tower" nearest the cover was glued in crooked interfering with the ring and also causing readings to be slightly off. I decided to ignore this until I realized that the thermometer was also off by 10 degrees. I didn't buy this for the thermometer, but I figure it it's on there it should read accurately. You know? So is it possible that you may get one that wasn't assembled on a Friday? Sure, but I decided to look for something a little higher-end after this and took advantage of backcountry's excellent return policy.
Perfect for a no frills compass. It's exactly what I need it for: show me what direction I'm facing. Works like a charm.
This is a very good compass for the price. There are some nicer ones on the market, but for the price this one has all the features you could want.