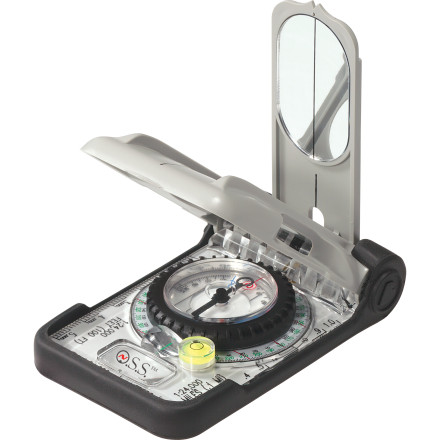 Based on the award-winning Eclipse 8099 compass, the Brunton 70M Professional Mirrored Compass includes the same tested and proven navigation tools as the Eclipse but features the new O.S.S. alignment system for even greater precision. The declination system allows for quick tool-free adjustments and the dual-pivoting sighting mirror is center-mounted to run with the direction of travel. Plus, the clear base plate and magnifier make navigating by map a hassle-free operation.
Based on the award-winning Brunton Eclipse 8099 Compass
Three clinometers system allows for accurate slope and elevation measurements
O.S.S. alignment system utilizes the orbital navigation, sighting mirror, and adjustable declination for greater precision
Orbital navigation reduces parallax and uses a single color to eliminate directional confusion and keep you on course
Magnified readout for one-degree accuracy
Clear base plate, map magnifier, and on-the-map meridian lines make for easy navigation
Tool-free system declination allows for quick and easy adjustments
Protective cover with a dual-pivoting sighting mirror allows for precision headings
Round level bubble improves accuracy
Included lanyard helps prevent dropping or misplacing the compass
Made in the USA
Share your thoughts
What do you think of the
Brunton
70M Professional Mirrored Compass
? Share a...