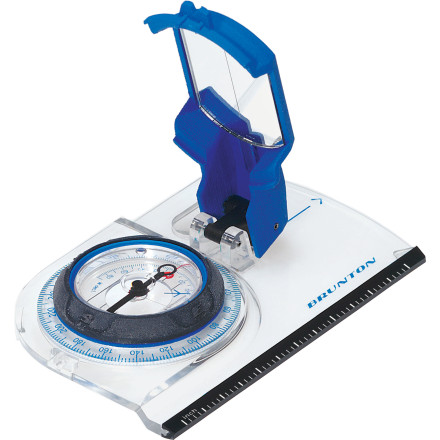 The flat terrain leaves little or no distinguishable features to mark your path, but since you anticipated this, you brought along the Brunton 60M Mirrored Compass and a good map to guide you into the wilderness. Because the mirror features a dual-hinged, center-mounted design, you can be assured of quick, accurate readings along the same direction mark that you used for your map orientation.
Analog, liquid-filled compass uses the Brunton O.S.S. alignment system with its sighting mirror to provide reliable bearings when you align the circles
Two-degree resolution allows precision and effective navigation
Tool-free adjustable declination lets you manually account for a difference between magnetic and true north, so you can get the most accurate readings
Map magnifier gives you a closer look at topo lines for deeper insight into terrain
Meridian lines at map level aid orientation with a map and minimize distortion
Clinometer (or slope meter) lets you evaluate avalanche risk during backcountry travel
Extended straight edge lets you easily draw navigation lines on your map, and the mirror folds onto compass face for protection from items inside your pack
Reversible slide scale and interchangeable scale cards permit versatility for advanced users
Share your thoughts
What do you think of the
Brunton
60M Mirrored Compass
? Share a...