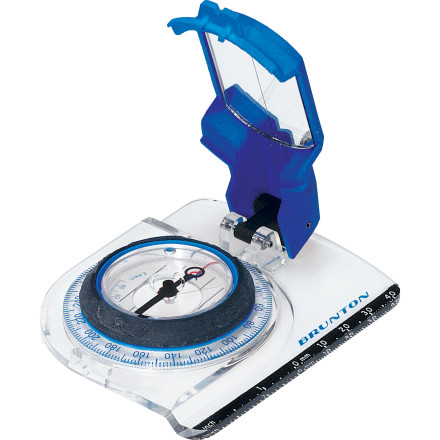 A vast wilderness area or expanse of open water can easily engulf you, but a map, some orienteering skill, and the Brunton 50M Mirrored Compass help you navigate your way out. Thanks to a dual-pivoting sighting mirror, which is mounted near the base plate's center, you're able to get a quick, accurate reading using the same mark you use to orient yourself with a topo map.
Analog, liquid-filled compass uses the Brunton O.S.S. alignment system with its sighting mirror to provide reliable bearings when you align the circles
Two-degree resolution allows precision and effective navigation
Tool-free adjustable declination lets you manually account for a difference between magnetic and true north, so you can get the most accurate readings
Meridian lines at map level aid orientation with a map and minimize distortion
Clinometer (or slope meter) lets you evaluate avalanche risk during backcountry travel
Mirror folds onto compass face, which provides protection from the other items inside your pack
Lanyard keeps the compass close so you don't veer off course
What do you think about this product?
Have questions about this product?
I'm glad I got this compass for free, because I'd have been livid if I had to pay for it.

The mirror housing is flimsy and requires so much force to open that I'm sure it'll break soon. The mirror itself pops halfway out of its mount as the housing flexes when opened and the rolled hinge pin on the housing mount slipped out literally after opening it a few times.



Absolutely nothing on the compass moves smoothly.

The dial spins freely for a portion of its range and then binds and skips through the rest of it.

The declination adjustment is a total joke and skips around as well, making it nearly impossible to set accurately.



The "north seeking circle" on the needle gets in the way of taking an accurate bearing. Since it's the heaviest portion of the needle, if you try to take a slope reading it drops straight down and hovers over the inclinometer arrow as well as covering over a full ten degree range of hash marks on the declination scale, making it impossible to read the angle.



Paint on the in/mm scale was flaking right out of the package.



Fairly bulky and awkward.

Fairly light, so you can't use it as a fishing weight, which is about all I'd imagine it might have been useful for in the field. I suppose it would make a good chew toy for a toddler or dog if you want them to choke on small parts, but I certainly wouldn't trust my life with this thing.