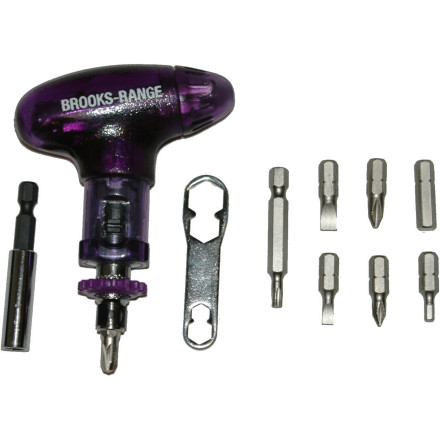 Description
The three-ounce insurance policy against, 'oh man my binding is loose again!'
Eight screwdriver bits and a socket wrench fit inside the ratcheting Brooks-Range Ski Binding so you'll have just about everything you need to tighten up a loose or damaged binding when you're far from a shop. Set the hex drive loose, tight, or non-ratcheting, muscle down on the T-grip handle, and tighten away. Brooks built this little beauty out of high-impact plastic so you'll be hard-pressed to destroy it when you're traveling in the hills.
Includes 1/4-inch driver extension, 1/8th-inch Allen, 1/4-inch Allen, Torx T20, #3 Pozi drive, #1 Phillips, #2 Phillips, #4 flathead, #6 flathead bits
Included wrench fits a range of socket heads for those times when the screwdriver just can't get the job done
Share your thoughts
What do you think of the
Brooks-Range
Ski Binding Tool (Ratcheting Screwdriver)
? Share a...
Have only used it once.. but it's a good peace of mind tool to have with you, especially for less than ten bucks. Definitely handy will probably have it for quite a while!
Ball bearing falls out, but...........
I got one of these tools, but the ball bearing that holds the bits in place keeps falling out. The Brooks Range rep in Colorado sent me another one, but it did the same thing. I got some 1/8 ball bearings from my local bike shop and they seem to stay in place so far. Perhaps the Brooks Range place of manufacture bought some out of spec ball bearings that were a little too small? Well, now I have two tools and they both seem to be working, yeah!
Has what you need, but a little flimsy
Works great, but the little plastic ring on the racheting piece broke almost immediately and I've had trouble with the little piece of spring metal that holds the ball bearing in place... it fell off and I had dig in the snow to find the ball bearing again. Another negative is that because of the shape of the handle, it can be difficult to use it on screws that are close to the ski and run parallel to the ski surface... like the heel unit position adjustment on a Dynafit binding, or probably some DIN/RV adjustments. So double-check that you can use it on all of the screws you might need to adjust. All of this said, it costs $10 and you should probably get one.