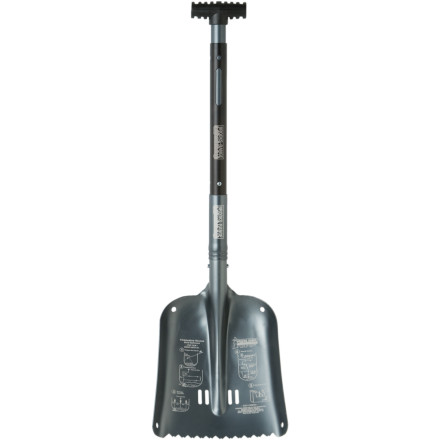 Detail Images

Community Images
The last thing that you want to have happen in the backcountry is your shovel snapping in two, so trust the durable Brooks-Range Sharktooth Longneck Pro Shovel to dig out your sled or backcountry partner in an emergency. Its aggressive serrated blade makes mincemeat out of tough ice and stubborn hardpack so you save time and energy when its needed most.
The tempered aluminum shovel has a strong, durable blade that gets the job done
Deadman holes allow for use an an emergency anchor
Shovel shafts double as stretcher bars with Brooks-Range Mountaineering Rescue Sled
Recommended by the AIARE (The American Institute for Avalanche Research and Education)
Like it.
Familiarity:

I've used it once or twice and have initial impressions
Nice shovel. The blade part doesn't fit in my dakine heli pro pack. It's my back up shovel for friends who don't have one to travel backcountry with me.
Unanswered Question
whats the length of the collapsed shaft...
whats the length of the collapsed shaft with the blade off? also i cant decide which shovel to get, this one, backcountry.com s version of the g3 avitech, or the black Diamond transfer shovel? any suggestions are apreciated. ill just be using it for short hikes and for taking a avalanche safety course.
I bought this shovel with a D-handle. I chose this shovel among othe things because of it's lenght when it's extended. I'm a pretty long woman and it makes it so much easier to use. Then it's small enough when folded to fit into any backpack or on the snowmobile. So far I'm very pleased with it and the sharktooth makes it perfect when the snow is compact.
These shovels are absolutely awesome.

I have a Backcountry Pro Compact with a D-handle, not to be confused with the Compact-Pro. Yes, Backcountry sells four different Brooks Range shovels that look almost exactly the same, but the kicker is, Brooks Range will customize your shovel to your needs. Shark-tooth or straight edge? Long-neck or compact? D-handle or T-handle? Full size or compact blade? They have a full range of colors and do the crazy Chaos anodization if you want to be extra rad, bra.

My Brooks Range shovel has the best blade strength to weight ratio of any shovel I've owned. The shaft can be used with a pair of skis and poles to make a rescue sled. The handle can be locked at 90º if you're digging laterally. It's completely customizable. They'll even monogram it for you. And all of the options (except a $3 charge for monogramming) are available for the same price!

Seriously. Look past the hype of the big brands. Brooks Range makes these awesome shovels in the USA to keep your butt safe in the backcountry. Get one for yourself. Then, get one for your skiing buddies. After all, if you get buried, you'll want them to have the best shovel available in their hands when they're digging you out.