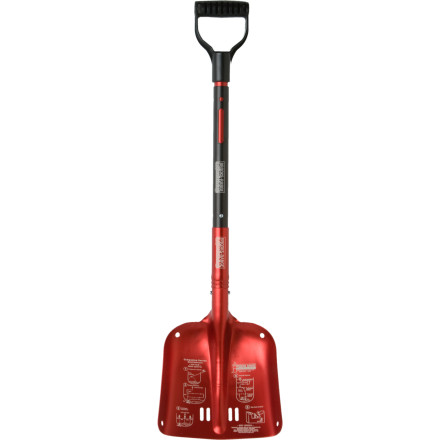 Detail Images

Community Images
If you're looking for a shovel that'll take up less room in your pack and that won't skimp on quality, go for the Brooks-Range Backcountry Compact Mini-Pro Shovel. Made with heat-treated aluminum, the Backcountry gives you a durable, lightweight, professional-grade shovel.
Slightly small dimensions mean this shovel takes up less room in your pack
Its solid blade allows you to move more than 90 square inches of snow with every shovelful of snow
Deadman holes allow for use as an emergency anchor
Recommended by the AIARE (The American Institute for Avalanche Research and Education)
This shovel straight rocks. I have the D handle sharktooth model. It's very solid and I looooooooooove the extending handle--pretty much essential to dig someone out buried deep. Cool design on it to boot. Would trust my life to this thing. Hope to never have to use it in an avalanche situation but good peace of mind.
Not yo mom's shovel
Familiarity:

I've put it through the wringer
So I have previously used Voile shovels and loved them. Now I added this Brooks-Range to my backpack. I am immediately a fan. This is one of the most burly and well built shovels I have held. The extendable handle is sturdy and makes moving snow and digging snow pits easier for me.

The best part about this shovel I never expected to find. Inside the shaft are two more aluminium tubes which, in laser etched pictures, can be assembled into an improvised rescue toboggan!

Overall this is one of the highest quality and best designed shovels I have used. The extra weight of the rescue sled attachments does make this shovel heavier than my Voile. What I do is bring my Voile for more sidecountry missions while using my Brooks-Range for days where I find myself in more remote areas.
Great shovel!
Familiarity:

I've put it through the wringer
this thing is perfect! i like it because its not too big, but it moves a TON of snow. my friends always get jealous, and it has avalanche rescue tips on the front of the blade. ive seen the sharktooth models teeth sometimes get broken and bent. ive purchased the compact pro with the D handle. Nice shovel, buy it! can you spot the back country goat?
These shovels are absolutely awesome.

I have a Backcountry Pro Compact with a D-handle, not to be confused with the Compact-Pro. Yes, Backcountry sells four different Brooks Range shovels that look almost exactly the same, but the kicker is, Brooks Range will customize your shovel to your needs. Shark-tooth or straight edge? Long-neck or compact? D-handle or T-handle? Full size or compact blade? They have a full range of colors and do the crazy Chaos anodization if you want to be extra rad, bra.

My Brooks Range shovel has the best blade strength to weight ratio of any shovel I've owned. The shaft can be used with a pair of skis and poles to make a rescue sled. The handle can be locked at 90º if you're digging laterally. It's completely customizable. They'll even monogram it for you. And all of the options (except a $3 charge for monogramming) are available for the same price!

Seriously. Look past the hype of the big brands. Brooks Range makes these awesome shovels in the USA to keep your butt safe in the backcountry. Get one for yourself. Then, get one for your skiing buddies. After all, if you get buried, you'll want them to have the best shovel available in their hands when they're digging you out.