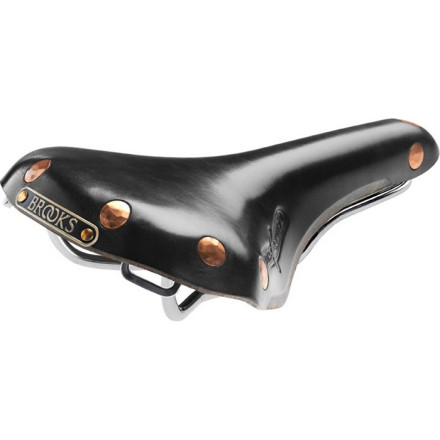 Description
Ride a classic, and know no bum pain.
Brooks England drew its inspiration for the Men's Swift Saddle from its 1890 catalog. This vintage-looking leather bike saddle features firm, high-quality leather that breaks in to fit your bum like leather boots form to fit your feet—say goodbye to having a sore backside. Also, leather is porous and allows for ventilation, so these seats feel comfortably cool on hot days. Because copper is gentler to leather than steel, and because tour racers of yore would have their saddles outfitted with large rivets because that made the seats last longer, the Swift features nine oversized, hand-hammered copper rivets. Choose from titanium or chrome-plated steel rails.
Unanswered Question
Is this saddle available in brown color,...
Is this saddle available in brown color, large brass rivets and titanium rails? Please confirm price and free shipping? Thank you.

Also, do you have a Brooks Team Pro available with the above same characteristics? Price and shipping fee, if any?

Dan Daly
The aroma this saddle gives off is wonderful. A bit knotty with a touch of sweetness, and a hint of cow. After a long day of grundel grinding, nothing is more satisfying then running my nose across the ol' Heritage and taking a big whiff.