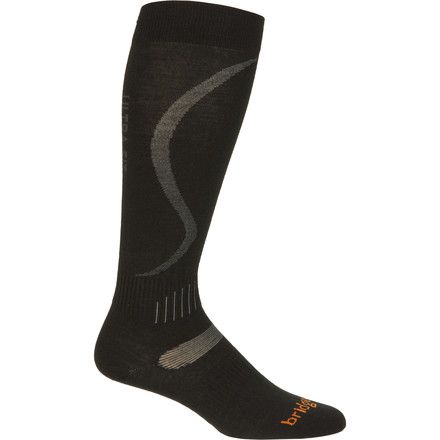 Description
Some socks are a good fit, these are the Ultra Fit.
Avoid ski sock migration with the Bridgedale Ultra Fit Ski Sock. Some socks, especially lightweight socks, move down your leg like they're in pursuit of a job with benefits. The Ultra Fit grips tight on your calf and foot so you can get the perfect foot-to-boot-to-ski transfer of power you need on the mountain. The merino wool and Endurofil fabric composition absorbs moisture from your skin so you won't develop blisters on the skin track, hike, or multiple treks to the bar and back.
Share your thoughts
What do you think of the
Bridgedale
Ultra Fit Ski Sock
? Share a...
Go to socks for two years! And that's it
Familiarity:

I've put it through the wringer
First off my boots are tight, all of them. I had three pairs of these over the last two seasons. Every time I would try to add a different sock to the cycle I didn't like them. These are super thin, which can be hard to find. They are ready for the abuse!They are warm for being so thin! They don't stink! So I still haven't found my ski socks of old so I decided to try some new ones out (mostly only tried smartwool in past and wasn't happy), so far this season I have tried three different brands (Patagonia, Stoic, and Darn socks), must say I think I like all three more than the bridgedale (even tho still not as thin). Today I skied in the Patagonia ultra thin ski soft and very impressed. Still can't hate on the bridgedale, each pair has 50+ days and no signs of wear and I think when I get back in my alpine boots I will search harder for those thin socks.

Also the bridgedale are the lowest on my calfs.
Bridgedale MerinoFusion Ultra Fit Ski
This sock is seriously thin, almost see through. That said, it is rather warm also. I have injection molded boots, and I can't afford to have a thick sock in them. This sock allows me the best fit possible and also provides plenty of warmth. I've skied brick days in the Kootney's (-20C) and had no issues with foot warmth. The only time my feet were cold was an unreal day in Lake Placid with the wind chill pushing it to -40F, but at that point I was cold all over.

As far as durability, they have lasted me pretty well. My girlfriend robbed 2 of my pairs since she likes to wear them under her fancy leather boots. The pair I have I've skied probably ~40 days in and they are still solid. They do pill a bit but its not performance or comfort impacting. I give them a rinse in the sink with some soap and let them dry over night and I'm ready to ski with them the next day.
Bridgedale Ultra Fit Ski Sock Uploaded By: Was this helpful? * (0) * (0) Close Flag This Previous Image Previous Image Next Image Previous Image Enlarge ImageDove Gray Close This Windo
Bridgedale Ultra Fit Ski Socks are the thinnest socks I have found. They work great. I prefer a performance fit boot that doesn't allow for thick padded ski socks. These socks fit the bill. I have used many other types of Bridgedale socks and have always been impressed. These are no different.